East Los Angeles College Exhibit at the Historical Society of Monterey Park Museum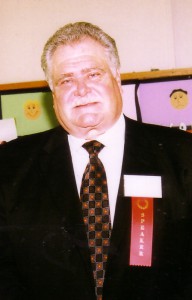 Ernest Morales, President of East Los Angeles College located in Monterey Park shared the history of the school with members and their guests on January 23 in the Richard Garvey Room.
The college was established in June 1945 as a junior college by the Los Angeles Board of Education.  It was opened in September in a wing of Garfield High School with 19 faculty members and 117 students; many were veterans of World War II.
In 1947 the Board of Education purchased 82-acres of agricultural land with funds from a bond issue.  Hellman Estates sold the current site, now part of Monterey Park, for $392,000.
In 1951 the stadium and auditorium were built. The nursing program and automobile technology were added to the courses in the 1960's and 1970's.
ELAC hosted the swimming and field hockey events during 1984 Olympics. Several movies have been shot on location at the school.
Vincent Price, an actor and well-known artist, established an art museum at the school, which houses the largest and most valuable art collection in a two-year college.
The school housed several classes in World War I bungalows from the Santa Ana Army Base until 2007.  Students who attended the college remember walking into the strange buildings to attend their classes.
Two bond issues, Propositions A and AA, initiated by LACCD were approved by the voters at the beginning of 2000. The funds are being used to improve the college's infrastructure allowing ELAC to begin the most ambitious building program in its
history.
The rural site of East Los Angeles College has been transformed into a well laid out college campus that enrolled approximately 40,000 students this semester.
Step back into the past and walk into the future of East Los Angeles College. Visit the ELAC exhibit at the Museum located at 781 S. Orange Avenue in Monterey Park until the end of February.
The museum hours are Saturdays and Sundays from 2 to 4 PM. Their phone number is 626-307-1267.
Leave a Response