Obituaries
In Memoriam Irene Klubnikin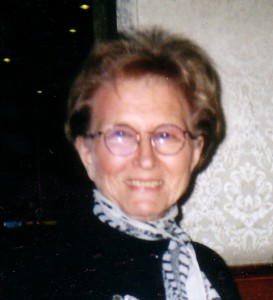 Irene Klubnikin was born on May 27, 1922 in Michigan. She passed away on October 27, 2010 at the Scripps Kensington in Alhambra, CA.
Irene lived most of her adult life in Monterey Park. She worked for many years as a social worker with the County of Los Angeles. Before and after retirement she was active in Monterey Park. During the mid-1950s she was one of the founding officers of the Friends of the Library of Monterey Park. She helped to see that the new library was built in 1959 and the later additions in 1980 and 2006. Before her health faded, she chaired the Friends Hospitality Committee and helped greet people at the Friends' programs in the library. She also helped with the Library Foundation Dinners in the late 1990s and early 2000s. In the late 1990s she volunteered at the Chamber of Commerce Office. Irene loved animals and was a member of the Protectors of Animals. In addition, she was always concerned about traffic safety and attended many of the Traffic Commission meetings to make recommendations. Irene enjoyed going to Dodger games and many community gatherings including the Monterey Park Lions' annual June breakfast in Barnes Park.
Irene had a dry sense of humor. Always thoughtful of others she started the tradition of giving out U.S. History and Government books from the Friends Bookstore at Monterey Park's Annual Fourth of July celebrations.  She also personally delivered paperback books to the Jerry M. Pettis VA Medical Center in Riverside for many years.
Irene is survived by one daughter, Karen, who lives in Maryland.
*****
Nancy King, 1912-2010   A Teacher, A Poet, A Friend
Nancy began her life at a time when her soon-to-be parents were on their way to a new home in Illinois.  They made a stopover in Indiana just long enough for her mother to give birth.  Nancy was indeed a born traveler.
She was a teenager when her parents divorced and she and her mother moved to California.
She attended Belmont High School.  She loved the classes in English.  She won awards for her essays and started writing poetry.
One of her teachers of English contacted her father, a lawyer, and encouraged him to provide the means for her to attend a university.  She attended The University of California at Berkeley and earned a B.A. Degree in English and a became a member of Phi Beta Kappa.  The Phi Beta Kappa key that she received had belonged to one of her mentors.  She earned her M.A. degree in English at the University of California Los Angeles.
As a young, beginning teacher, she paid her dues.  She taught a variety of courses at a junior high school and then was selected to teach English at Roosevelt High School.  She was so thankful for this opportunity to be teaching what she loved.
Soon there was an opening in the English Department at East Los Angeles College and she was selected.  Thus began years of a long relationship with the college and its several generations of students whom she taught.  In this community where she was known not only for her teaching skills but also for her warm and caring nature, she became a legend.
Teaching was her love. Travel was her avocation.  She enjoyed spending the summers with her colleagues.  One trip was to Africa with a small group of colleagues.  Upon the return home from this journey (and journeys thereafter) she and a colleague collaboratively wrote monographs which were published.  These monographs became the basis for a Humanities class, which was team-taught with colleague, Marjorie Stevenson.  This cross-cultural class could well have been entitled "Cultural Studies of the World".   Periodically throughout their teaching careers they traveled with small groups to a different place and then wrote a monograph for study in what were indeed unique classes.  Students signed up and the class roster was closed in each instance.
Because of her many travels and opportunities to meet interesting people at all junctions of the world, Nancy maintained a correspondence with her many far away friends.
In addition to her world travels Nancy also had a great interest in the cultural diversities within our own country.  She was particularly interested in one meeting, which takes place every year or so in Appalachia.  People in Appalachia and from other areas come together to tell their stories.  They share the heritage of their past and present through Folk Lore, songs, poetry and stories of their area of our country for everyone to enjoy, and to think and talk about.
In connection with her travels, Nancy belonged to a society of women whose primary activity is studying and sharing their studies of the Geography of the world.
Upon retirement, Nancy became an active participant, and a much-loved member of The Monterey Park Library Book Group that sponsors the group's activities.  She will be greatly missed by this group, which appreciated her keen intellect and succinct analyses of the numerous books, which were read over the years.
As the years passed, she always loved both reading and being read to.
Nancy was an active member of the Unitarian Universalist Church in Pasadena.
She passed away peacefully at home with her caregiver and friends at her bedside.
Donations should be made to a group of your choice.
1 Comment
Leave a Response