People Who Make A Difference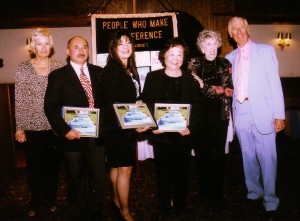 Tilda De Wolfe, Larry Odono, Lillian Bow, Lucia Su, Louise Davis and Terry De Wolfe celebrated the special event on January 27 at Monterey Hill Steakhouse.
Gloria Guerrero and Delario Robinson, Co-Presidents of the United Democratic Club welcomed the honorees, their family, friends and guests to this event that honors men and women of Monterey Park who have previously received little public recognition while making major community service contributions. They introduced former mayors Francisco Alonso, Betty Couch and Louise Davis as well as city employees Acting Fire Chief Jim Birrell, Randy Harper, Acting Police Chief Jim Smith. They also introduced Alhambra School Boardmembers Adele Andrade-Stadler and Bob Gin, Mayor Pro Tem David Lau and Councilmember Anthony Wong, City Clerk Dave Barron, Teresa Lamb Simpson from Congressman Adam Schiff's office and Assemblymember Mike Eng.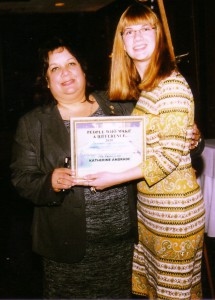 Adele Andrade-Stadler and her daughter Ramona, the first grandchild, accepted a plaque for their mother and grandmother, Katherine Andrade who past away recently. She was nominated this year for the honor.
Mrs. Andrade-Stadler thanked everyone for this honor. She recalled her mother always spoke up with the truth. She was not afraid to speak her mind. She was a powerhouse to all. She reminded everyone to hug your mother tight and daily.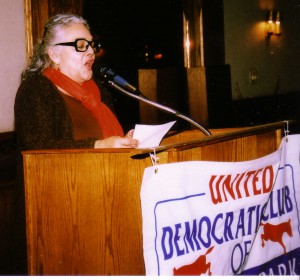 Marta Escanuelas, MERCI Executive Director was the featured speaker. Her topic was "Painless Volunteering" which she joked that she could not find any information on
Google about volunteering being painless.  She stated that every day we hear of large corporations giving funds to large non-profits. All of us need to make contributions to all organizations.
MERCI is a middle size non-profit with a $1.6 million worth. This is about all of the groups. Organizations come about with visions, dreams and needs. MERCI is a need. People make the world a better place. Solutions take one step at a time to make things better. People often don't have the money but they can donate time. Volunteering is not painless. It is work. She suggested volunteering for people or animals. Each of us can do it. It should impact our hearts and lives.
This group has made some sort of contributions to the make the world a better place. It helps. Volunteers count. It is gold. Volunteering is painful. It has a cost.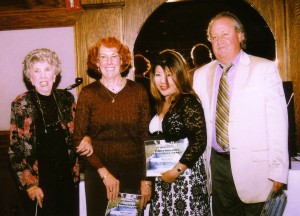 Louise Davis recognized nominees: Nancy Gilmore, Gwen Kishida and Richard Gorman pictured and Pat Tomoyasu, Richard Hirosawa and Wayne Lee who were not present.
David Ikeda presented Lillian Bow to the audience. He praised her for renewing the Cherry Blossom Festival in the city. She has a passion to share her culture with the children. She recruited people to help revitalize the festival. It was not easy. She held fundraising events to support the event. Lillian worked hard for this special festival. She helps with the Japanese Sister City and has entertained the exchange students. She inspires her children to volunteer too. She also volunteers at school events and spends hours volunteering with the city. Lillian believes in volunteering. It is important to the Monterey Park community.
Tilda De Wolfe presented Lucia Su to the audience. She said that Lucia has been her friend for over 20 years. Lucia was born and raised in China. She is a longtime resident of Monterey Park, who did research at UCLA while raising her four children with her husband. She speaks out for and against issues. She fought to keep the fire department at home. She puts herself on the line and wanted the business signs in both languages. She spoke out against the card club and billboards in the city. She is a member of the Democratic Club and the League of Women Voters. She and her husband have traveled the world.
Yukio Kawaratani presented Larry Odono to the audience. He called him a homeboy who was born and raised in Boyle Heights. He was a Marine, graduated from UCLA and USC Dental School. 35 year ago he married his high school sweetheart and raised three children in Monterey Park.  He coaches the kids in the Sports Club and enjoys several sports but favors boxing. Larry is a humble and helpful guy. He is involved with the city and the Lions Club. He is an all round dentist.
Lillian Bow thanked all of the club members for this honor. She raised her children to be volunteers in the community. She thanked everyone for attending this event.
Lucia Su was excited to see all of the VIPs in the city here tonight. She is deeply honored. She thanked Tilda, the club and Louise Davis. She is happy and proud to be involved in activities in Monterey Park. Monterey Park is a very unique city. She shares her honor with all here tonight. She thanked her family for their support. She thanked her son, Jeffrey Su and called him her right hand. She thanked all for sharing this event with her.
Larry Odono thanked Yukio for his speech. He is glad to see so many familiar faces. He thanked the club for this great honor. He accepted the award in honor of all those who make the city. He also thanked some very special people who help guide him. He thanked his family, the club and everyone sharing in this special event.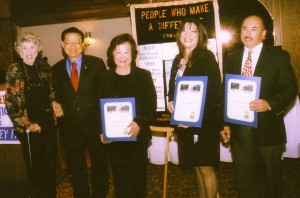 Assemblymember Mike Ing with Louise Davis at his side presented proclamations to Lucia Su, Lillian Bow and Larry Odono. Mr. Eng had a good time and thanked Terry and Tilda De Wolfe for this event. He called all of the participants Quality of Life Champions.
The honorees also received proclamations from Congressmembers Adam Schiff and Judy Chu and the City of Monterey Park.
Approximately 130 people enjoyed the delicious food and wonderful friendships at this annual event. Several lucky people won the door prizes.
Terry De Wolfe said Monterey Park is a nice place to live. He thanked everyone for attending this event.
People, who volunteer their time and talents, do make a difference in our community.
Leave a Response