ARCADIA HIGH SCHOOL STUDENT, RAY CHAO OF ARCADIA, WINS AMERICAN LEGION DISTRICT 18 ORATORICAL CONTEST
Students from local high schools throughout the country are currently involved in the 74th Annual American Legion National High School Oratorical Contest, which involves a prepared oration of eight to ten minutes in length about some phase of the Constitution of the United States and a dissertation of three to five minutes on a related subject from the Constitutional Amendments.     District 18 covers the entire San Gabriel Valley, and at the recent District 18 speak off at Pasadena Post 13, the winner was Ray Chao from Arcadia High School speaking on "Forming a New Justice League".   Chao will represent District 18 at the 6th Area speak off on February 13th hosted by Hollywood Post 43 in Hollywood.  The winner of this event will proceed to the Department finals in Ontario on February 27th
Judges for the contest included Past District 18 Commander John Garcia, Mayor Andre Quintero, City of El Monte, Alfred & Harriett Rothschild of San Marino and Vice Mayor Kevin Sawkins, City of San Gabriel.
Contestants receive cash awards as they advance through the various levels, Post, District, Area, and Department (State) with semi-finals and finals at Indianapolis, Indiana.  The three winners at the final competition in Indianapolis receive college scholarships of $18,000, $16,000 and $14,000, awarded by the National organization next April.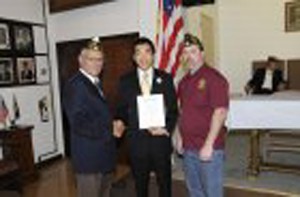 District Vice Commander Lou Dominguez, Ray C. Chao of Arcadia and Arcadia Post 247 Commander Scott Sinclair.
Leave a Response