Monterey Park's Mayor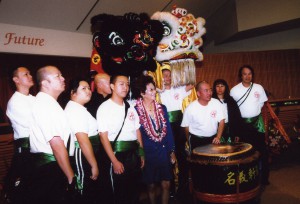 Lion Dancers greet Betty Tom Chu at City Hall before the reorganization of the City Council on December 1.
Mayor Anthony Wong called to order his last meeting as the mayor.  The Boy Scouts presented the colors as Robert Chu, Carissa Chu, Thomas Chu, Samantha Chu, Lauren Chu, Kenny Chu, Lauren Kojima and Brian Kojima; Mrs. Chu's grandchildren led the flag salute.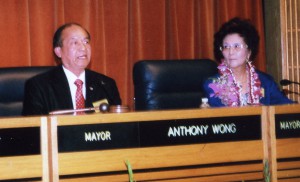 Mayor Wong thanked all the great people of Monterey Park for allowing him to serve the great city of Monterey Park as mayor for the last nine and one-half months. He stated that Atlantic Times Square is opened with AMC Theaters, 24-Hour Fitness health club and several restaurants. This site will bring in more sales tax and jobs for people of Monterey Park. He thanked the great staff of Monterey Park and the Councilmembers for the last nine and one-half months. He congratulated Betty Tom Chu and David Lau. He will do his best to work together with them for all of Monterey Park.
Mayor Wong received several proclamations and awards from many local organizations.
City Clerk Dave Barron introduced City Manager Paul Talbot, City Attorney Mark Hensley, Acting Police Chief Jim Smith, Librarian Barbara Williams, former Police Chief Jones Moy, City Treasurer Joseph Leon, Garvey School Boardmember Henry Lo, former mayors Monty Manibog and Rita Valenzuela.
Council voted to reorganize and confirm Betty Tom Chu as the Mayor and David Lau as the Mayor Pro Tem.
Kevin Chu and Brian Chu, Betty Tom Chu's sons were the Masters of Ceremony. They introduced their father Robert Chu and their sister Kimberly Chu to the audience.  They thanked the police, firefighters and city employees for pulling this event together. The Chu family grew up in this city that is truly multi-cultural. We treat each other equally.
They introduced additional guests that included representatives from Peoples Republic of China, representatives from Taipei Cultural and Cultures Offices, members of the Alhambra, El Monte, South Pasadena, Rosemead and Walnut City Councils, members of the Alhambra and Garvey School Boards, several city commissioners, firefighters and several members of their family associations.
David Lau congratulated Betty Tom Chu as mayor. He praised Anthony Wong for doing a great job. It is a great honor to be the new mayor pro tem of this great city. He has lived in the city for the last 30 years. He has serves the public for the last 17 years as a member of the Garvey Schoolboard and now on the City Council. He thanked his beautiful wife, Cici Lau. He thanked her for standing by him rain or shine. He will continue to serve the city with dedication. He has an open door policy for the residents. We need to have Council, staff, unions and residents work together to improve our city's economy in this downturn. Everyone needs to continue to do more with less for the better tomorrow for our selves and our families. We need to keep Monterey Park the best city in the nation. He asked God to bless America and all.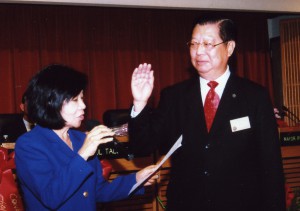 Cecilia Lau administrated the oath of office to Mayor Pro Tem David Lau.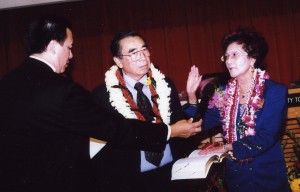 Brian Chu and Bob Chu administrated the oath of office to Mayor Betty Tom Chu on the family's bible that is used by her grandchildren.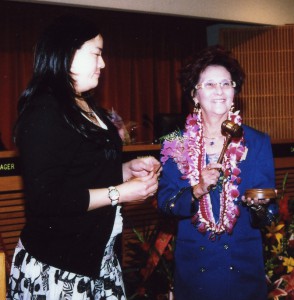 Kimberly Chu presented Mayor Betty Tom Chu, her mother, with her gavel and badge of office.
Mayor Chu thanked all for coming to this special event. She thanked Anthony Wong for his service to the community. She congratulated David Lau.  She explained the Monterey Park mayor has the same powers as the other Councilmembers. We have a new city manager and city attorney so it is the right time for her to be mayor. Maybe now we can have transparency. She thanked her fellow Councilmembers. This is the era of transparency, accountability and leadership. Council will all be working together to think outside the box. We need to work together. She praised the new city manager and said he will have the city working together as a team. We need to balance the budget for this year and next year. The residents are our employers. We need to bring in more prosperity for the residents and businesses.  The City Council has an open door policy. She will try to help the residents. She thanked her husband for his support for all these years. She thanked her children and grandchildren for their participation. She thanked the many restaurants for their food donations.  She thanked the staff and volunteers for this event. She thanked her supports and friends. She received many presentations and awards from many local organizations.
Mayor Chu's first official act was to close the meeting and invite all the guests to enjoy the refreshments.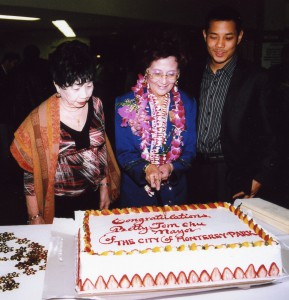 Betty Tom Chu cuts into her special strawberry whipped cream cake at the party.
Leave a Response