Thank You Anthony Wong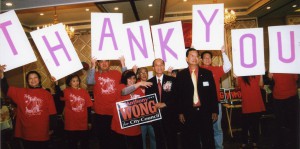 Monterey Park Councilmembers Anthony Wong and David Lau were joined by 500 friends and guests at Mr. Wong's fundraiser held at Capital Seafood Restaurant on November 26.
Mr. Wong is running to be re-elected to City Council in the March 2011 election.
Michael Ming was the Master of Ceremonies. He welcomed everyone to this special event and asked them to support Anthony Wong.
Members of the United States Army Volunteers Reserve Association presented the colors. American Legion Post 397 Commanded Ray Villalobos led the Pledge of Allegiance. Sam Lo sang our National Anthem.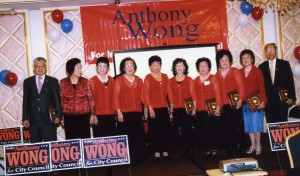 Members of the Wong Family Benevolent Association Choir filled the room with song.
A delicious multi-course dinner was served to all the guests.
Walnut Councilmember Mary Su called Monterey Park one of the best cities to live in. The city is famous. She is endorsing Anthony Wong. We need to work together to get Anthony Wong re-elected.
Congressmember Judy Chu and Assemblymember Mike Eng each appeared on a large screen television, as they could not attend the event in person.
Judy Chu supports Anthony Wong. He is a responsible Councilmember. He works for everyone in Monterey Park. He deserves another term. We need to re-elect Anthony Wong.
Mike Eng supports Anthony Wong. He is happy with Anthony Wong. He is a respectful and humble. We need to re-elect Anthony Wong.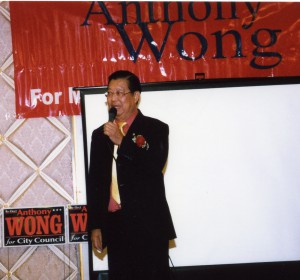 Councilmember David Lau supports and endorses Anthony Wong. He has proven his leadership at City Council. He is an outstanding community leader. He is a member of the Lions Club, BIDAC and the Chamber of Commerce. Mr. Wong was his appointment on the Planning Commission. He supports Anthony Wong for another term. He does a good job to make Monterey Park a safe city. He knows the city and is aware of the needs and wants of Monterey Park. He needs your support for the March 8, 2011 election Vote for our friend Anthony Wong, the community's choice. Good Luck and God Bless.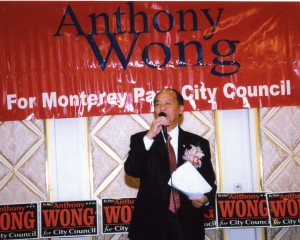 Anthony Wong thanked everyone for their support of him and Monterey Park. You are some of the great people of Monterey Park. In the last four years he has had our support working together for the people of our community. He works with the leaders, volunteers and commissioners of the city. He does his very best to work with the people of Monterey Park. Monterey Park is doing very well with $17 million in reserves. We have to work together to bring businesses back to Monterey Park. We have to support all of the businesses in the city. We will see more mixed-use projects in the city. We have to work together to bring the economy back. He asked that everyone support him in the March 2011 election.
He introduced his 99-year-old father and his family members to the audience. He thanked David and Cici Lau for their support. He thanked his supporters in English and Chinese.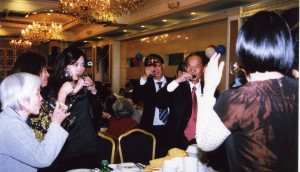 Anthony Wong greeted each of his guests at their tables and offered them a toast to their success in the March election.
The entertainment included Karaoke. Michael Ming sang "What A Wonderful World".
David Lau sang his keynote song "Always On My Mind". Several guests sang in Chinese.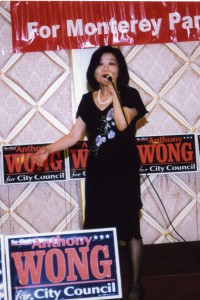 Cici Lau sang several numbers that included "Somewhere Over The Rainbow".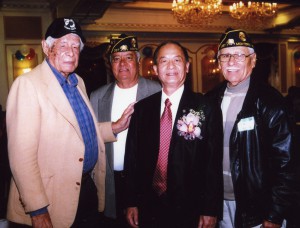 Anthony Wong joined with American Legion members Bill Sanchez, Ray Villalobos and Herb Aguirre.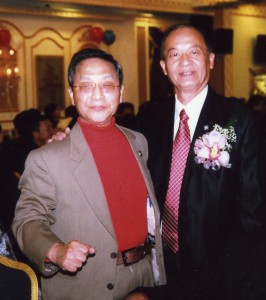 Song Park and Anthony Wong enjoyed the event.
The fundraising party for Anthont Wong was very successful.
Leave a Response