Historical Society of Monterey Park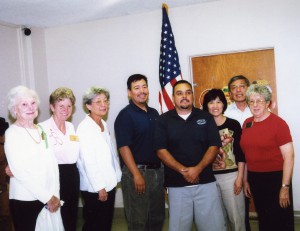 2nd Vice President Mary Duce, Curator Beryl Williams, Recording Secretary Marion Sumimoto, Public Works Water Department employees Chris Arriola and Dave Vera, Corresponding Secretary Jan Sokhom, 1st Vice President and Treasurer Jim Iwaki and President Pauline Lemire at the General Meeting for election of officers for 2011 and a presentation by our Public Works Water Department on November 14.
President Pauline Lemire chaired the meeting. Members received the financial report and updates on the repairs of the Maud Kidd Room that received water damage from a leak in the roof, which has been repaired. The room is a treasure trove of antiques that are being refurbished and the room is expected to be open in December 2011.
Maud Kidd, a longtime resident, lived across the street from City Hall. The room was named in her honor is 1988.
Chris Arriola and Dave Vera made a presentation about the city's water conservation plan. In 1921 Monterey Park purchased the water rights from Valley Land and Water for $25,000. Currently 95% of the residents receive their water from the city.
The San Gabriel Valley Metropolitan Water District has given the city a $115,000 grant for a pilot program. The landscape around City Hall is drought resistance plants. Barnes Park has a smart irrigation system that only waters the grounds as required. An ultra low- flush toilet program to replace residents' older toilets to conserve water is available. They are effective in saving water. Smart water meters that can be read by computers are located in a hilly part of town. These meters can locate any leaks so the repairs can be made in a timely manner and save the residents money. People who conserve water are a good deal for the residents.
The city's best investment is the water rights in Rosemead.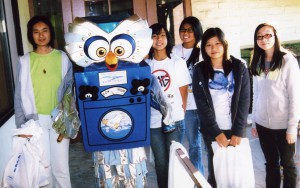 H2O Owl and friends provided gift bags and water conversation tips to the guests.
Refreshments were served at the end of the meeting.
Leave a Response