Introducing Monterey Park's New Police Chief Scott Wiese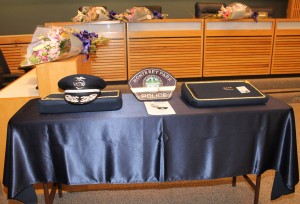 A display of the cap, badge and stars were on display for the Swearing in Ceremony for Scott Wiese on January 19th.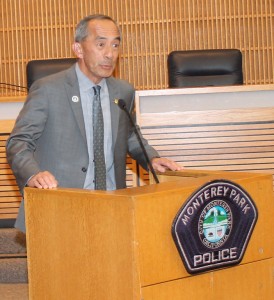 City Manager Ron Bow was the Master of Ceremonies. He said today we celebrate the Swearing in of Scott Wiese as our new Police Chief.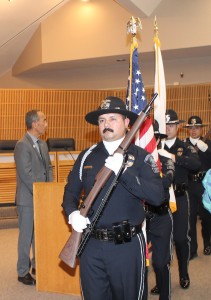 Monterey Park Police Department Color Guard presented our Colors to the audience.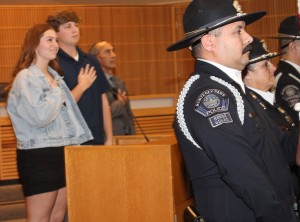 Tarynn and Gage Wiese began our Pledge of Allegiance.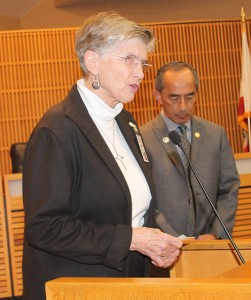 Monterey Park Police Department Chaplain Elizbeth "Betsy" Glanville prayed to God to give Scott Wiese wisdom as he serves Monterey Park and keep us safe. She thanked God for being here with us tonight.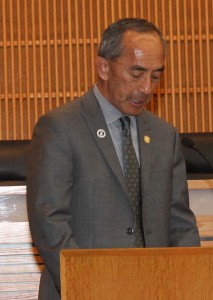 Ron Bow introduced his family members, most of the Police Chiefs and former Police Chiefs in attendance, City Staff Department Heads: Inez Alvarez, Matt Hallock, Robert Aguirre, Diana Garcia, Martha Garcia, Shawn Igoe, Christine Tomikawa, Joseph Torres, Laura Borjon, Karl Berger and former Police Chief Kelly Gordon. He introduced our Elected Officials: Mayor Henry Lo, Mayor Pro Tem Jose Sanchez, Council Member Thomas Wong, Council Member Vinh Ngo, Council Member Yvonne Yiu, City Clerk Maychelle Yee and City Treasurer Amy Lee.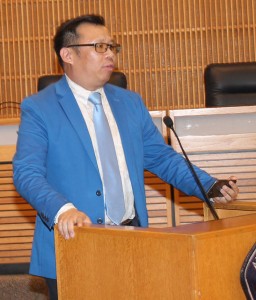 Mayor Henry Lo said we are all part of our community. The police officers have the highest duty to serve us and obey the rules of law. We need public safety officers. The police officers served us during the Pandemic. They helped with Project Room Key. The police department helped us out with the Census too. The police department and the fire department distributed the vaccine. Our leadership helped to save the day. We have security to be proud of in our city.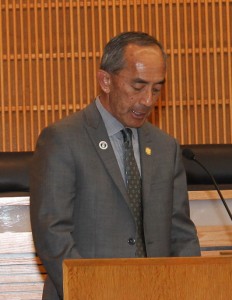 Ron Bow read Scott Wiese biography to the audience Chief Scott Wiese began his law enforcement journey as a Newport Beach Police Explorer in 1980.  In October of 1986 he attended the Rio Hondo Police Academy and went on to join the Monrovia Police Department.  He joined the Monterey Park Police Department in 1992 as a police officer.  Over the next 30 years he has worked many assignments including Patrol, Investigations, Community Relations, D.A.R.E., Crime Impact, and Traffic.  He was promoted to the rank of Captain in February 2020 and has commanded both the Support Services and Operations Bureau.  He developed and remained a member of the department's Special Response Team (SWAT) for more than 20 years.
Chief Wiese is married and has four children and two grandchildren.  He enjoys spending time with his family, travel, watching volleyball and baseball games, and working around the house.
Chief Wiese has a Bachelor of Arts from Union University in Criminal Justice Management and a Master of Science degree in Law Enforcement and Public Safety Leadership from the University of San Diego.  He is a graduate of the California POST Sherman Block Leadership Institute, the California POST Management Program, and is a California POST Master Instructor.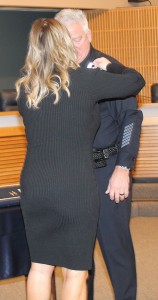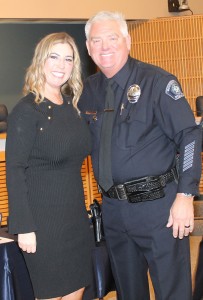 Honorable Judge Stacy Wiese, his wife pinned on his Police Chief Badge.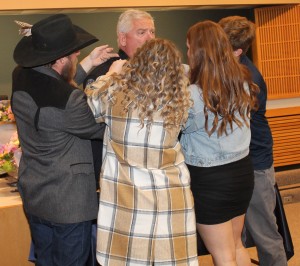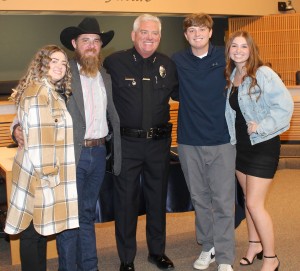 Kent, Kaitlyn, Gage and Tarynn Wiese , his children helped to pin on his stars to show his rank.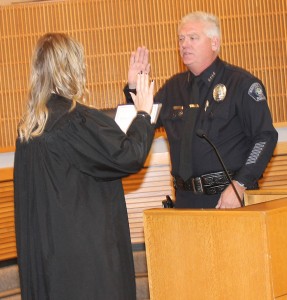 Honorable Judge Stacy Wiese administered the Oath of Office to Scott Wiese.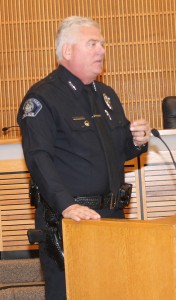 Scott Wiese thanked the city staff and Ron Bow. He learned that he would soon be chief. He thanked all of the members of the department. He thanked all of the police chiefs in the city. He thanked Leslie, his secretary and Gus, his Number 2. He said that he had a bet with his children that he would not cry. He thanked all of us for being here today. He introduced his family members to the audience. He thanked them for their love and support. He thanked his friends for their love and support.  He has been surrounded by very strong women. He thanked Kelly Gordon for telling him that he could be our police chief. He thanked his wife, Stacy who is a judge and a former lawyer. She believed he would be the police chief. He loves his wife very much. He has served last 40 years in public safety. The police department has one duty to keep the people safe. He is humbled and honored to serve our community. The Oath of Office is very special to him. Monterey Park Police Department is a first-class police department. He helps each one of them advance. They support him. He thanked everyone for coming to this event. Thank you.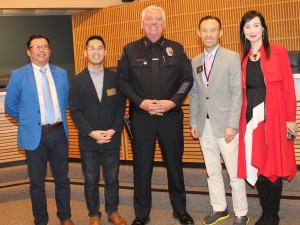 Scott Wiese joined with Henry Lo, Thomas Wong, Vinh Ngo and Yvonne Yiu for a group picture at this special event.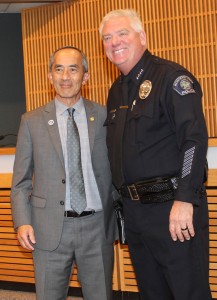 Scott Wiese joined with Ron Bow for a picture at this special event.
Leave a Response