Day of the Dead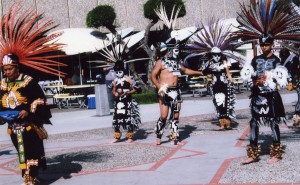 Aztec Dancers began the event at Alhambra High School on November 6. They were dressed in black and white or colorful attire as they performed several ritual dances. They blessed all four corners of the world with white sage as part of their ceremony.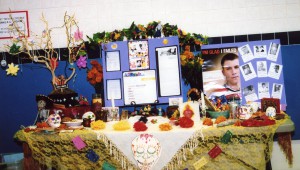 Members of Alhambra High School built an altar dedicated to Trevor Project Lifeline. This is in memory of all the young people who have committed suicide. For free and confidential 24-hour support young people may call 866-4-UTREVOR. This altar included pictures, candy, mementos and wishes made in memory of loved ones.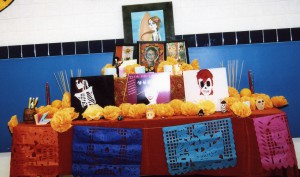 A community altar blended the Mexican and Asian cultures together as students realized that both of their cultures honor their dead.  The altar included red candles, oranges, incense stick, pictures and flowers.
Students built several small altars that honored their family, friends and special celebrities. It was a wonderful display of their creativity. The added special foods, pictures and mementos in honor of their loved ones.
Several booths featured artwork in honor of the day. Ma Art Space Ceramics had a display of their artworks. Contact www.yolandagonzales.com to enjoy their featured art.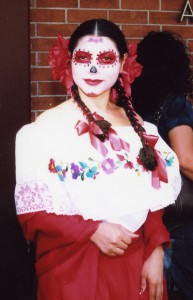 Miss Cecilia decorated her face in honor of the day.  The culture of face painting is centuries old. It is a way to honor their ancestors.
The festival featured face painting, making "Eye of God" decorations and creating colorful masks.
The food booths sold homemade Mexican food, Mexican sodas and Mexican Pastries. This event was a fundraiser for the school.
Entertainment included Cevantes' Children Storytellers, Mariachi Mi Guadalajara and presentations to the Art and Writing Contest Winners.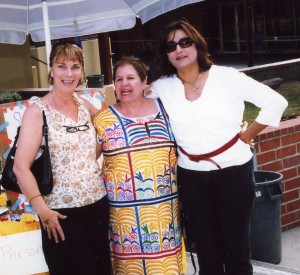 Lynda Tindage and Rosie Aguilar joined Imelda Aviles, who was asking new citizens to complete a survey for her Master's project.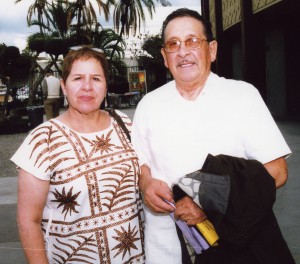 Rosa Aguilar and her father, Jesus M. Aguilar enjoyed the celebration. Mr. Aguilar has lived in Alhambra since 1979 and raised his nine children.  They are all professionals including five members of the education community.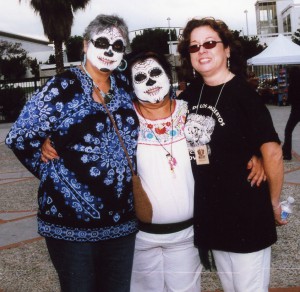 Mary Veleta, Beda Ramirez and Teresa Ybarra celebrated the Day of the Dead in style.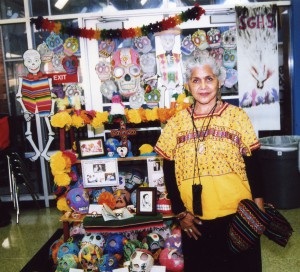 Ofelia Esparza standing in front of San Gabriel High School's altar. Mrs. Esparza is famous for her altars in the community. She has exhibited her artwork in various cities in the Los Angeles area and has been featured on California Gold for her Christmas display.
Ofelia Esparza is very proud that these traditions are being passed down from each generation.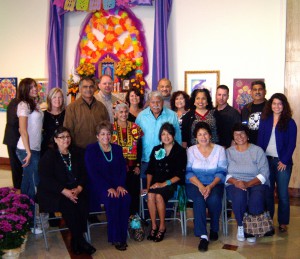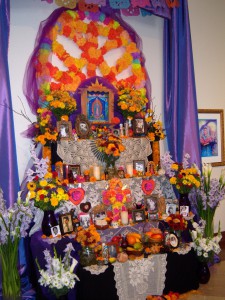 Ofelia Esparza and her family at the Forest Lawn Covina with her altar.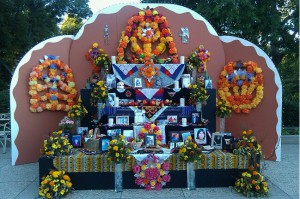 This is the Community altar outside of the Moseleum at Forest Lawn by Ofelia Esparza and daughter Roseanna.
"Wow what a beautiful ceremony this has been… the turnout was amazing… more than 600 people, overflowing down the stairs into the lawn.. its been incredible!"
This was quoted by her daughter Denise Esparza last night Nov. 2, 2010.
Leave a Response