Art Show At The Glass Room Gallery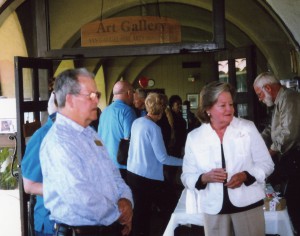 Artists and guests enjoyed the Invitational Fundraiser held at the San Gabriel Fine Arts Association's Glass Room Art Gallery on September 2.
The event featured 71 works of art for sale.  The paintings included portraits of people and animals, nature scene, classic cars and much more.  The media included oil paints, watercolors, mixed media and photography.
The Michael Drange Quartet Jazz Band serenaded guests as they viewed the artwork and enjoyed the refreshments. (For more information on the band please call 626-388-7509 or e-mail them at makadengemusic@charter.net or jazz.michaeldrange.com)
Three well-known artists had works displayed at the Glass Room Gallery.
Donald "Putt" Putman, a local artist and member of the association whose famous mural of early life at the San Gabriel Mission is painted on the side of the Mission Art Center. Mr. Putman used local talent for his models on this mural.
Sam Hyde Harris, a local commercial artist from the famous "Alhambra Artist Alley".  Mr. Harris is also well known for his California landscapes.
Reynold Brown, a member of the association who painted portraits and landscapes. A book of his artwork was displayed for viewing. The book is currently out of print.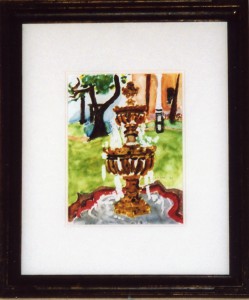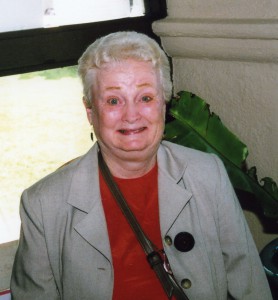 Mission's Bubbling Fountain painted by Sister Brigid Bray, a member of the association was one of many paintings being offered for sale.
For more information on membership, classes and art shows please call 626-282-1448 or e-mail www.sgfaa.org
The Glass House Gallery is located at 320 South Mission Drive in San Gabriel next to the Mission Playhouse.
Leave a Response