PCC CC Runners 2010-10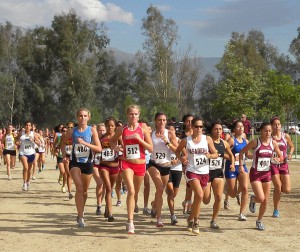 Pasadena City College sophomore Tracee van der Wyk of Temple City, shown in middle of picture with sunglasses leading the race, placed third in 18:04 at Foothill Invitational 5000 meters (5K) race in Ontario on Oct. 1, to help PCC team to a sixth place finish among 12 community college teams. Van der Wyk then finished second in Southern California Preview Meet 5K on Oct. 9, at East Mission Bay Park in San Diego to lead PCC to an 11th place finish out of 32 teams. There were 261 runners in that race. PCC women were ranked 11th in Southern California Community College Oct. 10 poll.  Photo by C. Lyons.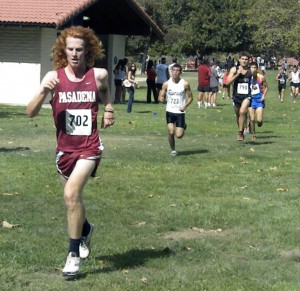 Will Zentmyer, Pasadena City College sophomore, ran a time of 21:14 for 16th place as the Lancers earned a fifth place team finish out of 16 colleges competing at Foothill Invitational on Oct. 1, in Ontario.    Zentmyer (La Canada High School) was followed by teammates Esteven Zarazua (John Muir High School), 38th, 22:30, Chris Le (Rosemead High School), 39th, 22:32, Herminio Flores (Los Angeles High School), 40th, 22:34, and Enmanuel Vera (Rosemead High School), 49th, 23:02. The Lancers top five runners made it into the top 50 out of 220 overall runners. Photo by C. Lyons.
Leave a Response