NEWS FROM ASSEMBLYMEMBER ED CHAU
NEWS FROM ASSEMBLYMEMBER ED CHAU
Assemblymember Chau Statement on the Passing of Bryan Urias, Mayor of the City of Duarte
On October 26, Assemblymember Ed Chau (D-Monterey Park) issued the following statement on the passing of Bryan Urias, Mayor of the City of Duarte:
"I am deeply saddened by the passing of Bryan Urias and offer my deep condolences to his family. Bryan worked at my District Office providing much needed assistance to our constituents, and will be missed as a member of our team.  I had the pleasure of knowing Bryan for many years and will always remember and admire his dedication to the community, both as a professional and elected official, and for serving the public's interest in the San Gabriel Valley. Bryan's passing is a great loss to our region."
Throughout his extensive history of public service, Bryan Urias has worked for several of the San Gabriel Valley's legislative leaders, including Congressmember Hilda Solis and Congressmember Judy Chu.  Later, Bryan again worked for Hilda Solis in her role as a Los Angeles County Supervisor.  In addition, Bryan was a local elected official and served for eight years as a Member of the Board of Directors for the Upper San Gabriel Valley Municipal Water District.  In November of 2018, Bryan was elected to the City Council for the City of Duarte, and represented that city's constituents in District 6.  In December of 2020, his peers on the City of Duarte City Council selected him to serve as Mayor.
Assemblymember Chau Hosts Ninth Annual
"Operation Gobble" – Turkey Giveaway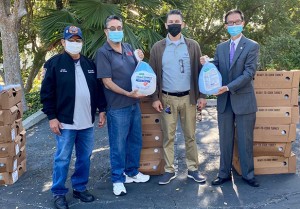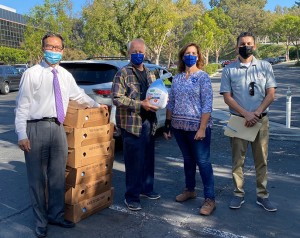 On November 5, Assemblymember Ed Chau, in partnership with the San Gabriel Valley Water Company, California American Water Company and Golden State Water Company, hosted the 2021 Operation Gobble in the City of Monterey Park. This is the ninth consecutive year of the event in collaboration with local food banks, community-based organizations, and local water companies, to allocate turkeys for vulnerable populations in the 49th Assembly District. Due to the COVID-19 pandemic and physical distancing protocols still in effect, turkeys were retrieved via a drive-thru.
"Many Angelenos struggle with food access or are unable to eat regular meals due to lack of money or resources. In fact, a recent study revealed that nearly one million residents in LA County experience food insecurity," said Assemblymember Chau. "The holiday season is a time for gratitude and sharing with others. Thankfully, the nonprofits we partnered with today serve as an avenue to getting food to those with the most need."
The 2021 Operation Gobble community partners include: Boys and Girls Clubs of West San Gabriel Valley and Eastside; Home of Angels; Potrero Heights Community and Senior Center; The Kiwanis Club of Temple City; Veterans of Foreign Wars of the United States Post, Greater El Monte Post 10218; El Monte/South El Monte Emergency Resources Association; The Church of Our Savior Center; Asian Youth Center; and La Casa De San Gabriel Community Center.
Assemblymember Chau represents the 49th Assembly District, comprised of the communities of Alhambra, Arcadia, El Monte, Monterey Park, Rosemead, San Gabriel, San Marino, Temple City, and portions of Montebello and South El Monte.
The Impact of COVID-19 on Food Insecurity in Los Angeles County by USC Dornsife Public Exchange in partnership with Los Angeles County Emergency Food Security Branch, was the study referenced in the quote. For more information, please visit https://publicexchange.usc.edu/food-insecurity-in-la-county/.
Leave a Response