NEWS FROM ASSEMBLYMEMBER ED CHAU
Yi Bao Produce Group, Inc. Recognized as 2021 small business of the year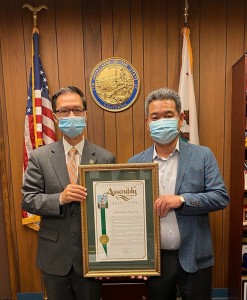 On August 24, Assemblymember Ed Chau (D-Monterey Park) honored Yi Bao Produce Group, Inc., as the 49th Assembly District "Small Business of the Year" for 2021, at an event hosted by the California Small Business Association in Sacramento. The ceremony recognizes small businesses, from throughout the state, for their outstanding contributions to California.
"Small businesses are the cornerstone of any city and town, because they provide jobs, support the economy, and enrich their communities. Yi Bao Produce Group exemplifies these qualities," said Assemblymember Ed Chau. "As the COVID-19 pandemic forced many businesses to hit pause, Mr. Gordon Chen, CEO of Yi Bao Produce Group, partnered with local leaders to donate 200,000 masks, gloves and sanitizers to local hospitals, senior homes and law enforcement, and continues to donate fresh vegetables and fruits to local food banks. It is my honor to recognize Yi Bao Produce Group as the Small Business of the Year for our District."
Gordon Chen immigrated to California from China in 2000, and is a longtime volunteer with the Chinese American Community Affairs Council (CACAC); an organization that helps other immigrants, like himself, settle into their new surroundings. Before the pandemic, Mr. Chen regularly hosted community gatherings as a way to educate and help other Chinese immigrants achieve their American Dreams. Mr. Chen first established Yi Bao Produce Group, Inc. in 2002 as a fresh produce importer that has since expanded to multiple locations across the United States. The majority of clients that Yi Bao Produce Group serves are Chinese supermarkets from California to New York.
Assemblymember Ed Chau to announce State Grant for Community Safety Net Facility to Chinatown Service Center
On Saturday August 28, 2021, Assemblymember Ed Chau, District 49, joined local officials of the City of Alhambra and members of the Chinatown Service Center (CSC), to announce a State Grant of $3.5 Million to the Chinatown Service Center, a non-profit organization.  This grant will be used to establish a safety-net facility that will serve the social and healthcare needs of the community.   The facility will provide programs to enrich the lives of many families in the West San Gabriel Valley, such as social services, elder daycare, youth programs, and medical, dental, behavioral, optometry and pharmacy services.  These programs will ensure that essential wrap around services are made available to all, particularly to low-income families.
Assemblymember Chau advocated to secure state funding for CSC to benefit the community. CSC serves over 20,000 clients annually, and has been a prominent service organization in the Greater Los Angeles Area for 50 years and is now expanding into the West San Gabriel Valley.
Assemblymember Ed Chau represents the 49th Assembly District, which includes the cities of Alhambra, Arcadia, Monterey Park, Rosemead, San Gabriel, San Marino, Temple City, and portions of El Monte, Montebello, and South El Monte.
Leave a Response