SEPTEMBER'S SONG
By Mona Raskin
Ever since 9/11, September has had the sad distinction of being remembered negatively Nine years ago our nation was attacked by a group of middle eastern terrorists!  Obviously, Americans vowed to retaliate with the strong desire to apprehend the culprits (leaders). The result has been extensive warfare in Iraq and Afghanistan but unfortunately, we have yet to capture the leaders and the rest of their group.
In the meantime, we should be trying to rebuild and restore "Ground Zero"! Instead, there appears to be an emphasis on whether we should allow the building of a mosque in a nearby area!  America has always allowed religious freedom!  We are merely stating that the mosque in question should be relocated in a less sensitive area.
September is also the month of daughter Rachel Raskin Zrihen's birthday!  Unfortunately, Rachel was recently diagnosed with a form of cancer. She is currently undergoing special treatment. To our amazement  Rachel has faced this ailment with inner strength and fortitude!  Perhaps, years of newspaper reporting has given her the ability to cope with all sorts of tough situations. In any event, she is determined to tackle this set back in her life as she would any other episode she has had to encounter along the way. We sincerely hope that with her positive attitude she will and can conquer this set back!
So far, September has revealed her sad side! We can only wish that the rest of the month will appear brighter and the world will once again glow with everlasting peace!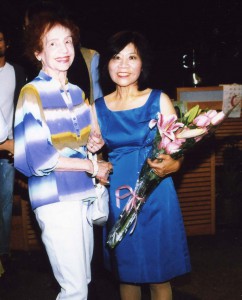 SPECIAL COMMENT:  Congratulations to Ci Ci Lau for her outstanding leading role performance in "The Gingerbread Lady" It was a delightful play about a woman who was returning home from rehab to try to recapture her previous life as an entertainer. Former friends visit frequently.  Unfortunately, they spend time complaining about their problems .The situation causes The Gingerbread Lady to resort to resorting to alcohol once again!  In spite of it all, she happily winds up with a joyous reunion with her daughter!  The entire play was very well done!
Leave a Response