Judy Chu
Judy Chu

Dear Friend,
Whether the loss of a loved one or the loss of a job, all of us are feeling the pain of the coronavirus pandemic. And I want you to know that help is on the way.
On February 27th, the House of Representatives passed H.R. 1319, the American Rescue
Plan Act of 2021. This $1.9 trillion relief package will deliver survival checks directly to families, support businesses with new loans, provide workers with more unemployment insurance, and help end this crisis by speeding up vaccine distribution.
I know so many of you have questions about this bill and what it means for your ability to get a vaccine, return to school, or go back to work. On Friday, March 5th, I hosted a roundtable on Facebook Live with local leaders and community members. We discussed the importance of the American Rescue Plan and how it will directly benefit the communities and families of the San Gabriel Valley. I was joined by:
Dr. Ying-Ying Goh, Director of the Pasadena Public Health Department
Sasha Renee Perez, Mayor of Alhambra
Tammy Scorcia, President of the Alhambra Teachers Association
Suzanne Goin, Chef and Owner of A.O.C. Restaurant and Wine Bar
To learn more about the relief package or you have any questions, please reach out to my Pasadena office at (626) 304-0110 or my Washington, D.C. office at (202) 225-5464.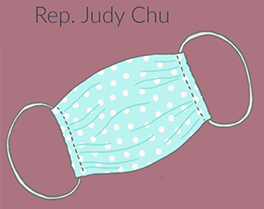 Sincerely,

Judy Chu, PhD
Member of Congress
Leave a Response