News from the City of Monterey Park
City of Monterey Park Unveils New Playground and Outdoor Fitness Court at Barnes Park
The City of Monterey Park Recreation and Community Services Department is excited to announce the grand opening of a new playground and fitness court at Barnes Park.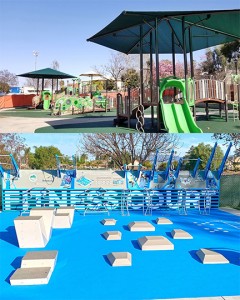 The previous Barnes Park playground was over 20 years old and has been upgraded with two entirely new play structures ‑ one for children 2-5 years of age and another for 5-12 years of age.  Each structure includes slides, various play apparatuses with shade canopies, swing sets and rubberized safety surfaces.
Adjacent to the playground is a new outdoor "fitness court." The city has partnered with the National Fitness Campaign (NFC) with the goal of providing the community with outdoor equipment that residents of all fitness abilities could utilize.  This outdoor bodyweight circuit training system enables users to perform a full body workout within a seven movement, seven-minute system. Community members can also download a free fitness court app designed to help users learn different fitness court exercises and compete in fitness challenges.
On Monday, March 8, 2021 at 2:00 p.m., a brief ribbon cutting ceremony (no live audience) was held at Barnes Park. The virtual ceremony recording will available for viewing on the city's social media accounts, on MPK-TV cable TV and at www.youtube.com/Montparktv.
For everyone's safety, anyone visiting the new playground or fitness court is reminded to adhere to LA County Public Health Orders for outdoor playgrounds and gyms/fitness establishments. All visitors are required to wear a face covering, maintain social distance, and are encouraged to bring their own hand sanitizer.
To download the free fitness court app or learn more about the National Fitness Campaign please visit www.montereypark.ca.gov/fitnesscourt.
Housing is Key: California's COVID-19 Emergency Rental and Utility Assistance Program
Income eligible tenants in need of rental/and or utility assistance, both for arrears and future payment, can apply for the CA COVID-19 Rent Relief Program. Funding for this program is provided by federal Consolidated Appropriations Act of 2021.
Applications for the CA COVID-19 Rent Relief program will be accepted on an ongoing basis. Applications must include all required information, along with necessary verification items. Once an application has been successfully received, both the landlord and tenant will be notified about the application status.
The state will first review and commit funds to applicants who are eligible and whose income is at or below 50% of area median income (AMI) to ensure those most in need receive assistance.
How Does the CA COVID-19 Rent Relief Program Work?
Unpaid Rent
Landlords who participate in the CA COVID-19 Rent Relief program can get reimbursed for 80% of an eligible tenant's unpaid rent between April 1, 2020, and March 31, 2021, if they agree to waive the remaining 20% of unpaid rent during that specific time period.
Eligible tenants whose landlords choose not to participate in the program may apply on their own and receive 25% of unpaid rent between April 1, 2020, and March 31, 2021. Paying this 25% of unpaid rent by June 30, 2021 can help keep tenants in their home under the extended eviction protections in SB 91.
Prospective Rent
Eligible tenants can receive prospective rental assistance equal to 25% of their monthly rent. Combined with the assistance available for unpaid rent, prospective assistance will help tenants stay housed once the eviction protections in SB 91 expire on June 30, 2021.
Utility Assistance
Eligible tenants may also receive assistance for utility arrears and prospective payments. Utility arrears accumulated from April 1, 2020 through March 31, 2021 will be compensated at 100% of cost, limited to a total of 12 months.
What Can I Do to Get Ready?
Landlords, click on this link to review program requirements and documentation required.
Tenants, click on this link to review program requirements and documentation required.
Monitor the California COVID-19 Rent Relief website for updated information.
Monterey Park City Hall is located at 320 W. Newmark Avenue, Monterey Park, CA 91754. City hall is closed to the public until further notice. For more information about other resident and small business owner programs and city COVID-19 updates, please visit www.montereypark.ca.gov/238/Coronavirus-Updates.
San Gabriel Valley Habitat for Humanity Homeownership Application Period Opens April 1
The high cost of housing in the San Gabriel Valley means that homeownership is out of reach for many families. San Gabriel Valley Habitat for Humanity sells affordable homes to low-income, first-time homeowners to help them achieve the American dream of homeownership.
Approved homeowners qualify for a monthly housing payment, including mortgage, property tax, insurance, and HOA fee if applicable, equal to 30% of their gross monthly income.
With the support of community partners, donors, and volunteers, the San Gabriel Valley Habitat constructs new homes and renovates existing homes alongside Habitat Partner Homebuyers. They work to create affordable homeownership opportunities so everyone can achieve strength, stability, and self-reliance through shelter.
Am I eligible?
You must demonstrate a need for housing. This means that your current living conditions are substandard, crowded, or overly expensive.
You must demonstrate the ability to pay for your new home by having good credit (no recent bankruptcies, collections, liens, or judgments) and meeting annual income requirements.
You must be willing to partner with SGV Habitat for Humanity by completing homebuyer education and investing sweat equity hours building your future Habitat home and the homes of other Habitat Homebuyers.
You must meet the definition of a first-time homebuyer.
Pre-applications can be completed online beginning April 1 through April 30, 2021. For more information about the SGV Habitat for Humanity Homeownership Program, registration links, and dates for free information sessions, please visit www.sgvhabitat.org/housing-services/homeownership/.
Habitat for Humanity is an equal opportunity housing provider and lender. If you have questions or concerns, contact the Homeownership Team at 818-937-2010 or homeownership@sgvhabitat.org.
Leave a Response