MONTEREY PARK LIBRARY TO UNVEIL STUNNING NEW MURAL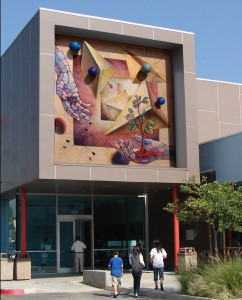 The Monterey Park Bruggemeyer Library will unveil a wonderful new mural at the main entrance to the library on Saturday, October 2, 2010, at 2:00 P.M.  The mural titled "Outpost of Wonder" was created by gifted local artist Ricardo Mendoza.  The ceremony will begin with a Wine Tasting Reception in the library to meet the artist and end with the actual unveiling at the main entrance at 4:00 P M.
State and local dignitaries have been invited to speak briefly at this occasion and Southern California media has also been invited.
This is a "Must Attend" event.
Invitations to the Wine Tasting Reception are by sponsorship donations which are:
Individuals:               $25.00
Corporate:                $100.00
Silver:                      $250.00
Gold:                       $500.00
Gold sponsors will receive a limited edition framed, and numbered photo signed by the artist. All donations are tax deductible.
Please R.S.V.P. by Friday, September 10, 2010
For additional information and/or donations contact:
Virginia M. Greene, Committee Chair
Library Foundation Board
Cell # 323-304-7300 email:  capent@pacbell.net
Doris Lau
Library Board of Trustees
Cell# 626-891-7822  email: dklgov@yahoo.com
Leave a Response