News from Assemblymember Ed Chau Assemblymember Chau Hosts Eighth Annual "Operation Gobble" – Turkey Giveaway
News from Assemblymember Ed Chau
Assemblymember Chau Hosts Eighth Annual
"Operation Gobble" – Turkey Giveaway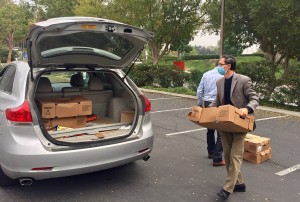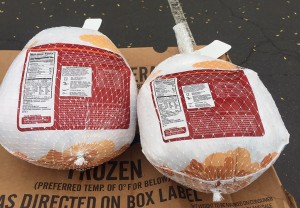 On November 23, Assemblymember Ed Chau (D- Monterey Park), in collaboration with the San Gabriel Valley Water Company, California American Water Company, and Golden State Water Company, hosted the Eighth Annual 49th Assembly District "Operation Gobble" Turkey Giveaway. For this annual event, Assemblymember Chau partnered with local, community based organizations who will distribute 100 turkeys and meals to families in need throughout the San Gabriel Valley. In accordance with COVID-19 safety protocols, this year's Operation Gobble transformed into a contactless drive-thru event held outside where participating partners also received information for services and programs provided by the district office.
"This holiday season, let us do all we can to responsibly help those in our community facing challenges, due to the COVID-19 pandemic," said Assemblymember Ed Chau. "My hope is that this year's Operation Gobble will encourage others to give and help those who face food insecurity and hunger, an important issue that we as policy makers must continue addressing throughout our state."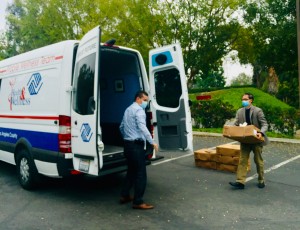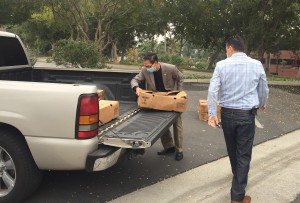 The 2020 recipients of Operation Gobble include: Boys and Girls Clubs of West San Gabriel Valley; Home of Angels; Veterans of Foreign Wars of the United States, Greater El Monte Post 10218; the El Monte/South El Monte Emergency Resources Association; The Church of Our Savior Center; Asian Youth Center; and La Casa Community Center.
Chau Introduces Legislation to Combat Misinformation Online
AB 35 seeks to ensure that social media platforms have a policy to address the harmful spread of misinformation.
On December 7, Assemblymember Ed Chau (D–Monterey Park) introduced legislation that would empower Californians to better assess what social media platforms are doing to address the rampant spread of misinformation.
Specifically, Assembly Bill (AB) 35 would require social media platforms to disclose whether or not they have a policy or mechanism in place to reduce the spread of misinformation that contributes to the risk of imminent violence or physical harm, to reduce the spread of harmful, verifiably inauthentic content, and to address practices intended to deceptively and substantially manipulate or disrupt the behavior of users.
"The proliferation of misinformation can have a severe impact on the psychological and emotional well-being of Californians, which makes access to accurate information all the more important," said Assemblymember Chau. "As we grapple with containing the COVID-19 pandemic, social media platforms are an essential tool in spreading important information on how people can stay safe and healthy. However, they have also become an avenue for those interested in spreading misinformation, including acts of fraud. Since social media platforms are an integral part of sharing and understanding information, it is vital to ensure that information is accurate and factual."
In 2019, the Pew Research Center reported that 55% of U.S. adults got their news from social media, which went up from 47% in 2018. A different report by the Pew Research Center found that despite controversies surrounding fake news, the number of U.S. adults who continue to rely on getting news from social media sites stayed nearly the same at 72% in 2018 compared to 73% in 2019. In another survey by Statista, 10% of U.S. adults knowingly shared made up news online in 2019 and approximately 50% shared a news story, only to find out later the news story was false.
The topic of misinformation, also known as fake news, and its spread on social media has been debated and reported on by almost every major news organization. Yet, the data shows that U.S. adults continue to rely on news that spreads through social media platforms, which play a big role in increasing the reach of false stories. All of this leads to confusion and a growing mistrust of news organizations.
Chau Introduces Automated Decision Systems Accountability Act of 2021
AB 13 seeks to prevent algorithm-driven systems from resulting in discrimination
On December 8 Assemblymember Ed Chau (D–Monterey Park) introduced legislation that would bring accountability and transparency to algorithm-driven systems used by businesses and public entities, which rely on machine learning or artificial intelligence to make decisions affecting people's lives.
Specifically, Assembly Bill (AB) 13, titled the Automated Decision System Accountability Act of 2021, would require any business in California that provides a program or device using an automated decision system, or ADS, to establish processes to continually test for biases during its development and usage, and to conduct an impact assessment to determine any disproportionate impacts on protected classes.
"As more entities develop and rely on the use of algorithm-driven systems in making critical decisions, we need to mitigate any negative impacts they present to people's lives," said Assemblymember Ed Chau. "Establishing accountability and transparency measures for these systems is increasingly urgent, especially as we seek to rebuild our economy in an equitable way following the impacts of COVID-19.  If we take no action now, it will become increasingly difficult to implement these regulations since more entities will have deployed an ADS infrastructure without consideration for these issues."
According to a 2019 report by The Brookings Institution's Artificial Intelligence and Emerging Technology Initiative, "algorithmic or automated decision systems use data and statistical analyses to classify people and assess their eligibility for a benefit or penalty." The application of these systems can assist with credit decisions, employment screening, insurance eligibility, and marketing, as well as the delivery of government services, criminal justice sentencing, and probation decisions.
A survey released in 2018 by the Pew Research Center found that public attitudes toward algorithmic decision-making reflect concern that many of these systems simply reinforce existing biases and disparities under the guise of algorithmic neutrality. The survey revealed that six-in-ten Americans (58%) feel that computer programs will always reflect the biases of the people who designed them, and their use is unacceptable due to concerns around data privacy, fairness, and overall effectiveness.
"Algorithmic bias is shockingly common, and affects everything from policing to decisions on who gets a mortgage or is admitted to college," said Greenlining Institute Technology Equity Legal Counsel Vinhcent Le, who is currently completing a report on algorithmic bias to be released next year. "The bias built into these automated decision systems is usually unintentional, but it does real harm to people of color and women. We need accountability and transparency to begin to fix deeply flawed systems."
The Greenlining Institute is the sponsor of the Automated Decision System Accountability Act of 2021.
Assemblymember Chau represents the 49th Assembly District, comprised of the communities of Alhambra, Arcadia, El Monte, Monterey Park, Rosemead, San Gabriel, San Marino, Temple City and portions of Montebello and South El Monte.
Leave a Response