Rep. Chu to Distribute Turkeys for "Operation Gobble 2020"
Rep. Chu to Distribute Turkeys for "Operation Gobble 2020"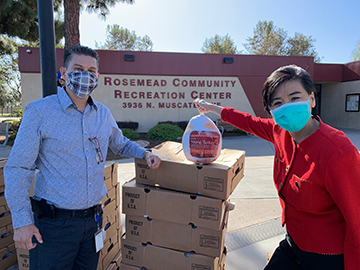 On November 9 Congresswoman Judy Chu (CA-27) distributed turkeys via curbside pick-up to predetermined nonprofit organizations in the San Gabriel Valley for the annual "Operation Gobble" donation program at the Rosemead Community Center
The annual "Operation Gobble" donation program provides turkeys to over a dozen organizations each year to help feed families in need.   Working in partnership with the San Gabriel Valley Water Company, selected organizations received turkeys to make this holiday season a little merrier.
Rep. Judy Chu (CA-27) and San Gabriel Valley Water Company donated a total of 170 turkeys were given out to 18 groups:
Alhambra Latino Association
Alhambra High School Dream Center
Altadena Senior Center
Arcadia Elks Lodge
Armenian Relief Society
Chinese Parents Association for the Disabled
Foothill Unity Center
Interdenominational Ministerial Alliance of Greater Pasadena
Inland Valley Hope Partners
La Casa De San Gabriel
Monterey Park American Legion Post 397
Pasadena Share a Meal Program
Rosemead Garvey Senior Center
San Gabriel Conservation Corp.
Veterans of Foreign Wars Post 3208
Citrus College Veterans Resource Center
Glendora Ministerial Association
Labor Community Services
Leave a Response