Rosemead's Noah Gomez Signs for Football with La Verne
ROSEMEAD — Recently graduated student Noah Gomez of Rosemead High School has signed a letter of intent to play football for University of La Verne.
Gomez had offers from universities in Illinois, Utah and Wisconsin.  At Rosemead High School, the 2020 graduate Gomez said he "enjoyed playing football with friends and the experiences, and becoming a leader on the field."
He said he is really looking forward to his education and football at University of La Verne, while still being close to home compared to going out of state for four years.
The three-year varsity football letterman also played football his freshmen year, and participated in track and field his freshmen and sophomore years before concentrating on football his junior and senior years.
Gomez started at linebacker his junior and senior years, was Mission Valley League second team linebacker and was co-Defensive Player of the Year for Rosemead High School this past season, and was 11th in California high school football in tackles with 148 his senior season.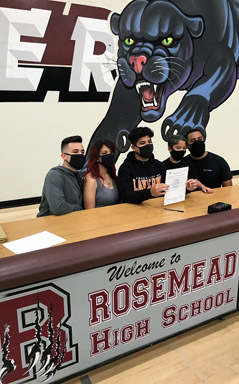 Pictured at Gomez's signing are his family (from left) brother Marcus, mother Angelica, Noah, brother Evan, and father Michael.
Leave a Response