NEWS: SoCalGas
SoCalGas Announces Approval of 10-Year Mobile Home Park Safety Upgrade Program
State approves program that gives mobile home residents enhanced safety, reliability and cost savings by replacing privately owned gas systems with direct utility service
LOS ANGELES, April 16, 2020 – Southern California Gas Co. (SoCalGas) today announced it has received state approval to provide safety and service upgrades to thousands of additional mobile home park through a ten-year Mobilehome Park Utility Conversion Program. Since its inception in 2014, the program has upgraded infrastructure and enhanced safety at more than 16,000 mobile homes in more than 244 mobile home communities throughout SoCalGas' territory. Now, due to the program's success, the CPUC voted to establish it as a ten-year, ongoing program, authorizing SoCalGas to upgrade up to half of the approximately 132,000 mobile homes in its service territory to direct utility service through 2030.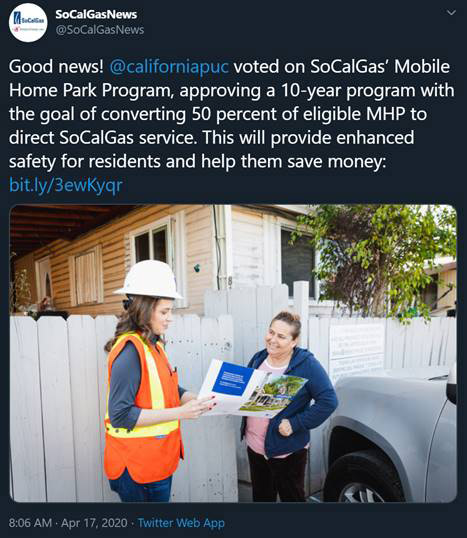 The MHP Utility Conversion Program is completely voluntary. Participating mobile home communities receive a new, professionally installed gas system that provides enhanced home safety and energy reliability for residents. As direct SoCalGas customers, residents can also sign up for a variety of SoCalGas' energy savings and assistance programs that can help them save money.
"This program will enhance safety for thousands of families across our service territory." said Rodger Schwecke, SoCalGas' senior vice president of gas operations and construction. "With direct utility service, families will also have access to a host of energy savings and assistance programs that will help mobile home park residents save money and live more comfortably."
"As the Chair of the Senate Select Committee on Manufactured Home Communities, I applaud the California Public Utilities Commission's ten-year continuation of the Mobile Home Park Utility Conversion Program," said Senator Connie M. Leyva (D-Chino). "This program continues to help residents of mobile home park communities across California, and I appreciate SoCalGas' participation in this program."
"The process from start to finish was incredibly smooth with minimal issues," said, Jamie Taylor manager of a Gardena, California mobile home park called Los Flamingos Lodge, which had direct utility service installed last year. "The entire SoCalGas team was efficient and worked seamlessly with our residents to get the work completed in a timely manner. Our mobile park's direct SoCalGas service will help us maintain state compliance guidelines and will allow park management to focus on other areas that can help improve our community for our residents."
Enrique Lopez, a resident at Peter Pan Mobile Village in Compton, California, received direct utility service last year. "SoCalGas did a great job," he said. "Everything is going well, and I am very happy with my gas service."
Mobile home park residents with direct natural gas service will have advanced meters, which allow customers to have access to their hourly natural gas usage on a next-day basis and enable them to better manage their gas usage and save money. New SoCalGas customers will now also be able to set up their own "My Account" to view and pay their bill online, schedule service and/or sign up for paperless billing. Income-qualified customers can also benefit from energy savings and assistance programs that can help them save money. More information about these programs is available at socalgas.com (search "Assistance") or by calling 1-800-252-0259 (available in English and Spanish).
Owners of participating mobile home communities also see benefits.  Owners will no longer have to maintain or be liable for privately-owned gas systems and instead can contact SoCalGas directly for service needs. Direct service also saves owners time, since they no longer have to read meters, bill residents or respond to service questions. The program covers costs for installing new utility service at each mobile home community including, individual resident meters.
Nearly 80 percent of all mobile home communities in SoCalGas' territory applied to participate in the initial pilot program. For more information about the mobile home park utility conversion  program and how to apply, please visit https://www.socalgas.com/stay-safe/safety-and-prevention/mobilehome-park-utility-upgrade-program.
SoCalGas Takes Next Step Toward Offering Renewable Natural Gas
Utility and other stakeholders file agreement on the details of a new program that would give millions of Californians the option of getting part of their natural gas from renewable sources
LOS ANGELES –April 17, 2020 – Southern California Gas Co. (SoCalGas) today announced it and other important stakeholders have agreed on details of a proposed plan to offer renewable natural gas to customers, and have filed that agreement with the California Public Utilities Commission (CPUC). Stakeholders include consumer advocate groups (including the state's consumer advocate), a national environmental organization, and various industry groups. Renewable natural gas can be used just like traditional natural gas to cook, heat homes and run businesses, and fuel trucks and buses. The fuel can be made when methane, a greenhouse gas that occurs naturally when organic waste breaks down, is captured rather than being released into the air.
The proposed program would allow millions of Californians the option to purchase a portion of their natural gas from renewable sources, just as many today can opt to purchase renewable electricity. The program is expected to create increased demand for renewable natural gas, which can help increase supply and lower its cost over time, similar to what has happened with renewable electricity created from wind and solar power.
"Replacing traditional natural gas with the renewable kind is a great way to reduce climate change emissions," said Andy Carrasco, SoCalGas chief environmental officer.  "People like using natural gas for cooking, hot water and home heating, so using renewable gas allows them to keep their preferred energy source while helping achieve climate goals."
With the agreement in place, the CPUC can begin its review and evaluation process; a decision could come in the fall of this year.
The production and use of renewable natural gas in California has steadily increased since the enactment of a 2016 law requiring the reduction of methane emissions from dairy farms and diversion of food and green waste from landfills. Over 30 dairy renewable natural gas projects are now in operation in the state, and about 50 more are in various stages of development. Renewable natural gas from a San Joaquin Valley dairy digester facility began flowing into SoCalGas' pipelines over a year ago.
Renewable natural gas is also being made in California from household food waste, grass clippings and the like, keeping such waste out of landfills and putting it to use. In 2018, SoCalGas began putting the renewable gas in its pipelines from a waste hauling company's anaerobic digestion facility in Perris, California.
In 20 years, enough renewable natural gas will be available to replace about 90 percent of the nation's current residential natural gas consumption, a recent study by ICF estimates.
While thus far most renewable natural gas produced in California has been used for heavy-duty trucking, Renewable natural gas can also be used in homes, which contribute about six percent of California's greenhouse gas emissions. A 2018 study showed that replacing less than 20 percent of SoCalGas' traditional natural gas supply with renewable natural gas by 2030 can achieve the same greenhouse gas reductions as converting all homes and commercial buildings to electric-only energy. That same study also found that using a mix of in- and out-of-state renewable gas resources would be 2 to 3 times more cost effective in reducing greenhouse gases than converting homes to all-electric.
Renewable Natural Gas Program Details
If approved, the renewable natural gas program will be available to residential and small commercial and industrial customers. Residential customers will be able to select a fixed dollar amount per month for the purchase of renewable natural gas. Commercial customers will be able to select a fixed dollar amount per month or select a percentage of their consumption for the purchase of renewable natural gas, up to 100%.
Each month, participating customers would see a line item on their bill that includes the amount of renewable gas they received, along with a very small program fee. To allow the utilities to enter into the longer-term contracts necessary to purchase renewable natural gas, residential customers will have to commit to one year. After one year, they would have the option to change their dollar amount or could participate on a month-to-month basis.
As customers opt to purchase renewable natural gas, SoCalGas will buy the renewable gas from producers and reduce the amount of fossil gas that is brought into their pipeline systems. As renewable natural gas enters the SoCalGas pipeline system, its molecules blend together with traditional natural gas just like solar and wind electrons on the electric grid. Every additional therm of this renewable fuel that customers  purchase means one less therm of traditional natural gas is used.
SoCalGas Partners with The Laundry Truck LA and Landi Renzo USA to Bring Additional Mobile Laundry Services to Thousands of Homeless Throughout Los Angeles
On April 30  SoCalGas announced their partnership with The Laundry Truck LA (TLTLA) and Landi Renzo USA to bring additional mobile laundry services to thousands of homeless throughout Los Angeles, including the city's 42 coronavirus relief centers. SoCalGas is donating $25,000 to help purchase and furnish a new trailer to support the community's rising demands for laundry and Landi Renzo USA will also donate a converted CNG Ford F-250 truck to help TLTLA expand their reach and lower their transportation costs.


The donations from will double the amount of free services currently provided by The Laundry Truck LA. The organization is now expecting to complete 15,600 loads of laundry in 2020 and is now expanding their operations to further assist the additional six thousand beds the City of Los Angeles have committed to for the COVID-19 pandemic.
SoCalGas & Sempra Energy Foundation Donate $50,000 and Commercial Kitchen Equipment to Covenant House California Shelter for Homeless Youth
The $50K and commercial cooking equipment donation will help supplement the cost of food and other services for homeless youth
LOS ANGELES – May 7, 2020 – Southern California Gas Co. (SoCalGas) and Covenant House California (CHC) today announced that SoCalGas and the Sempra Energy Foundation together have donated $50,000 to Covenant House California, a non-profit shelter that provides sanctuary and support for homeless and trafficked youth, ages 18-24. The $50,000 donation includes, $25,000 from SoCalGas and $25,000 from the Sempra Energy Foundation. In addition, SoCalGas, is donating commercial cooking equipment for the shelter's kitchen. Please see here for photos and video from today's delivery of the kitchen equipment to Covenant House.
"SoCalGas is proud to support our friends at Covenant House of California with this donation," said Mia DeMontigny, Vice President Controller and Chief Financial Officer at SoCalGas and Covenant House California board member. "Covenant House works tirelessly to provide critical and life-changing services to youth experiencing homelessness in Los Angeles and we are proud to be able to support their efforts."
"SoCalGas is showing what an amazing partner they are, during the greatest time of need for young people experiencing homelessness. This gift helps us to be able to meet the needs of more youth than ever who do not have a safe place to sleep right now, as the result of the pandemic.  We are so incredibly grateful to SoCalGas for stepping up in such a significant way for the most vulnerable people in our community," said Bill Bedrossian, CEO Covenant House of California."
CHC provides not only housing services including transitional living programs but also support services such as street outreach, medical and mental health services, and career and education programs. Covenant House California has over 100 youth currently living at its Los Angeles campus and served over 240,000 meals to youth throughout California last year.
The donations from both SoCalGas and the Sempra Energy Foundation will supplement the cost of food for the shelter's Los Angeles location as well as support other services the non-profit provides. Last month, SoCalGas announced a $1 million donation to nonprofit organizations throughout its service area to support the region's workforce, feed the hungry, and provide bill assistance to customers most affected by COVID-19.
Together, the Sempra Energy family of companies – including SoCalGas' sister California utility San Diego Gas and Electric and the Sempra Energy Foundation – are stepping up with more than $8 million to those in need during this crisis.
SoCalGas has suspended service disconnections for its core customers until further notice. This means no residential or small business customer will have their natural gas turned off due to non-payment. SoCalGas has also temporarily waived late fees for small business customers. Late fees are never charged for residential customers.
Natural gas continues to flow and is being delivered to SoCalGas' 22 million customers across southern and central California, just as it does on a "typical" day.  There is no shortage of supply of natural gas for homes or businesses or to power plants that generate electricity.
For more information about SoCalGas' response to the COVID-19 pandemic, please visit www.socalgas.com/coronavirus.
Covenant House California COVID-19 Response
Covenant House California is ACTIVELY serving nearly 5,000 youth a year who are experiencing homelessness across the state in Los Angeles, Oakland, and Berkeley. Simultaneously, each night in California, there are over 10,000 youth experiencing homelessness who don't have a safe place to sleep. Their need for shelter, sustenance, medical attention, sanctuary, and support has not quelled in the midst of social distancing and the shuttering of non-essential businesses; IT HAS DRASTICALLY INCREASED.
The work of providing care to an already traumatized population of youth centers upon human connection, contact, and engagement. To that end, our shelters are sheltering, our street outreach programs are outreaching, and our counselors are counseling; we make a commitment to every youth we serve that, when they are with us or working with us, they will receive absolute respect and unconditional love, and we will not relent in that covenant.
We work with a highly traumatized population. As a result, their response to this crisis – and our society's collective anxiety – requires a targeted, trauma-informed approach from a mental health standpoint. Our counselors are working double-time to ensure that youth who are scared are enveloped with love and support and reinforcing their inherent strengths that fuel healthy coping mechanisms – mechanisms that will prevent returns to homelessness.
Our Rapid Rehousing programs are structured to provide support to youth who have worked unbelievably hard to maintain a job and their first apartment lease. Many of those youth are now faced with the elimination of their employment (i.e., those working in the service industries). We are not willing to stand by and watch youth lose everything as a result of their work stoppage or shortage, and as a result, we are paying their rent – or whatever portion of their rent that they cannot afford.
In fact, a significant majority of our youth lost their employment just one week into the pandemic.  This has created the need for additional food and staffing costs on our campuses as well as the need to have increased programming on our sites to ensure that youth are being constructive and staying healthy during this time where employment prospects are very low for them.
We will not stop doing this work. We have made that commitment to the youth we serve and, frankly, to the communities we serve. Every unrestricted dollar that can be mustered makes the fulfillment of that commitment less strenuous. In a time when everything is constantly changing, this funding allows us to rapidly target emergencies as they arise.
For further information: Patrice Clayton, SoCalGas Office of Media and Public Information, (213) 244-2442, pclayton@socalgas.com; or Mike Stommel, Covenant House of California Media Contact, Lucky Break PR, (323) 602-0091, mike@luckybreakpr.com.
About Covenant House California
Covenant House California (CHC) is a non-profit youth shelter with locations in Hollywood, Oakland and Berkeley that provides sanctuary and support for homeless and trafficked youth, ages 18-24. CHC believes that no young person deserves to be homeless; that every young person in California deserves shelter, food, clothing, education and most importantly, to be loved. Now serving over 5,000 youth a year, CHC has served over 200,000 homeless youth since we've opened our doors. CHC provides a full continuum of services to meet the physical, emotional, educational, vocational, and spiritual well-being of young people, in order to provide them with the best chance for success in independence.
www.covenanthousecalifornia.org
Facebook: @covenanthousecalifornia
Twitter: @CovenantHouseCA
About SoCalGas
Headquartered in Los Angeles, SoCalGas® is the largest gas distribution utility in the United States. SoCalGas delivers affordable, reliable, clean and increasingly renewable gas service to 21.8 million customers across 24,000 square miles of Central and Southern California, where more than 90 percent of residents use natural gas for heating, hot water, cooking, drying clothes or other uses. Gas delivered through the company's pipelines also plays a key role in providing electricity to Californians— about 45 percent of electric power generated in the state comes from gas-fired power plants.
SoCalGas' vision is to be the cleanest gas utility in North America, delivering affordable and increasingly renewable energy to its customers. In support of that vision, SoCalGas is committed to replacing 20 percent of its traditional natural gas supply with renewable natural gas (RNG) by 2030. Renewable natural gas is made from waste created by dairy farms, landfills and wastewater treatment plants. SoCalGas is also committed to investing in its gas delivery infrastructure while keeping bills affordable for our customers. From 2014 through 2018, the company invested nearly $6.5 billion to upgrade and modernize its pipeline system to enhance safety and reliability. SoCalGas is a subsidiary of Sempra Energy (NYSE: SRE), an energy services holding company based in San Diego. For more information visit socalgas.com/newsroom or connect with SoCalGas on Twitter (@SoCalGas), Instagram (@SoCalGas) and Facebook.
Leave a Response