Tim Motts Takes the Helm of Rotary Club of Monterey Park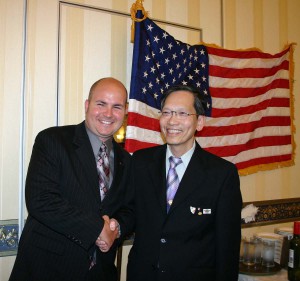 Rotary Club of Monterey Park's demotion. Tim Motts, incoming President, is on the left and Jonathan Tam, demoted President is on the right.
This photo was taken at Capital Seafood. Submitted by Linda Wilson
Tim Motts took up the gavel July 8th as new president of the Rotary Club of Monterey Park in the club's annual demotion ceremony. Motts plans to assist local organizations in their efforts to support Monterey Park Residents for the humanitarian civic group. Motts pointed out that, "This year will see our Rotary Club go above and beyond for the families in our community that are struggling to survive in the harshest economic climate that we have seen in decades."
The Rotary Club of Monterey Park was formed in 1946 and is known for such community projects as the creator of the Monterey Park sign near Luminarias restaurant, sponsor of the City's annual track meet, sponsor and helper at the Boys and Girls Club annual Thanksgiving Dinner, major donor to the expansion of the Monterey Park Bruggemeyer Library and MERCI, donor to both MERCI and the literacy program of the Monterey Park Bruggemeyer Library and major donor to the program to eradicate polio.
Outgoing president Dr. Jonathan Tam handed over the reigns to Motts at the traditional demotion party.  Tam left a strong legacy in the Monterey Park Club, including sponsoring a trip to Africa to build a school.
New President Motts brings ample experience to the table, including being the Executive Director of the Boys and Girls Club of West San Gabriel Valley and as President-Elect leading the team to build a school in Africa.  Motts has been a member of the Monterey Park club for 3 years and has been working with Youth through community based organizations since 1997.  He is married and has a new baby boy.
The Rotary Club of Monterey Park meets Thursdays at 12:15 at Capital Seafood, 755 West Garvey Avenue, Monterey Park. For more information visit http://www.clubrunner.ca/CPrg/home/homeA.asp?cid=4711 or call (626) 573-2831.
Rotary is a worldwide organization of business and professional leaders who provide humanitarian service and help to build goodwill and peace in the world. Rotary's global membership is more than 1.2 million men and women belonging to more than 33,000 Rotary clubs in more than 200 countries and geographical areas. Learn more at rotary.org.
Leave a Response