Assembly Committees Convenes First informational hearing on FACIAL RECOGNITION TECHNOLOGY
Assembly Committees Convenes First informational hearing on FACIAL RECOGNITION TECHNOLOGY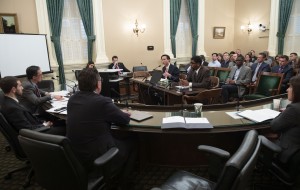 On March 11 State legislators, key academics, industry experts, government liaisons, and consumer and civil liberties representatives convened on Tuesday for the first informational hearing of the California State Assembly on Facial Recognition Technology (FRT). The committees examined the promises and challenges associated with FRT, and impact it may have on California residents, state and local governments, and businesses. Also considered was the role that the Legislature should take in approaching this complex and emerging issue.
"While FRT technology has existed for decades, only recently has it begun to pervade our everyday lives at an exponential rate. From assisting smartphone users in unlocking their phones to its use in retail stores, concerts and airports, FRT serves the purpose of identifying people for a variety of reasons," said Assemblymember Ed Chau (D-Monterey Park). "The use of FRT, however, brings with it ethical and legal questions that we must answer, as its application becomes more prevalent in our everyday lives, and today's hearing was the first step to answering some of those questions."
Facial recognition technology refers to the use of automated devices to identify or verify a person from a digital image by determining whether two images of faces represent the same person.  Though FRT retains ample promise as an emerging technology, it is imperative that California adopts a regulatory approach that is mindful of its shortcomings and prioritizes the maintenance of civil liberties guaranteed by the State and Federal Constitutions governing its residents. One of the most notable examples of its abuse involves Clearview AI, a company recently profiled in an article by the New York Times in January of 2020, which has assembled a database of more than 3 billion faces collected from the internet and made this database available to law enforcement agencies around the country. Most recently, we learned that before it became a law enforcement tool, Clearview's investors, clients and friends also had access to the app and used it freely, as subsequently reported by the New York Times.
"With ten other states introducing legislation this year to either regulate, ban or study facial recognition systems, the time has come for us to shape the future of facial recognition technology in California. The purpose of this hearing was to encourage the dialogue necessary for us to find a balance between protecting our state's population, while simultaneously driving innovation and productivity, as we approach regulating the use of this technology," concluded Assemblymember Ed Chau.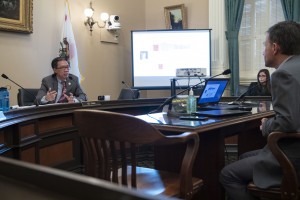 The hearing, titled, "Shaping the future of facial recognition technology in California: Identifying its promises and challenges," included expert testimony from Matthew Turk, President of the Toyota Technological Institute at Chicago and Professor Emeritus at UCSB's Department of Computer Science who provided an overview of how FRT works and its recent advances. Speaking on the current and future applications of FRT was Jake Parker, Senior Director of Government Relations at the Security Industry Association, and Darryl Lucien, representative for the Los Angeles Police Protective League.
Addressing the privacy, bias and other challenges related to FRT was Megan Graham, Clinical Supervising Attorney at the Samuelson Law, Technology & Public Policy Clinic at UC Berkeley's School of Law, and Becca Cramer-Mowder, Legislative Coordinator & Advocate at the ACLU of California.
The hearing concluded with a conversation on the current legal framework and potential need for government regulation of FRT, covered by Catherine Crump, Assistant Clinical Professor of Law and Director of the Samuelson Law, Technology and Public Policy Clinic. She is also Co-Director at the Berkeley Center for Law & Technology. Additional presenters on this panel included Michael McLaughlin, Research Analyst at the Information Technology and Innovation Foundation, Adam Schwartz, Senior Staff Attorney at the Electronic Frontier Foundation, and Ryan Harkins, Senior Director of Public Policy at Microsoft.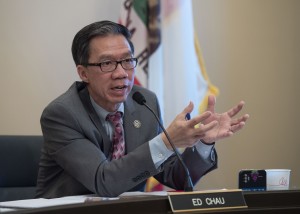 Assemblymember Chau is the Chair of the Assembly Committee on Privacy and Consumer Protection and Select Committee on Emerging Technologies and Innovation. He represents the 49th Assembly District, comprised of the communities of Alhambra, Arcadia, El Monte, Monterey Park, Rosemead, San Gabriel, San Marino, Temple City and portions of Montebello and South El Monte.
Leave a Response