State and local officials held a press conference on coronavirus, as outbreak reaches Southern California
State and local officials held a press conference on coronavirus, as outbreak reaches Southern California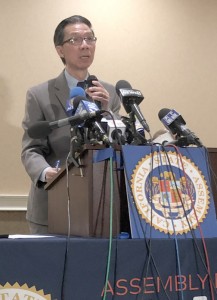 On January 31 surrounded by local and public health officials, Assemblymember Ed Chau (D – Monterey Park) held a press conference to provide an overview on the current coronavirus outbreak, as the first cases reach Southern California.
"I want to assure everyone that our public health officials, at both the state and local level, are working around the clock, with their federal counterparts, to monitor and contain the spread of the coronavirus," said Assemblymember Chau.  "As community leaders, we also have a responsibility to dispel inaccurate information regarding the spread of coronavirus, while making sure our friends, family and neighbors are aware of the efforts in our region to prepare for and respond to this threat."
Since January 26, two individuals have contracted the new coronavirus in California, as confirmed by the Los Angeles County Department of Public Health, the Orange County Health Care Agency, and the Center for Disease Control and Prevention. The World Health Organization has also declared the new coronavirus a global emergency, as the outbreak continues to spread.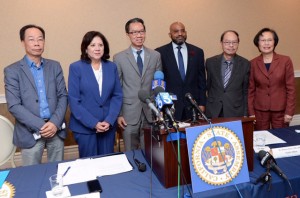 In attendance at the press conference were Supervisor Hilda L. Solis, Los Angeles County Supervisor for District One; Dr. Muntu Davis, MD, MPH, Los Angeles County Department of Public Health; Derek Ma, Founder, Chinese American Community Affairs Council; and, Mei Wah Lau, President, Chinese Consolidated Benevolent Association.
During the press conference, Assemblymember Chau also commended the Chinese-American community for mobilizing efforts to aid China in containing the spread of Coronavirus.
"It is gratifying to see the community come together by helping each other during this international public health crisis."
Assemblymember Ed Chau represents the 49th Assembly District, which includes the cities of Alhambra, Arcadia, Monterey Park, Rosemead, San Gabriel, San Marino, Temple City, and portions of El Monte, Montebello, and South El Monte.
Leave a Response