Meet The Monterey Park's Candidates Forum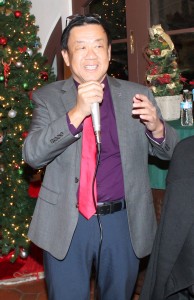 City Clerk Vince Chang welcomed the 2020 City Council candidates and the residents to the December 16th event held at El Encanto.  He said in 1920 Peter Snyder, a Greek immigrant, purchased property to build homes for people to move into Monterey Park. "Jardin El Encanto" was his sales office. He also constructed the Cascades Waterfall to highlight the area.  When the Depression hit in 1929 he lost his business. The property was later sold. The sales office property was divided into three units.  The building has been used as a wedding chapel, a USO Club and a private resident. El Encanto and the Cascade Waterfall are registered as Historical properties in the State of California.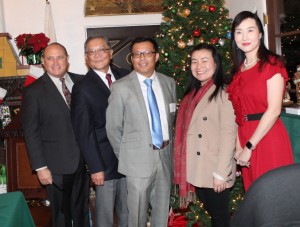 He introduced Allan Shatkin, Bob Gin, Henry Lo, Jennifer Tang, Yvonne Yiu, and to the residents.  Welcome to Democracy. Tonight these five candidates will introduce themselves to you and provide their plans for our Monterey Park if they are elected to the 2020 City Council.
Vince Chang also introduced Councilmember Peter Chan, former Mayor Mike Eng, City Manager Ron Bow, Librarian Diana Garcia, Recreation Director Inez Alvarez, former City Clerk Theresa Amador and Alhambra Councilmember Adele Andrade-Stadler.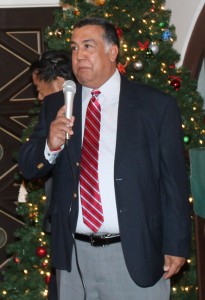 Michael Martinez, a representative from So Cal Gas, sponsored this event. He reminded the audience that So Cal Gas would inspect your gas appliances for free. Safety is important to everyone. Call 811 to check for gas lines before you dig up your property. He as very encourages by this turnout. Enjoy your evening. He thanked the Chamber Boardmembers of this event.
Sam Luk was the timekeeper for the evening.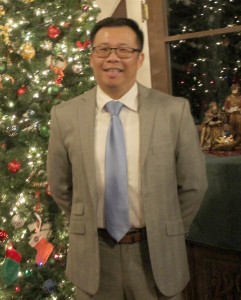 Henry Lo from District 4 introduced himself and provided his ideas for Monterey Park.
Monterey Park is a special place that has inspired generations of families to live and visit.  Certainly, it has been a special place in my life. Growing up, my family couldn't afford to live in Monterey Park, but we lived closed by and did all of our shopping and personal business in this city. My parents also made many friendships and we would often be in Monterey Park visiting and spending time in this city with all of its welcoming people.  20 years ago, my first real job out of college was located in Monterey Park and I've been so grateful for the career I've had working to help others as a public servant for the State of California and the people of the West San Gabriel Valley. 10 years ago, Monterey Park allowed me to become a homeowner and it was a proud moment for my parents that their son fulfilled the American Dream of owning a house, which Monterey Park helped make possible.  I've enjoyed living here and being part of this community.
I want Monterey Park to be the welcoming city it was for my parents and be a symbol of what a great community can be.  I want Monterey Park to also be a place where young professionals and families can aspire to settle and create a life for themselves.  That requires vision and leadership, which I believe I have the experience and drive to do. My goal is to bring the community together to move us forward and meet our challenges head-on as a united city.
My public experience in Monterey Park includes serving 16 years on the Garvey Elementary School District Board of Education.  As a Boardmember, I oversaw a budget that is larger than the City of Monterey Park's.  I worked with parents, students, and teachers to raise more than $100,000 to fund special projects that gave kids experiences beyond the classroom, and transformed underutilized schools into a park, dual language academy, and satellite campus for East Los Angeles College that now offers summer programs and adult education.
Since 2017, I've proudly served on the City of Monterey Park's Economic Development Advisory Commission in which my fellow commissioners and I have provided input and vision on how Monterey Park can capitalize on its core qualities and develop ideas to advance its future economic development.
I'm running for Monterey Park City Council to:
—   Defend our voices at City Hall and put people first.
—   Preserve the integrity and safety of our neighborhoods
—   Create thriving commercial corridors.
—   Enhance transit choices to complement our Monterey Park Spirit Bus
—   Invest in job training programs that put residents on career paths to the middle class
—   Make Monterey Park a leader in green energy use
—   Ensure fiscally responsible budgets that protect public services
Visit www.henry-lo.com to learn more or call me at: 626-607-4249.
I'd be honored to earn your vote.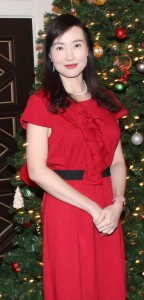 Yvonne Yiu from District 2 introduced herself and provided her ideas for Monterey Park.
This is Yvonne Yiu, candidate of Monterey Park City Council District 2.  I have 25 years of finance and legal background from large corporations e.g. Merrill Lynch, Citibank. I started my own investment bank 10 years ago specializing in private equity funds and now I retired. As a mother of three, and someone who's constantly looking to better our world, I would like to give back to the community on a full time basis.
Since my strength is in finance, I would like to get more income for the city, including grants from public sectors or increase revenue from all areas.  If our pie is bigger, all sectors like policemen, firefighters, road repair and green environment will have extra funding, so our city will grow to the next level.
I am against Marijuana retail/cultivation business, which has many negative impacts. To me, it is a net loss to our city; it's not good for kids, housing price and public safety. I will continue to fight for the airplane noise and pollution.
I personally visited over 3,000 families because I want to meet my voters in person. I sincerely ask for your vote to be your public servant. Thank you.
Education: Top 2% graduated in Lincoln High School, BA from UCLA (graduated in 3 years) MBA from Loyola Marymount University, CRCP from Wharton Business School, University of Pennsylvania.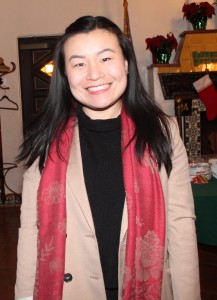 Jennifer Love Tang from District 2 introduced herself and provided her ideas for Monterey Park.
Jennifer Love Tang is a public school teacher, grassroots organizer, and
Monterey Park native. Because of her experience as an educator and activist, Jennifer believes that adversity of voices in the political process is essential for creating policies that benefit everyone.
Born in Los Angeles and raised in Monterey Park, Jennifer grew up in a working class immigrant household. Her father was a small business owner and her mother was a data entry clerk. As the daughter of war refugees, Jennifer learned early on how lucky she was to live in a stable, safe community.
After graduating from Mark Keppel High School, Jennifer attended USC, where she studied English Literature and International Relations. As a college senior, Jennifer traveled to her parents' home country of Cambodia, where she started her career as a teacher.
In her career, Jennifer has helped narrow the achievement gap in her classroom, designed innovative technology for startup companies, engaged student-activists in the political process, and advocated for policies on Capitol Hill.
Jennifer is a former policy fellow in Mayor Eric Garcetti's office, the current Vice President of Programs for the Monterey Park Democratic Club, and a co-founder of the grassroots organization 626 Progressives.
She currently teaches 9th grade English and AP Literature in Huntington Park, CA.
Endorsements
Organizations:
● Los Angeles County Democratic Party
● Monterey Park Democratic Club
● Alhambra Democratic Club
● California Young Democrats API Caucus
● National Women's Political Caucus – SGV
● Planned Parenthood Advocates – Pasadena & SGV
● Run for Something
● Progressive Asian Network for Action
● Montebello Youth Leadership Club
Unions:
● Monterey Park Police Officers Association
● Southwest Regional Council of Carpenters
● Painters and Allied Trades District Council 36
Elected and Appointed Officials:
● Mike Eng, CA Assemblyman (ret.) and former Monterey Park Mayor
● Thomas Wong, SGV Municipal Water Board President
● Francisco Alonso, former Monterey Park Mayor
● Salvador Melendez, Montebello Mayor
● Brent Tercero, Pico Rivera Councilmember
● Sasha Renee Perez, California Democratic Party Delegate, 49th Assembly District
● Kathy Ko, Karl Wong, and Sam Cheung, Monterey Park Environmental Commissioners
● Barbara Ngai, Monterey Park Community Participation Commissioner
● Stanley Lin, Co-founder of Planet SAVE
● Maggie Bove-LaMonica, Hermosa Beach City School Board Trustee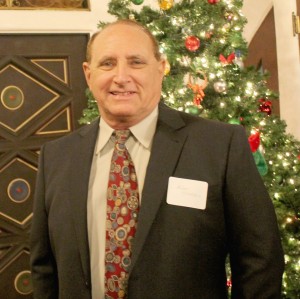 Allan Shatkin from District 3 introduced himself and provided his ideas for Monterey Park.
Statement of Goals
Monterey Park is a wonderful city, and the neighborhoods of District 3 have their own unique character. In the coming years, we'll face some tough new challenges – we simply MUST address them now before they become serious problems. I'm running for Monterey Park City Council to do just that.
Those who know me will tell you I'm a problem-solver who gets things done. I'm passionate about public service and preserving the quality of life we enjoy. I maintain that our City government must, first and foremost, serve our residents.
That's why I'll work to:
Strengthen police protection and achieve optimal police staffing levels
Fast-track overdue road repairs, infrastructure improvements and maintenance
Expand our "Neighborhood Watch" program to deter crime
Help keep our children safe by introducing "School Watch" programs at every school
Enhance benefits for senior citizens
Support a balanced budget that uses the City's financial resources wisely and judiciously
Ensure that new projects in the City reflect, first and foremost, our residents' needs and values
I'm honored to have been endorsed by the Monterey Park Police Officers Association (MPPOA). These brave men and women support my candidacy because they know what I stand for. I'm also grateful to have received the endorsement of, among others, the Brotherhood of Carpenters and Joiners of America, The Citizen's Voice Newsletter as well as MP Council member Peter Chan. I'll be a full-time council member who'll maintain the highest ethical standards and I'll insist on transparency and honesty in government.
Monterey Park is an ethnically diverse city with a long history as the home of tens of thousands of Latino and Asian families. I do not have a family name that reveals ancestors from Latin-American or Asian countries. What I do have to offer is the commitment, motivation, in-depth knowledge and broad experience required to make District 3 a safer and more hospitable place to live for all our families. As the District 3 representative, I will also use my best judgement in making decisions that affect everyone in our city.  I am my own man and will answer only to the people of District 3. As someone who knows how to identify common values and builds bridges between ethnic communities, I will serve all the people, all the time.
Monterey Park is a great place to live.  That is why my wife and I moved here over 11 years ago. I've served on our City's Community Participation Commission and I presently serve on the Traffic Commission. I am also a Community Emergency Response Team (CERT) member, trained and ready to help District 3 residents in case of an earthquake or other cataclysmic event. I believe that, together, we can make Monterey Park an even better city and improve the services we need in District 3.  That's why I encourage my neighbors and friends to learn more about me by accessing my website: Shatkin4CityCouncil.com. I can assure everyone in District 3 that, if you vote for Allan Shatkin, you'll be proud you did.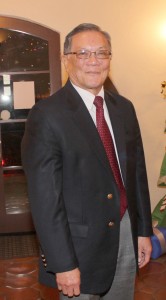 Bob Gin from District 2 introduced himself and provided his ideas for Monterey Park.
Robert (Bob) Gin has served on the Alhambra Unified School District for the last 18 years.  He was first elected to the Board in 2002, when it was both an Elementary and High School District and later worked on unifying the school district, which helped bring additional funding to the Alhambra Unified School District.
Bob has resided in the City of Monterey Park for the last 62 years and is a retired businessman. He and his wife, Diane has been married for 45 years and has four daughters and five grandchildren. Diane is a retired educator with the Los Angeles Unified School District with 40 years of teaching experience.
Their daughters attended Brightwood Elementary School. Two daughters graduated from Alhambra High and two daughters attended Mark Keppel High. He had served on the PTA for each of the schools in which he received the Honorary Service and the Golden Oak Award from Brightwood Elementary School and the Honorary Service Award from Mark Keppel High School.
Bob has helped passed three major construction bonds, a total of $389 million, for the Alhambra Unified School District (District) to modernized thirteen elementary schools, three high school and one continuation school, especially the schools in Monterey Park and Mark Keppel High School. He continues to support academic programs for all students and advocated for legislations that would benefit schools in California. All 13 Elementary, 3 high schools and 1 continuation high school had been recognized for academic excellence, in which the District has received recognition for several excellent programs centered on student achievement and mental health. Six elementary schools received the California Distinguished Schools Award 2020:  Brightwood, Monterey Highlands, Repetto, Park, Baldwin and Ramona Elementary School.
Currently, he serves has the President of the Monterey Park Library Foundation for the past 5 years, to raise funds to support the Monterey Park Bruggemeyer Library. He serves as the Co-Laity Chair to oversee projects for the Mission Area Team of the East District of the United Methodist Church, serve as the District Chair for the El Camino Real District, Greater Los Angeles Area Coordinating Council and serve as liaison to the Alhambra Educational Foundation.
He had served on the Board of Directors of the California School Board Association (CSBA), as the Asian Pacific Islander Director-at-Large (2014-2018) and 6 years as member of Delegate Assembly of CSBA.  He served on various committees with CSBA: Governance Advisory Group, Equity Network Advisory Board, and the Planning Committee for the Annual Educational Conference. He also served on CSBA Legislative Committee, Bylaws Committee, Problematic Advisory Group, and the Council President Committee.
He had served on various non-profit organizations in the community: Past Chair of the Lotus Festival in Los Angeles, past Chair the Chinese New Year Parade in Los Angeles, the Chinese American Citizens Alliance (CACA) as its past National Vice President of Education and past President of the Greater San Gabriel Valley Lodge of CACA.  He currently serves as the administrative chair and lay speaker of Shepherd of the Hills, United Methodist Church. Bob has always worked for the betterment of any organization that he has been a member of.
His vision for the City to create a business corridor on Garfield Ave. and Atlantic Blvd between the 10 Freeway to the north and the 60 Freeway to the south and to stimulate the growth of the downtown area by working with the business. The city has always had a terrific police and fire dept. he hopes to maintain the level of efficient and increase police patrol in the city. He would also like to bring affordable and energy efficient housing to the city and see that the streets in the city are re-surface. He would like to see the City Council lead our city in which we are working together in the best interest of the residents and community.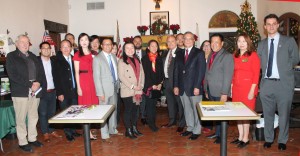 They also took questions from the floor and visited with each other and the residents.
Three candidates Lorraine Martinez from District 2, Fred Sornoso from District 3 and Leilani Morales from District 4 did not attend this event.
Members of the Pasadena League of Women Voters are scheduled to hold a Meet the Candidates Forum at the City Hall on February10th at 7:00 PM. This event will be televised and replayed until the March Election.
This is the first time in 103 years that all of the Monterey Park voters will not be able to vote for our City Council.  It is very important that all of the voters know who these candidates are and their plans for our hometown.
Leave a Response