Annie Yaung's Retirement Party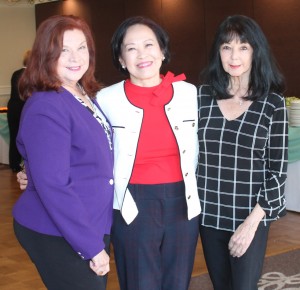 Theresa Amador and Carol Sullivan joined Annie Yaung during her Retirement Party held at Luminarias Restaurant in Monterey Park on January 6th.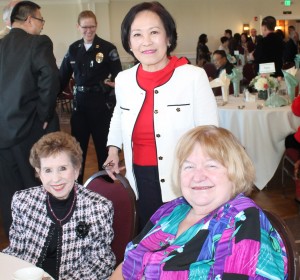 Annie Yaung celebrated her special day with Marjory Hopper and Linda Wilson.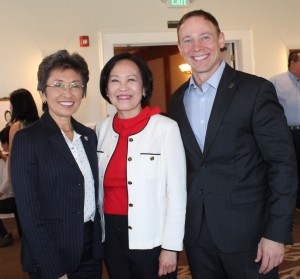 Lily Ng and Matt Lee from Bank of the West attended Annie Yaung's party. Annie Yaung retired from the City of Monterey Park after 30 years of service as the city's Financial Manager and Controller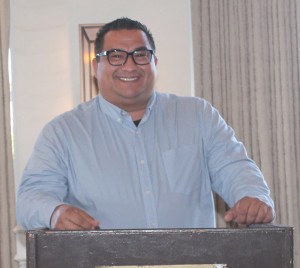 Orlando Muro was the Master of Ceremonies. He welcomed the guests to this very special event. He introduced the City Councilmembers: Mayor Hans Liang, Mayor Pro Tem Mitch Ing, Councilmember Stephen Lam and Councilmember Peter Chan, City Clerk Vince Chang, City Treasurer Joseph Leon, Department Heads: Fire Chief Scott Haberle, Police Chief Jim Smith, Director of Recreation Inez Alvarez, Director of Human Resources Tom Cody. He also thanked the city employees for this wonderful party.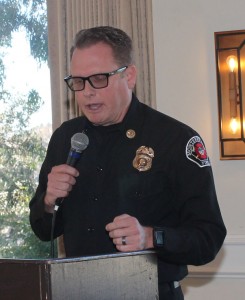 Fire Chief Scott Haberle advised the guests that City Manager Ron Bow was recovering from surgery and was not able to attend. He told the audience that Annie Yaung moved to California 33 years ago from Taiwan. She worked for Los Angeles County. In 1989 she joined the employment staff of Monterey Park in the Finance Department first as the Director and was later named Controller.
She has earned awards for the last 30 years for Monterey Park with her good budgets and financing of our city.
Monterey Park is rated the highest in the San Gabriel Valley that includes 471cities in California.
Annie's financial responsibly has allowed us to provide the best quality of service in Monterey Park.
Scott Haberle thanked Annie Yaung for her value set to Monterey Park. She has been very helpful to him and all of the department heads.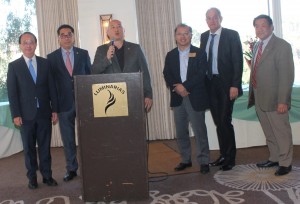 Mayor Hans Liang, Mayor Pro Tem Mitch Ing, Councilmember Stephen Lam and Councilmember Peter Chan, City Clerk Vince Chang and City Treasurer Joseph Leon each spoke to Annie with their praise and thanks for a job well done.
Mayor Hans Liang thanked Annie for her many years of service. Enjoy your retirement. We are sad that Annie is leaving our city. We are happy for her retirement. She will have more time for her family. Congratulations! We wish you a great retirement.
Mayor Liang said Joseph Leon is a working attorney and has an appointment so he will speak next.
City Treasurer Joseph Leon said we will miss you. We are good friends. We met 11 years ago when he was elected city treasurer. We will be lost without her. She is a good Controller. He wished well in her retirement. He thanked Annie so much for her many years of service.
Mayor Pro Tem Mitch Ing congratulations Annie on her retirement. He said that retired Mayor and City Treasurer Louise Davis thanked Annie for her service. He appreciates Annie for telling us the truth. They don't like surprises. He is a Bank Manager. They look at all of the details and verify it. Annie has been keeping the city honest. We will miss you. We have been working together for 18 years.
Councilmember Stephen Lam said it was a great honor to sing Happy Retirement to Annie. Annie is from Taiwan. His wife is also from Taiwan. He has worked with her for 15 years when he served on various boards and for 5 years on the Council. He likes figures. It is important to the city to have it done well. He thanked Annie. He said she should come back to see us. Stephen said he is retiring from the Council on March 3rd do to his health issues (High Blood Pressure and Diabetes). He will look after himself, his family and his business. Thank you Annie! Happy New Year!
Councilmember Peter Chan thanked Annie for her 30 years of service. Your job is the least appreciated. You work behind the scenes. You do a good job. You said we need the money. We appreciate you. He thanked Annie. In 2013 when he was new to the City Council they had to approve the City's Budget. That budget is so different.
Monterey Park is in good shape. He thanked Annie. Happy Retirement! Happy New Year!
City Clerk Vince Chang thanked Annie for keeping control of his friend Joseph and our city. Thank you Annie for your service. Congratulations for all of the awards! Happy Retirement!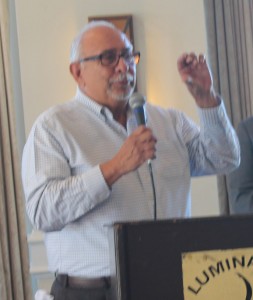 Former City Clerk Dave Barron said Annie helped with the city to raise money. When funds were tight the City Clerk's office began the Passport Service that helped to save jobs. Annie is trusted by the city.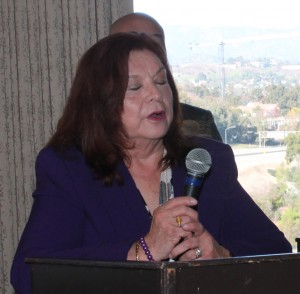 Former City Clerk Theresa Amador thanked Annie for keeping us strong. She worked with a great team at the Library Board of Directors.  She helped us with our funds. Annie did a terrific job in the Finance Department. Happy Retirement!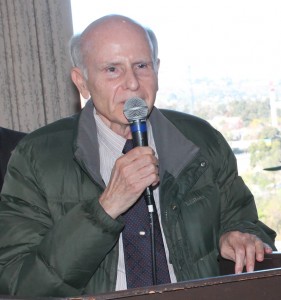 Former Mayor Francisco Alonso said Annie did a terrific job in the Finance Department. Happy Retirement!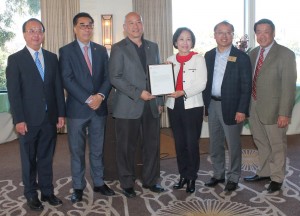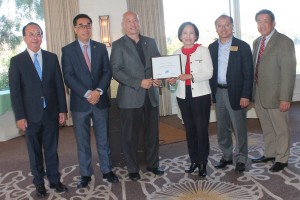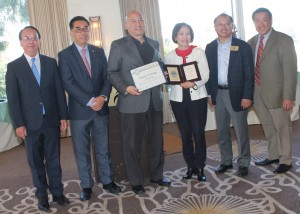 Mayor Liang presented Annie Yaung with Awards from the Government Finance Officers Association, the California Society of Municipal Finance Officers and the City of Monterey Park for her many years of dedicated service to the city and her Accounting Profession.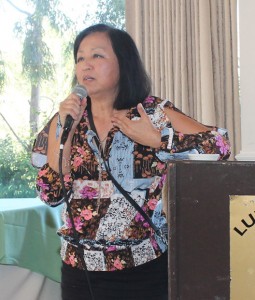 Rose Chen said that she and Annie went to school together. We have plans with Annie. Annie is loved by the city.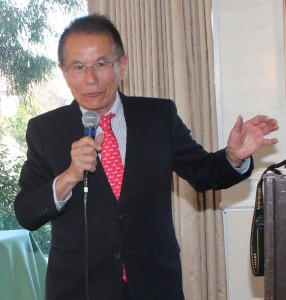 Paul Kao said he has known Annie for the last 20 years. They serve on the same committee. He thanked her.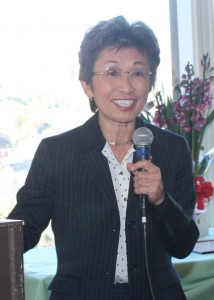 Lily Ng from the Bank of the West said she met Annie when the city interviewed her before the city chose her bank as the city's bank. She wished Annie a Happy Retirement!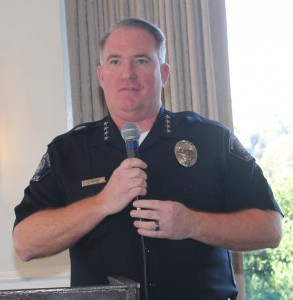 Police Chief Jim Smith thanked Annie for her service to our city. The City Council trusted Annie. He said if he was asking for funds for his department he would have Annie review his request and have her sign off on it so the Council would approve his project. We have been through some tough times. He wished her a Happy Retirement! Enjoy your family. Annie truly cares about Monterey Park. Thank you Annie.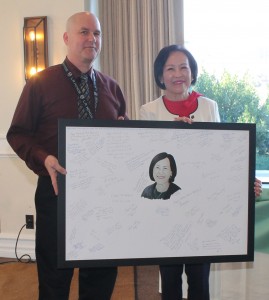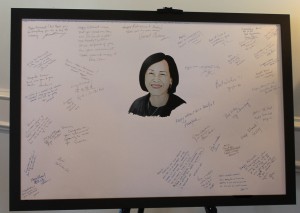 Tim Shay presented Annie with a framed picture of herself that was signed by all of the guests at her retirement party.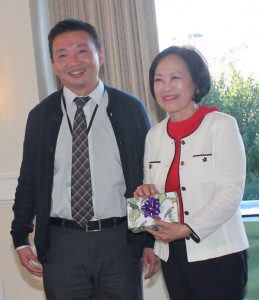 Harry Wong presented Annie with a gift card from her staff. He joked that now she can buy a new phone.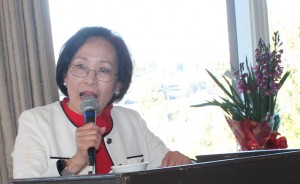 Annie Yaung thanked the City Council, City Clerk, City Treasurer, the Library Board and Department Heads for this wonderful party.  She introduced her husband Alex and her daughters Jill and Jennifer to the audience.
Annie said the 30 years passed in a blink of an eye. She spent her time caring about the community. In 1989 – 1990 the city's budget was $71 million. In 2019 – 2020 the city's budget is $105 million. She thanked Ron Bow for his service as the city manager.
The property tax in 1989 was $2 million dollars. In 2020 the property tax will be $8 million dollars. The average sales price of a home in Monterey Park is $710,000.  Having land is having wealth.
In 1989 FEMA helped to pay for damages from the Whittier Earthquake. FEMA help to rebuild the reservoir. The FEMA funds have declined so now the city is using our own funds to make repairs.
In 1992, 1993 and 1995 the city staff worked hard to save the residents from riots, fires and floods. She is proud of our Fire and Police Departments.
In 1997 we remodeled Barnes Park for Monterey Park's Birthday. We also remodeled Langley Center for the seniors.
Our Library is the city's pride. In 2004-2005 we received a $5.9 million Library Grant from the state. She thanked Yukio Kawaratani and Linda Wilson for this grant to expand the library. With Measure C funds the library was opened 7 days a week. The new library measure failed so now the library is opened 6 days a week.
She thanked Dora Leung, President of the Monterey Park Chamber of Commerce that is housed in El Encanto for their service o the community.
In 1997 – 1998 HUD funds were used to build the TELACU Senior Housing, which is striking and safe.
We now have several new projects to be built in our city.
She thanked the staff of Public Works for helping to keep the city safe and giving us high quality water.
She thanked the staff of Human Resources and Risk Management for striving to keep the wages fair.
The city is strong for the residents.
In1993 we had the South Atlantic Square and the Monterey Park Village remodeled with government funds.
In 1997 the state stopped their Redevelopment Program. We had to lay off staff.
In 2010 Atlantic Times Square our first mixed-use project was built.
In 2018 the Market Place was finally developed. Costco, In-N-Out, Home Depot and Chick-fil-A are just some of the new businesses in town that will increase our sales tax and property tax.
She thanked them to moving into our city.
Annie Yaung said it has been a wonderful journey with the city.
Orlando Muro thanked all of the guests for attending Annie's party,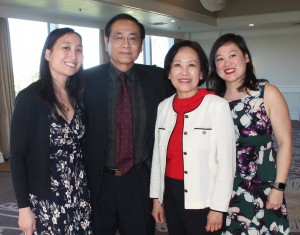 Jill Yaung, Alex Yaung, Annie Yaung and Jennifer Yaung posed a family picture to remember this very special occasion.
Leave a Response