ESTELA OLEVSKY TO PERFORM A FREE CONCERT AT ST. PAUL'S LUTHERAN CHURCH, MONTEREY PARK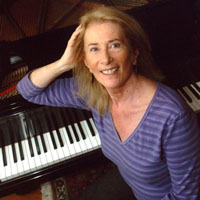 Estela Olevsky will perform a free concert at St. Paul's Lutheran Church, 2009 S. Garfield Avenue, Monterey Park, on Saturday, February 1st starting at 8:00 p.m. The concert is open to the public. Light refreshments will be served during the intermission; families with children or seniors can enjoy plenty of music and leave when they are comfortable. There is no charge to attend. No reservations are required. A free will offering will be taken.
Argentinean-born Olevsky is a professional soloist and collaborative pianist with enthusiastic followers in the US, Latin America, EU, and Asia. She has performed at New York City's Alice Tully Hall at Lincoln Center, Merkin Hall, the 92nd Street "Y," Weill Hall at Carnegie Hall, Boston's Jordan Hall, Vienna's Konzertverein, Amsterdam's Concertgebouw, Beijing Central Conservatory and Shanghai Conservatory of Music in China. Olevsky is Professor Emerita of Piano at the
University of Massachusetts at Amherst. She has been a guest teacher at the Hartt School of Music, Dartmouth College, Mt. Holyoke College, Federal University of Rio de Janeiro, the National Conservatory of Buenos Aires and Beijing's Central Conservatory. Alan Busteed, who is a former student of hers, will accompany her on violin on a couple of short Latin numbers. She is in the midst of doing a solo piano tour of South and Central America, including music of Argentina, Brazil, Venezuela and Mexico.
This is the first of a series of concerts organized by Alan Bustead, who is a volunteer music teacher guiding the best and brightest high school student singers and string players at East Los Angeles Performing Arts Magnet High School. Every one of his singers was a guest soloist at one or more of several churches for worship services. Those churches include Downey United Methodist Church, West Covina United Methodist Church, the non-denominational Seal Beach Center for Spiritual Living, and the home church of his program – St. Paul's Lutheran Church in Monterey Park. Bustead plays on major motion picture scores, gives concerts with the Santa Barbara Symphony and plays piano in churches.
Leave a Response