Talented Kids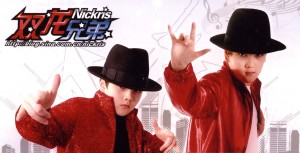 Nicholas and Kristofer Niepert, grandsons of long time Monterey Park residents, Kathy and Ty Wills are appearing in the smash hit "Karate Kid".
Although their parts are small, their appearance led to major roles in a production, which will begin filming in Beijing this September.
Due to the economy, Kathy's son Kent and wife Jean moved their family to Beijing in 2008. Nicholas age 10 and Kristofer age 8 are multi-talented and excel at piano, accordion, violin, guitar and drums. In addition they sing Michael Jackson, Elvis Presley and the Beatles hits and Chinese favorites.
They travel all over China performing in variety shows and talent competitions and have won two "American Idols" type shows.
The boys have their own website with over 200,000 hits and a fan club. A television producer has approached the family with plans for an English language weekly talk show on Beijing T.V.
Under the tutelage of their father there are being home schooled due to their busy travel schedule. Kent is an accomplished musician and has taught them guitar since they were 3 years old.
Music runs in the family, Grandma Kathy had her first piano recital at age four. Grandpa says he plays the radio!
You may have seen the boys when they performed locally at Chinese New Years, "People who make a difference", or when Kristofer decided to be part of the entertainment at the Community Relations Luau when he climbed on the stage to sing "Country Roads", while local celebrity actor George Chung joined him in a duet.
They took first place in the Moon Festival talent show at the Puente Hills mall in 2008.
Nicholas first burst on the scene when he won the first beautiful baby contest sponsored by the Cherry Blossom Festival when he was eight months old and rode in the "Play Days" parade.
Last January China T.V. transmitted a variety show here in Monterey Park, which the boys appeared in. Grandma had fifteen minutes to call Charter and get the channel added to their cable, after a call from China letting them know.
When Kathy traveled to Beijing last October, she was amazed to find people stopping the boys everywhere they went and wanting to take pictures with them.
Who knows? One of these days Nicholas and Kristofer's names might be as famous as Michael Jackson or the Beatles.
Leave a Response