FIREWORKS
By Mona Raskin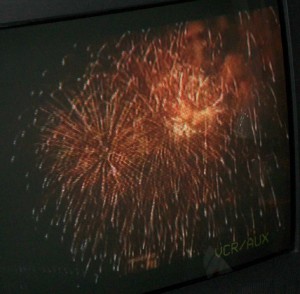 July 4th is the day when we celebrate our nation's Independence Day. A special historic event when our country became a free nation no longer ruled by England! We celebrate this occasion with fireworks, barbecues, picnics, and other outdoor entertainment.
In spite of the continuous debate as to whether we should allow "fireworks" to take place because of #1 a possible fire could occur and spread throughout an area, or #2 that children playing with "fireworks" might injure and burn themselves, # 3 the after effects from "fireworks" smoke could very well cause breathing problems.
All the above, somehow, has not deterred the public from enjoying the colorful and glorious 'fireworks' in our night skies, where we hope and believe its safely handled by professionals. In fact, nearby parks, Monterey Park's Barnes Park will have July 4th activities including 'fireworks'!
Unfortunately, "fireworks" have been an ongoing problem within our own city council off and own for several years. Constant bickering, complaining and nasty accusations have consumed city time which should only be used for city business. We can't help but wonder if our city can ever be a peaceful and workable one again!
The last time there was truly a peaceful and enjoyable time was a 'world peace". That was on August 6th, 1946!  Recently, The Times newspaper (LAX) extra California section restores a special event of the most iconic photograph to emerge from WW2. It was of an anonymous young sailor in uniform thrusting his arms around a white uniform nurse with a long kiss in the middle of Times Square in New York Square. This event was taken by a Life magazine photographer!
It wasn't until 1980 that Edith Shain came forward and revealed she was the nurse in that photo She later moved to Los Angeles where she continued to be a nurse.  She also became a teacher, as well.
It is believed that the sailor in the photo was Carl Muscarello, who eventually became a New York police detective. Celebrating a 60th anniversary of WW2 peace event, the couple exchanged a special hug and kiss for a photographer.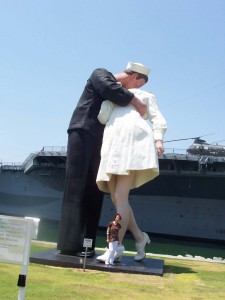 Last year while visiting friends in San Diego, we took a stroll along the wharf, where we spotted a huge aircraft carrier, "The Midway". Overlooking the ship, nearby, was an enormous statue of a sailor towering over a young nurse sharing a joyful kiss together!
You may find me at the bottom of the statues in the enclosed souvenir photo!
I have one question! Since, our nation could manage a world peace, is there any possibility that a small city can?
Leave a Response