Monterey Park Lions Club
Jason Dhing, a member of the Lions Club, was the Master of Ceremonies on July 19th at the 2019-2020 Officers Installation held at the Lions Manor. He welcomed the members and their guests to this very special event.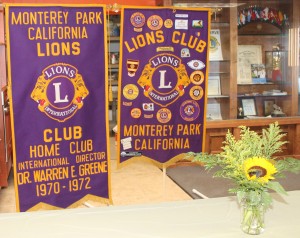 The Lions Banners were on display during the installation. Tables were set up for 40 people and decorated with Yellow Sunflowers.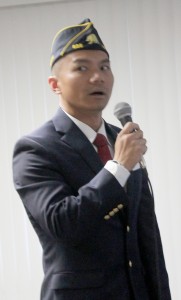 Richard Mai, a Member of the American Legion Post 628 in Chinatown led the Pledge of Allegiance.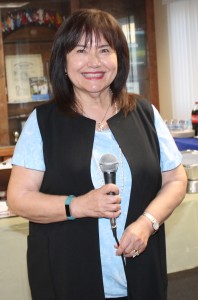 Shirley Hwong, a longtime resident and volunteer, sang a heartfelt rendition of "God Bless America".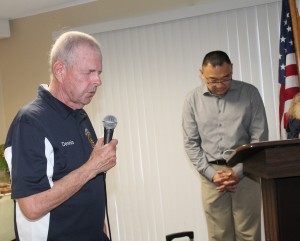 Dennis Windscheffel, a Representative for the Lions Club International led the Invocation. He asked God to bless us and the food we are about to eat.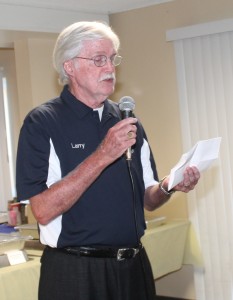 Larry Sullivan, a member of the Lions Club, praised Jason Dhing for his community service and his core values. He takes care of his family and the children in our community. Jason helps from his heart.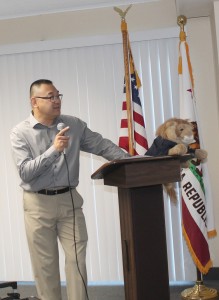 Jason Dhing spoke about the club's history. The Monterey Park Club was chartered on December 27, 1937; we have proudly served the Monterey Park, California community for more than 81 years. They currently raise funds from their Annual Pancake Breakfasts to provide free Eye Exams for the children in the local public schools.  They have had 7,000 students take advantage of this service. All of the funds received are used for the children.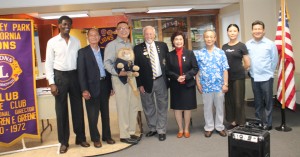 District Governor Gary Hall from the Irwindale Lions Club installed the Officers: President Jason Dhing; First Vice President Samuel Song Park; Second Vice President Sheri Chou; Third Vice President Delario Robinson; Secretary Andy Islas; Membership Vice Chair Grace Ge and Immediate Past President Anthony Wong. Treasurer Larry Odono, Membership Chair Ching-Ping Cheung and Lion Tamer Dale Butler were not present for this event.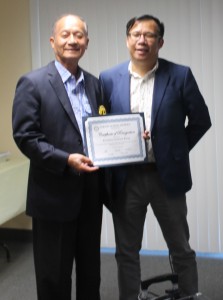 Garvey School Board President Henry Lo presented Anthony Wong with a proclamation for his service as Past President to the club.
Garvey School Board President Henry Lo presented Jason Dhing with a proclamation for his service as the new President to the club.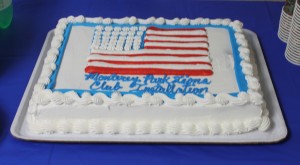 Dinner included delicious pizza and this decorated cake for dessert.
For more information on the Monterey Park's Lions Club hold their meetings on 1st & 3rd Tuesdays at 12:15PM at Lions Manor located at 215 N Chandler Avenue, 6th Floor in Monterey Park.
Leave a Response