Sunday Afternoon at the Movies
Sunday Afternoon at the Movies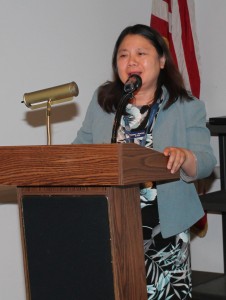 Evena Shu, a staff member of the Monterey Park Bruggemeyer Library welcomed the guests to this special Classic Film Screening sponsored by the Friends of the Library and the Monterey Park Historical Society on July 28th.
She introduced Foster Hirsch to the audience. He is a Film Historian and Mark Keppel School Alumnus.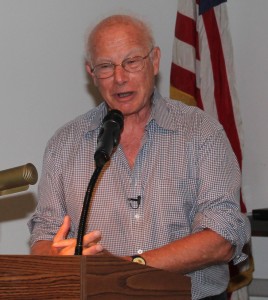 Foster Hirsch said he is happy to be here again. He graduated from Mark Keppel in 1961. He was raised in Monterey Park and had time to drive around his childhood hometown.
Todays film "Magnificent Obsession" starring Jane Wyman, Rock Hudson and Barbara Rush. This film was a major turning point in Director Douglas Sirk's career. The success of this film led directly to a string of later masterpieces that included "All That Heaven Allows", "Written on the Wind" and "Imitation of Life".
Mr. Sirk was born and raised in Germany. He and his family fled from Hitler and moved to the United States. He used his experience in film making in Germany to direct classic films for American audiences.
Mr. Hirsch said this is film is an old fashion melodrama with an over the top plot. The director justified and sustained it. He used color film and added red, yellow and gray to set up the details in color that were understated. This was Rock Hudson's first great film. Jane Wyman, the former Mrs. Ronald Regan never spoke about her life with him. Barbara Rush stared in this 1950 film, which was her first film.
The audience enjoyed the movie "Magnificent Obsession" in the Friends Room.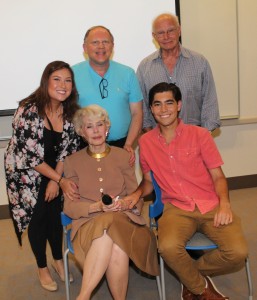 Foster Hirsch introduced Barbara Rush, her grandson Ben Baker, her caretaker Nicole Pastrano and her friend Bill Wardlaw.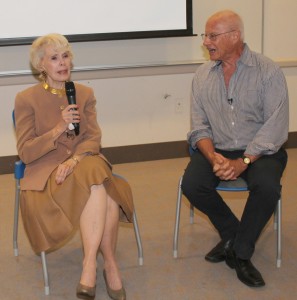 Barbara Rush and Foster Hirsch spoke about her "Golden Years" as an actress in Hollywood.  She said that she had not seen this film in years. She enjoyed working with Rock Hudson, Jane Wyman and Douglas Sirk on this film. She called Mr. Sirk a wonderful person and she enjoyed working with him over the years.
She recalled that playing Jane she was required to carry a class of milk into the hotel room. She was so nervous that the glass was shaking in the saucer. She was sure the noise was picked up on the set. She also said that the music scores made the movie.
Barbara Rush also spoke about making movies with Marlon Brando, Dean Martin, Paul Newman, Frank Sinatra and Kim Novak.
She said that Frank Sinatra would never rehearse before his scenes and it drove her crazy as she always rehearses before each one of her scenes.  Frank Sinatra would read about people in need in the newspapers and send them $10,000. He never told anyone about it. A "Magnificent Obsession" is you do something without saying anything about it.
She stated that Marlon Brando starred with her in "The Young Lions". The scene was shot in the studio but they were dancing out in the snow. She shivered as part of her acting the part. Marlon Brando did not shiver as the scene was shot in a warm studio.
She said that Spence Tracy is her favorite actor. She learned a lot from him. He was so natural.
There are so many great actors she enjoys seeing them perform.
Barbara Rush spoke about some of her other movies. She never played a role she could not enjoy. She worked very hard to make her characters believable.
Barbara Rush said she enjoys working on the stage because you get reactions from the audience. You also have a different audience every night.
Foster and Barbara discussed her acting career. She never received any negative press. She praised Joan Crawford and Irene Dunn as great performers. She also spoke about some of her many other costars over her years in films.
Barbara said she enjoyed attending "Film Festivals" when all of the great ladies of the screen enjoy traveling together.
Students filmed Foster Hirsch and Barbara Rush during this interview.
Barbara Rush and Foster Hirsch thanked the audience for their attention.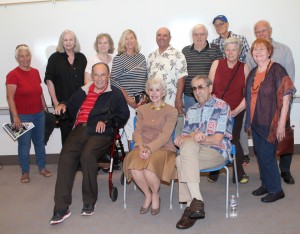 Barbara Rush, Foster Hirsch, former students and teachers from Mark Keppel joined together for a picture in honor of this Classic Film Festival.
Leave a Response