Dinsmoor Heritage House in Rosemead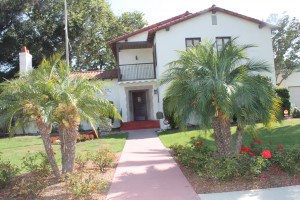 Members of the Dinsmoor Heritage House hosted the 10th Annual Joint Dinner on June 22nd in the garden. Members of the Monterey Park Historical Society invited John Scudder as their Guest Speaker.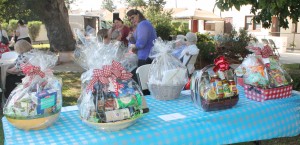 The garden was set up with tables and chairs to accommodate 115 members from the Alhambra Historical Society, Dinsmoor House, Historical Society of Monterey Park, Ramona Museum of California History, San Gabriel Historical Society, the Historical Society of Temple City and their guests.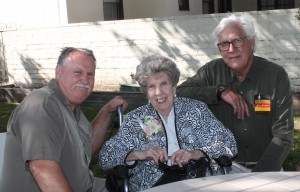 John Scudder honored former Monterey Park Mayor Louise Davis, his longtime friend. Mark Davis, her son joined in the celebration.
Rosemead Mayor Maggie Clark met with Louise Davis during the party.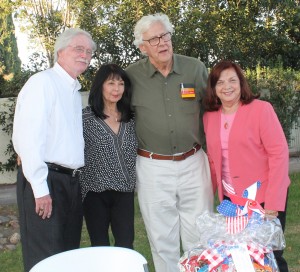 Monterey Park residents Larry Sullivan, Carol Sullivan and Theresa Amador met with John Scudder at the garden party.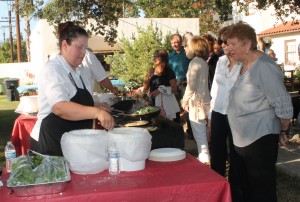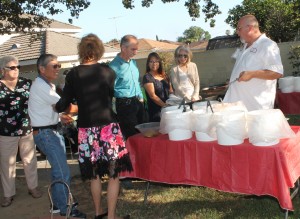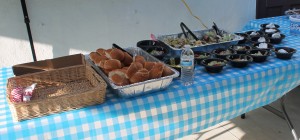 Claro's Italian Market catered the dinner with a Pasta Pronto Bar, delicious salads, delightful rolls and their famous Cherry Dump cake. John Scudder baked his famous Peanut Butter cookies for all of the guests.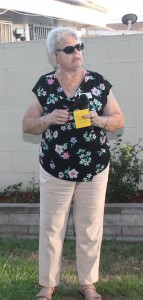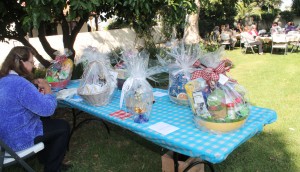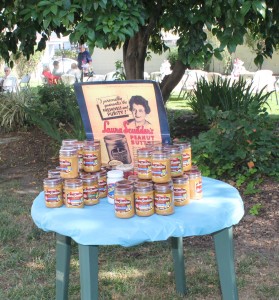 Lynne Best from Temple City drew the lucky raffle numbers for table centerpieces, door prizes and jars of Laura Scudder's Peanut Butter.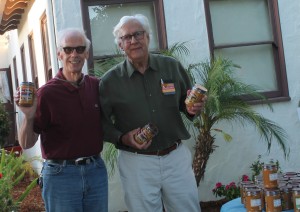 John Scudder presented lucky winner Ron Finely with a jar of Laura Scudder's Peanut Butter.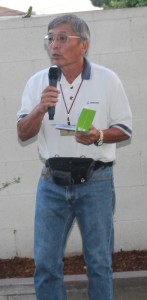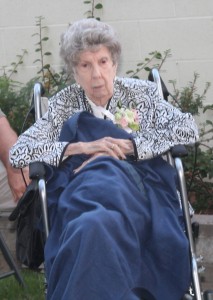 Jim Iwaki from Monterey Park led the Flag Salute. He introduced former Monterey Park Mayor and City Treasurer Louise Davis to the audience. She worked with our society and our city to establish the location of our museum at Garvey Ranch Park.
Mr. Iwaki introduced John Scudder, Laura Scudder's grandson to the guests. Mr. Scudder is a friend of the Monterey Park's Historical Society. He has established a Scholarship Fund in her name to help students majoring in the Culinary Arts, Law, Nursing and Business. He supports our library and is a world traveler.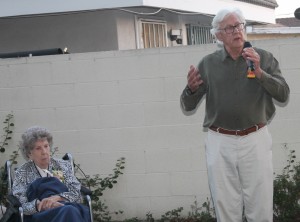 John Scudder thanked Louise Davis for helping him finish his film based on his grandmother's life. His mother and aunt attended the filming.
Laura Scudder was a woman he came to appreciate in his life.  She was born in 1881, in Philadelphia, as Laura Clough, she was a nursing student in Trenton, N.J., then worked as a nurse, before moving to Ukiah, in Northern California, having married Charles Scudder on July 4, 1908. She opened a restaurant across from the Mendocino County Courthouse, where lawyers encouraged her to study law.
While there she became the first female attorney in Ukiah, California (but she never practiced law) before moving south in 1920, to Monterey Park, California, where Charles ran a gas station (a garage and attached brick building at the northeast corner of Atlantic and Garvey) until he was disabled repairing a car. Laura took over the gas station, and branched out into the potato chips in 1926 and later, peanut butter in 1931.
His grandmother loved hats and often pumped gas wearing one of her famous hats.
Laura had four children and they also helped out in the family businesses.  His father worked for his mother. His first job was peeling potatoes for the famous potato chips.
John explained potato chips tended to sell best during summertime. She published recipes to raise interest in her products. In the early days, potato chips were distributed in bulk from barrels or glass display cases, or tins, which left chips at the bottom stale and crumbled. Laura Scudder started paying her workers to take home sheets of wax paper and iron them into the form of bags, which were filled with chips at her factory the next day. This innovation kept the chips fresh and crisp longer and, along with the invention of cellophane, allowed potato chips to become a mass-market product. Other potato chip makers soon began to package their chips in bags.
Laura Scudder also began putting dates on the bags, becoming the first company to freshness date its food products and sold in twin packs to further reduce staleness and crumbling. This new standard of freshness was reflected in the marketing slogan: "Laura Scudder's Potato Chips, the Noisiest Chips in the World." The Laura Scudder Potato Chip Factory was located at Garvey Avenue east of Atlantic Boulevard, Monterey Park in the 1920s.
Laura Scudder faced many obstacles running her own company during the Great Depression. For instance, when she tried to get insurance for the company's delivery truck, she was denied by all the local male insurance agents, who claimed that a woman would be unreliable at paying the premiums. The female insurance agent who eventually insured the truck went on to insure the entire company fleet.
She expanded into peanut butter and mayonnaise in order to keep her workforce employed year round since potato chips tended to sell best during summertime. She published recipes to raise interest in her products and was noted for a chocolate cake recipe that used mayonnaise instead of eggs and butter. Ingredients like butter and fresh eggs were scarce during World War II due to rationing for civilians because of the effort to supply the needs of military personnel.
When John interviewed some of her long time employees for his film they praised Laura Scudder as being a fair but firm employer.
Laura had a passport but never travel outside of the United States. She made sure all of her children and grandchildren had a good education. She also made sure they had a chance to travel the world.
John told a story about taking his grandmother to lunch. He had a $5 bill in his new wallet. He took her to a restaurant. After checking the menu prices he ordered a hamburger. His grandmother also ordered a hamburger.  He recalled that she really enjoyed their special lunch.
At one point, Laura Scudder turned down a $9 million offer for the company because the buyer wouldn't guarantee her employees' jobs. In 1957, she sold her firm to Signal Oil & Gas of Signal Hill, with a $6 million offer from a buyer who guaranteed job security for her workforce. The new company was called Laura Scudder Inc. At the time of the sale, the company had expanded into mayonnaise, and Laura Scudder brand potato chips held a greater than 50% share of the Californian market. She continued to run the company until her death in 1959.
Laura Scudder is buried in the family plot in the San Gabriel Cemetery in San Gabriel, California.
John Scudder thanked all of the guests for inviting him to this special event.
For more information on the life of Laura Scudder you can look her up in your Internet browser.
Leave a Response