Laura Scudder Scholarship Awards
Laura Scudder Scholarship Awards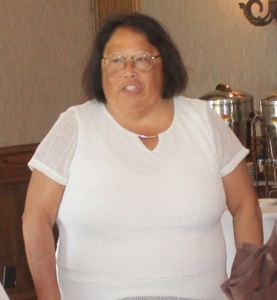 Alice Nishimoto welcomed the awardees: Tyrance Greene, Ralph Ramirez, their guests, John Scudder and members of the Monterey Park Historical Society to the Annual Laura Scudder Scholarship Award Luncheon held on June 15th at the Monterey Hill Steakhouse.
She said this year the requests were very competitive for this scholarship. The letters about this scholarship were sent local community colleges. Interested students must be majoring in Nursing, Business, Law or Culinary Arts.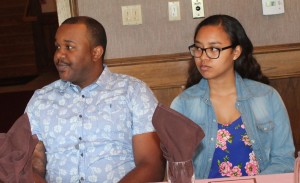 Tyrance Greene introduced himself. He now lives in Whittier and is a single father with a 5-year old daughter. He attended classed at Rio Hondo and is studying to become a nurse. He is recovering from a sports injury and works as an EMT.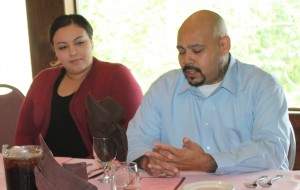 Ralph Ramirez introduced himself as a single father of four children. He went back to school after 20 years to set a good example for his children. He just graduated from Rio Hondo and will be attending Cal State LA. He is a business major.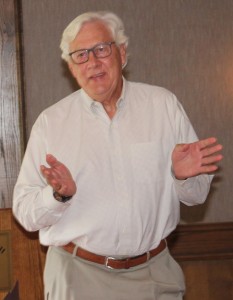 John Schdder said his family is very happy to help people like Tyrance and Ralph who have traveled a hard road to get their education.
Marian Hallin said as a retired teacher she knows the importance of education. Many students need financial help so she was very happy to be a member of the Scholarship Committee.
She introduced Ralph Ramirez who served five years in prison. After he was released his was granted custody of his four children who range in age from 12 to 24. He has dedicated his life to getting a good education. He overcame his drug habit and served his time. He wants to do a good job for his family. He made some bad choices but he managed to change his ways for his children. He went to Rio Hondo for an education in computers. He met his friend Natasha who helped him see things differently. Now his children will also be going to college. He will be earning his Bachelor of Science and Master's degree.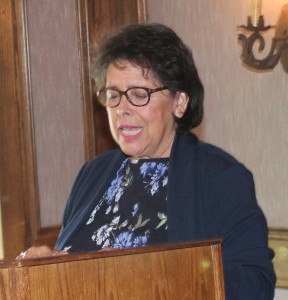 Marie Montanez introduced Tyance Greene. He attends Rio Hondo to earn was his nursing degree.  He currently is an EMT and a single parent.
Tyrance Greene said he ran around with the wrong crowd and went to jail. He grew up in a one-parent household. At the age of 22 he went back to school and has been working as an EMT for the last six years. In 2017 he injured his leg and was out of work for one year so he went back to school to earn a degree in nursing as suggested by Kaila, his coworker. They will be getting married. He will be the first one in his family to get a Bachelor's degree.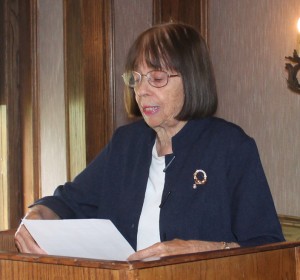 Dolores Seidman, a retired teacher is happy that the Historical Society keeps the heritage of the Monterey Park, which incorporated in 1916. The society first met in the 1970s and needed a building. In 1983 they opened a Museum in Garvey Ranch Park. In 1987 Manuel Tovaz donated his hand built collection of all of the California Missions. The students enjoy seeing them. In 1988 Louise Davis acquired more of the building to extend the museum.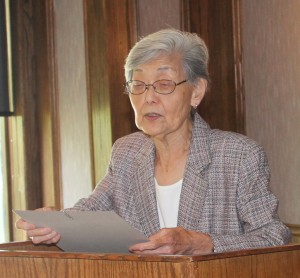 Marion Sumimoto said the Scholarship Committee was formed in 1988. The first awards were for $500. In 1997 the awards were increased to $1,000 and currently the scholarships are $3,000 thanks to the generous donations from Laura Scudder's family. These scholarships are given to community college students majoring in Nursing, Business, Culinary Arts or Law. Laura Scudder spent her life as a good wife, good mother, good grandmother and good employer who worked in these fields.
A delicious lunch was served along with good conversation.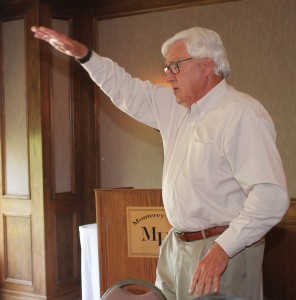 John Scudder said his grandmother; Laura stood 5 feet and 2 1/2 inches and had great presence. She had four children. She loved to wear hats. She was a great businesswoman who had 1,000 employees working in her company. She hired local women to create her wax bags for her potato chips. She hired local men to sell her products that included Mayonnaise, Peanut Butter, Nuts and Potato Chips. She also had a fleet of trucks to deliver her products to local stores.
Laura Scudder had some employees who worked for her for 30 years. She paid her salesmen a base salary and additional income based on the racks that they serviced in the stores. She inspired them work harder to earn more money for their wife and children. In those days potato chips were a summer food. Her chips were the best for their freshness in her waxed bags.
Laura Scudder was a nurse, an attorney, ran a gas station and her food business.
He said his grandmother lived her life well lived. She served her community. He now serves the community in her memory.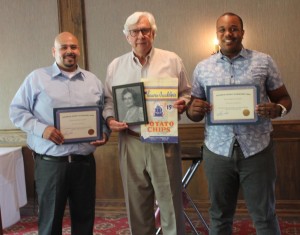 John Scudder presented the checks and proclamations to Ralph Ramirez and Tyrance Greene.
Ralph Ramirez thanked the committee and John Scudder for this scholarship for his education.
Tyrance Greene thanked John Scudder for this scholarship. It will help him pursue his goals.
Alice Nishimoto thanked John Scudder for his wonderful stories and the guests for attending this special event.
John Scudder thanked the Historical Society for their assistance.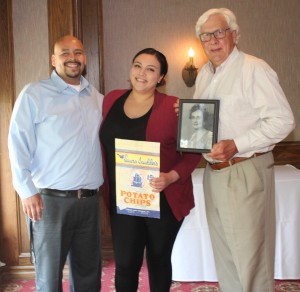 John Scudder shared a picture with Ralph Ramirez and Natasha Rubalcava, his friend in honor of this day.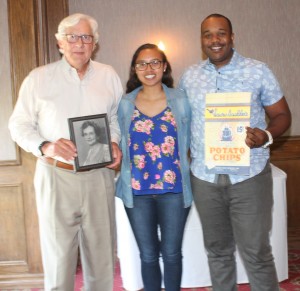 John Scudder shared a picture with Tyrance Greene and Kaila Barbee, his special lady in honor of this day.
Leave a Response