Open House At Monterey Park's City Yard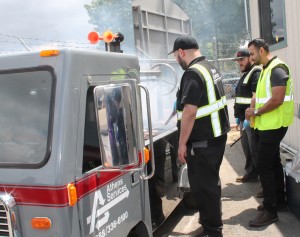 Employees of Athens Services manned the mini Athens' Truck Grill on May 21st in the City Yard in celebration of Public Works Day.
They grilled hot dogs, hamburgers and cheeseburgers for 500 residents and employees.  The lunch also included chips, sodas, fruit drinks, Starbucks coffee, ice cream bars and homemade chili.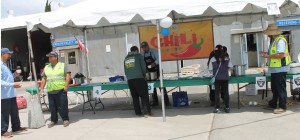 Five city employees Rudy Valenzuela, Cesar Vega, Richard Gonzales, Daryl Burnett and Manny Blackbucket created their special chili for the guests. They also voted for the favorite dish as part of the Annual Chili Cook-off.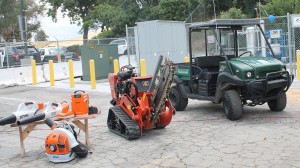 The city's heavy-duty equipment and garden equipment was displayed for inspection by the residents.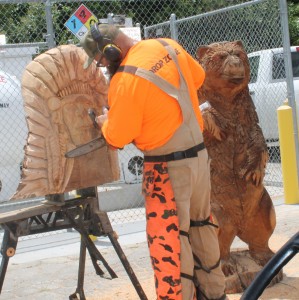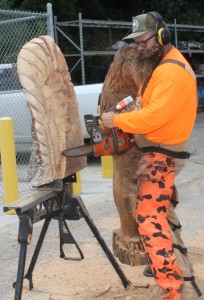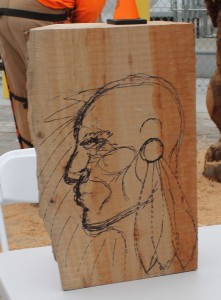 Wood carving artist John Mahoney was busy creating art. He used a chain saw to create his masterpieces. He carved Lamdhor wood, Redwood and Black Acatia wood. He first drew his images on the selected piece of wood before he used his chair saw.
John Mahoney was sponsored West Coast Arborists, Inc., our city's tree service.
Other sponsors included BG Maintenance Service, Dunn & Edwards, Auto Zone, Suja Juice and an information booth on how to prevent water pollution.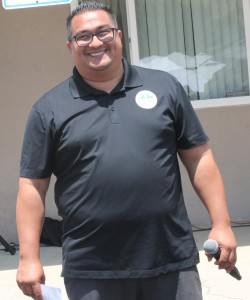 Orlando Muro was the Master of Ceremony. He announced the raffle ticket numbers for lucky winners who won prizes provided by the sponsors.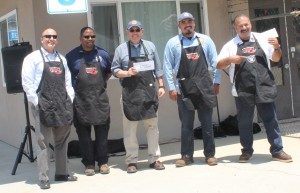 He announced the Chili Cook-off winners: (1st Place) Rudy Valenzuela won two Dodger Tickets; (2nd Place) Cesar Vega won $40 cash; (3rd Place) Richard Gonzales won $30 cash, (4th Place) Daryl Burnett and (5th Place) Manny Blackbucket.
Mr. Muro thanked all of cooks, sponsors and guests for joining them for this very special celebration.
Leave a Response