Cherry Blossoms and Earth Day Celebrations
Cherry Blossoms and Earth Day Celebrations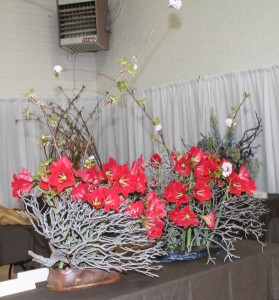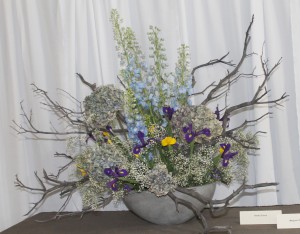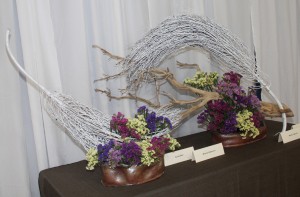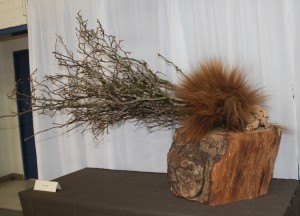 Lovely flowers arrangements were on display during the 22nd Annual Cherry Blossom Festival held on April 27th and 28th at Barnes Park in Monterey Park.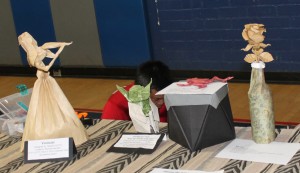 Handmade dolls dressed in traditional clothing were on display as well as Michael Sanders' Origami artwork.
Guests were able to create their own flower displays and Origami art at the two-day event.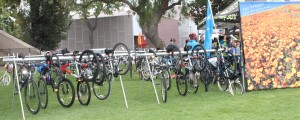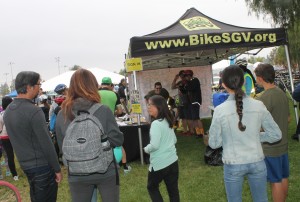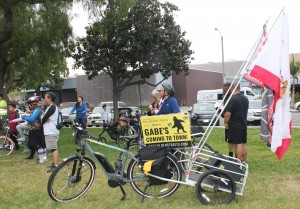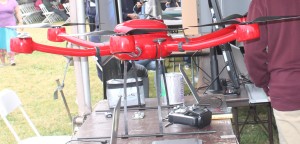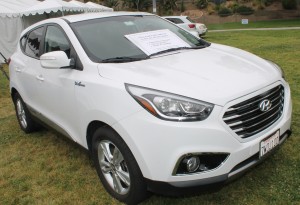 Bikers were parked on special racks after the Earth Day Bike Ride on April 27th in Barnes Park. One special bike was on display to remind people that riding a bike is good exercise.
Bike riders had a chance to win gift certificates and T-shirts for their participation.
Several exhibits included a red drone parked for Earth Day. People of all ages were given a chance to plant vegetables in small pot, learn to recycle and check out a new Fuel Cell car.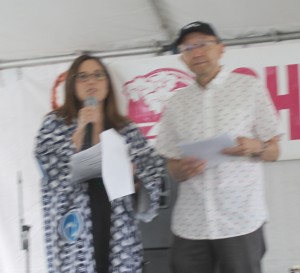 Helen Ota and Shin Ito welcomed the residents and their guests to this special festival to honor the Japanese culture in Monterey Park. They thanked the committee members, volunteers and the city for their support.  They asked for a moment of silence for Rodney Kageyama, a long time friend of the festival, who died in December 2018.
People come to this event every year and recognize all of the hard work. You make it happen. Enjoy the festival!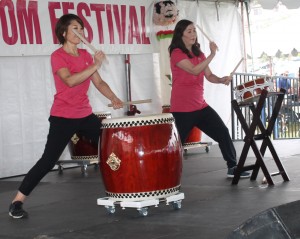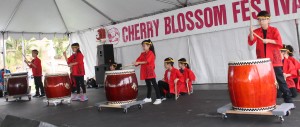 The Cherry Blossom Festival was opened to the beat of Taiko Drums played by members of the Sage Granada Park United Methodist Church.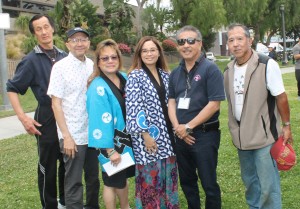 Some of the Members of the Cherry Blossom Committee who were working on the stage joined for a picture.  Many of the other members were busy working in the International Food Court.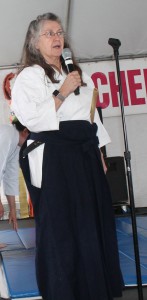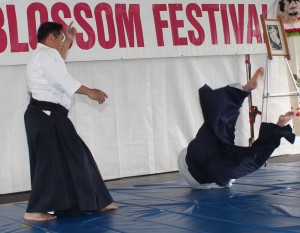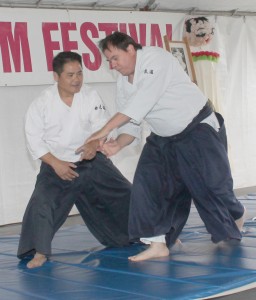 Dr. Susan Perry and two members of her staff displayed the art of Aikido that offers protection and purification (used to defend themselves while also protecting their attacker from injury).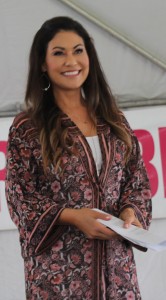 Kimi Evans from Channel 7 was a Mistress of Ceremonies. She thanked everyone for attending. She grew up in Monterey Park and is excited to be here.
She introduced Mayor Peter Chan, Mayor Pro Tem Hans Liang, Councilmember Teresa Real Sebastian, Councilmember Stephen Lam, City Clerk Vince Chang, Consul General Akira Chiba, State Senator Susan Rubio, Assemblymember Ed Chau, Alhambra School Boardmember Bob Gin and former Mayor Francisco Alonso.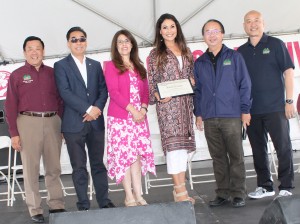 Mayor Chan honored Kimi Evans with the assistance of the city's elected officials.
Mayor Chan thanked the residents for joining us in the Cherry Blossom celebration. It is the beginning of spring and a chance for a new beginning. He thanked the committee, volunteers and city staff. Enjoy the event!
Mayor Pro Tem Liang said it is his honor and pleasure to celebrate the Cherry Blossom Festival. Welcome to Monterey Park. Be safe and enjoy this event!
Councilmember Real Sebastian thanked the city staff and the committee for putting this event together. She said that Councilmember Mitch Ing sends his best wishes. He is attending another event and was not able to attend this party.  Have a great day to enjoy the soul of the Japanese culture. Share this event with everyone.
Councilmember Lam welcomed everyone to Monterey Park. He thanked the committee. We are very lucky to live in Monterey Park. We celebrate all of the cultures. He thanked the Japanese for sharing their culture with us.
City Clerk Chang thanked everyone for coming today. He thanked the committee. It is a job well done. Have fun!
Former Mayor Alonso, a member of the Sister Cities Committee. He thanked the committee for this celebration. This is the 22nd year. Enjoy this cultural event!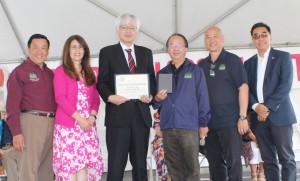 Council General Chiba said spring is a new beginning for everyone. People in Japan join together to enjoy the season. Have fun!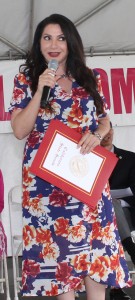 Senator Rubio said she just visited Japan and enjoyed the culture and history. She is honored to be here today.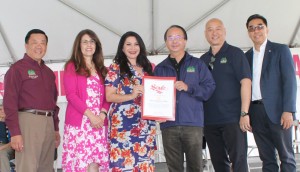 She presented a proclamation to Mayor Peter Chan, Mayor Pro Tem Hans Liang, Councilmember Teresa Real Sebastian, Councilmember Stephen Lam and City Clerk Vince Chang.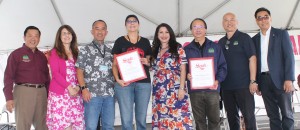 She presented a proclamation to City Manager Ron Bow and Inez Alvarez, Recreation and Community Services Director.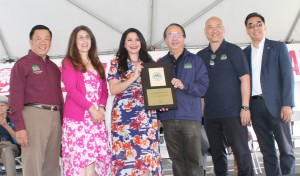 Senator Rubio, our new senator, received an award from the city's elected officials.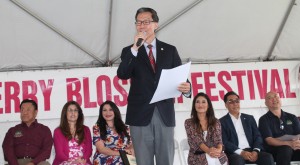 Assemblymember Ed Chau said he is happy to be here today at the Cherry Blossom Festival. He thanked the city and the committee. We can celebrate the Japanese culture. Money Magazine called Monterey Park the Third Best Place to live. We celebrate all of our cultures. He presented certificates to the elected officials and Committee members.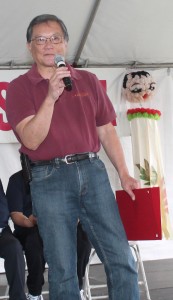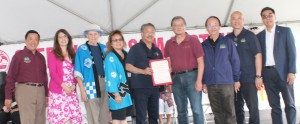 Alhambra School Boardmember Bob Gin said it is heartwarming to see all of the people enjoying this event in Monterey Park. He thanked the city and Committee members and presented them with certificates.
Mayor Chan said please visit all of the booths and give your input on the new General Plan at the city's 2040 booth. Enjoy this event!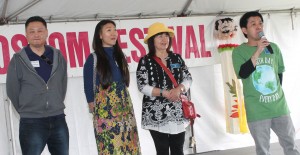 Sam Cheung, Kathy Ko, Shirley Hwong and Karl Wong invited the audience to visit the Earth Day Celebration being held next door. Please visit all of the booths and learn on how to save our planet, Earth.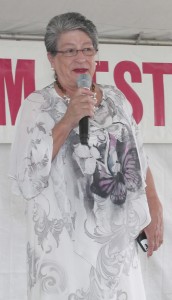 Victoria Chavez, a member of the Morelia, Mexico Sister City invited people to join Mayor Peter Chan and other residents to visit her hometown in Mexico.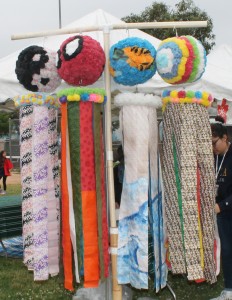 Tanabata booth helped people learn to make the famous flowers and decorations.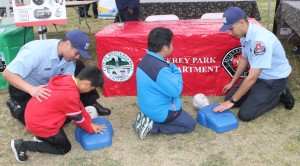 Monterey Park Firefighters taught people to do Sidewalk CPR.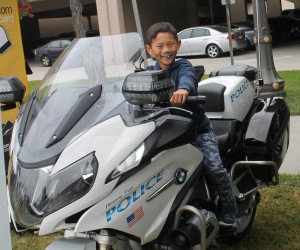 Children of all ages enjoyed sitting on a Monterey Park Police motorcycle.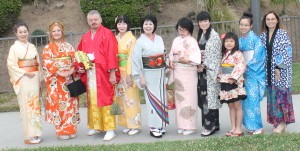 Madame Fumi Akutagawa and members of the LA Kimono Club displayed their traditional dress.  They also participated in a fashion show.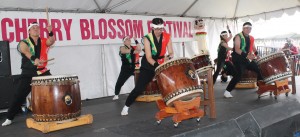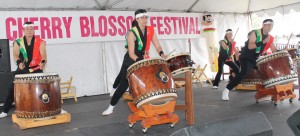 Members of Yoki Daiko also called Joyous Drumming entertained the audience to the beat of their drums.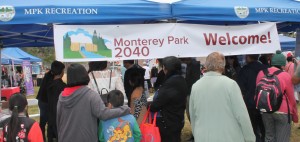 Monterey Park residents flocked to the Monterey Park General Plan booth to express their desires to improve their hometown with changes.  More information on this plan can be found on https://www.montereypark2040.org/. The General Plan for Land Use will be on the November 2019 ballot for the voters' approval.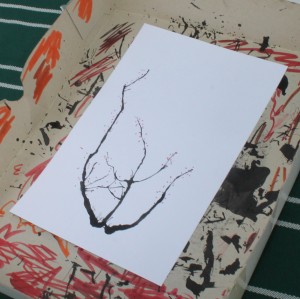 Make your own Cherry Tree was featured at the Monterey Park Bruggemeyer Library booth.  You blow at black ink with a small straw to shape your tree and you finish it up by placing colorful blossoms on your tree.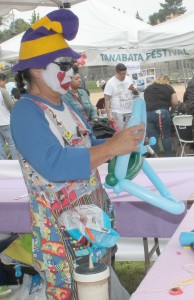 Colorful balloon animals, flowers and more were created in the Kids Zone by a clown.  A giant slide, a bungee trampoline, artwork were just some of the events for the little ones.
This event included community booths, vendors, entertainment, demonstrations, delicious food and family fun.
Leave a Response