LAURA SCUDDER, POTATO CHIP QUEEN
LAURA SCUDDER, POTATO CHIP QUEEN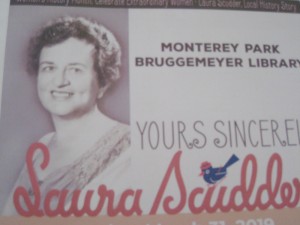 Hear John Scudder, grandson of Laura Scudder who began the famous potato chip company, speak at the joint Historical Societies meeting on Saturday June 22. The event, at $15 per person, will begin with a social hour at 4 p.m., dinner at 5 p.m. at the Dinsmoor Heritage House, 9632 Steele Street in Rosemead, and will be held outdoors in the lovely garden under huge shade trees.
The event is hosted by the Historical Societies of Alhambra, Monterey Park and San Gabriel, the Ramona Museum of California History and Rosemead Dinsmoor Heritage House Mr. Scudder will begin the program at 6 p.m., talking about his famous grandmother who began her company in 1926 in Monterey Park. She was one of the few business women of the time, quite an accomplishment in itself—however she revolutionized the industry by packaging the chips in wax paper bags—a unique idea at the time. And she was the first to imprint a freshness date on her products—which is now an industry standard. Hear more about this amazing woman!
Dinner will be catered by Claro's Italian Market, and includes the Pasta Pronto Bar, antipasto salad, cherry dessert and beverages. More than a dozen door prizes will be given to paid attendees only. You could be one of the lucky winners!
Important information about reservations—Reservations must be made by June 8th. RSVP with a list of attendees and check, mailed to the Alhambra Historical Society PO Box 6687, Alhambra CA 91802. For more information call Rose Marie Markus at 626 281-0445
Leave a Response