20th Annual Democratic Dinner
20th Annual Democratic Dinner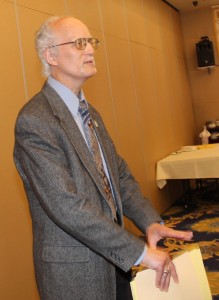 Club President Jeff Schwartz welcomed club members and their guests to this special event honoring Civic Leaders Theresa Amador and Jerry Velasco on March 28th at the Capital Seafood Restaurant. This event was also a fundraiser for The Democratic Headquarters of the West San Gabriel Valley.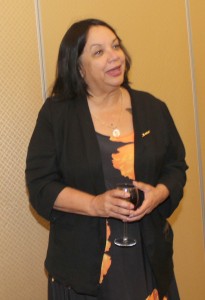 He stated that Adele Andrade-Stadler founded the club over 20 years ago while working for the 49th Assembly District.
Mr. Schwartz called Monterey Park Mayor Peter Chan a longtime Democrat who served on California Democratic Council. We needed a leader to help raise money for the group.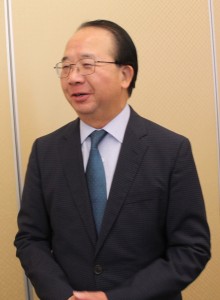 Mayor Chan welcomed the guests to Monterey Park. They have a lot of work to do for the country. We can do a lot more for California. It will be a good fight. Thanks for coming.
40 members and their guests enjoyed a delicious dinner.
Alhambra Mayor Adele Andrade-Stadler, Sasha Perez, Theresa Amador and Cynthia Amador-Diaz shared a moment at the celebration.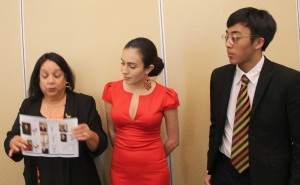 Alhambra Mayor Adele Andrade-Stadler introduced students Sasha Perez and Dylan Djoeandi to the audience. She is mentoring them on the importance of voting. She hopes they will become members of the Democratic Party when they register to vote in the future.
She asked for a hand of applause for Jose Sanchez who helped her visit the Mexican border.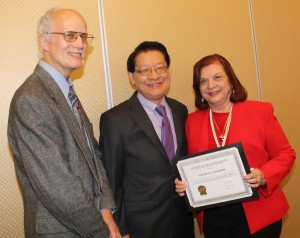 Mr. Schwartz introduced former Monterey Park Mayor and former Assemblymember Mike Eng to the guests.
Mike Eng thanked Jeff Schwartz and Rosemary Reidy for being his heroes. They work very hard for our group.
Mike Eng honored Theresa Amador with a proclamation. She is a bridge builder who brings people together in her orbit. She is the definition of family. You are all part of her family. She was the first Latina elected as our City Clerk. She works hard for our city. She is my friend. Jeff Schwartz joined them in a picture to honor the occasion.
Mr. Schwartz said that Assemblymember Ed Chau could not attend tonight's event as he is attending a special event with his family.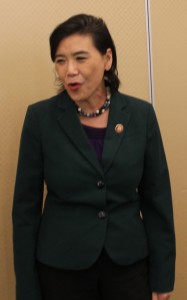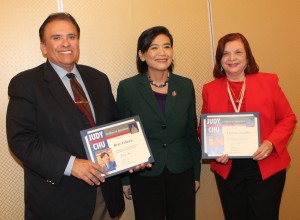 Congressmember Judy Chu just arrived from Washington, DC to honor Theresa Amador and Jerry Velasco with proclamations. She thanked them for their exceptional work in the San Gabriel Valley.
Theresa Amador was the first Latina elected to the City Clerk's office in Monterey Park. The Amador family has made important commitments to the economic development in town. She is involved in the Library Board, Woman's Club and other organizations. She gives of herself in serving the residents of Monterey Park.
Jerry Velasco is a member of the El Monte City Council. He serves the people in the San Gabriel Valley. He is involved with many of the non-profits and is part of the grass-root efforts in our community. He survived near fatal car accident. We are very grateful to have him in our lives.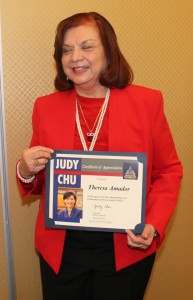 Theresa Amador said it was an honor to serve as the City Clerk. She is 81 years old and is very proud to be 81 years old. She is happy to give back. She thanked Mayor Adele Andrade-Stadler and the students for helping to get out the vote. Your vote counts. The youth are our future leaders who need a commitment get involved. We need to show strength and need to vote.
She is still active in the Lions Club, Library Foundation and Woman's Club. She thanked her friend, Thelma Huebsch, for her love and support after her husband, Richard died in 2013.
Theresa Amador said everyone is just wonderful. She has made a lot of new friends. She thanked everyone for supporting her. She said that she met Jerry Velasco many years ago.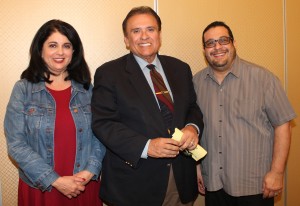 San Gabriel Vice Mayor Denise Menchaca and El Monte Mayor Andre Quintero honored Jerry Velasco.
Vice Mayor Menchaca said Jerry Velasco is an actor, producer and a lifelong Democrat. He works hard to promote education. She is very honored that he is being honored for being part of the team.  She congratulated him.
Mayor Quintero said Jerry Velasco helped him with his education. He serves the people of El Monte. He works hard to get people elected in El Monte. He helped11 people get elected to many offices in his city. He has helped to establish a new and strong leadership.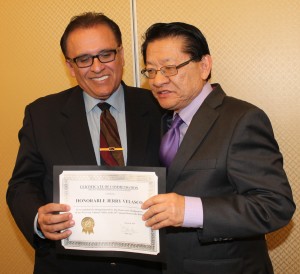 Mike Eng presented Jerry Velasco with a proclamation. He praised Jerry Velasco for his leadership in the San Gabriel Valley. He was almost killed in an automobile accident. It was a spiritual moment for Jerry when he almost died. We kept him home so we didn't lose Jerry.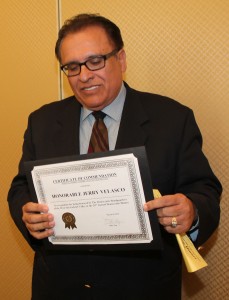 Jerry Velasco was honored to receive this award and any other awards given to him while he is alive. They raise your spirits a little and give you advice that will help you. He recalled his accident and was thankful for his life. He thanked the audience for being here. He said he met Theresa with her husband, Richard, when they were working with the Ricardo Montalban Foundation to establish a theater for Latino performers. It is located at Hollywood and Vine. They helped make dreams come true. He learned how to raise money for all of the non-profit organizations. He congratulated Theresa. The younger generation needs to give back to the community for all of the things they are given. We can do it together. He thanked everyone at the event.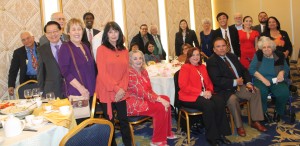 Mayor Adele Andrade-Stadler stated that this room is full of love, perseverance and inspiration.
Jeff Schwartz thanked everyone for their attendance.
Leave a Response