JUNE JITTERS
By Mona Raskin
June has always been significant for its variety of special events!  The time for graduations, high school, college, as well as, a time for weddings, anniversary celebrations and special June birthdays!  Unfortunately, our weak economy has created a somewhat gloomy atmosphere, especially for our younger generation facing few summer jobs and future life-long careers. Less expensive weddings, anniversary celebrations, shorter vacations and fewer trips to our favorite restaurants have become the trend!
It appears the city of Monterey Park has also been tightening its belt as well. The city council has been frequently discussing how to streamline our budget! Eventually, we will notice less special events and festivities. City workers have been notified also that there will not be any salary increases in the near future!
Meanwhile, the residents of Monterey Park will have to look for other alternatives this summer, such as, more trips to our parks, picnics and some time at nearby beaches.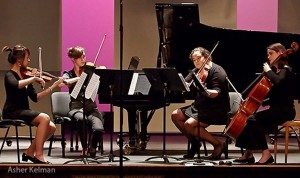 Recently, we had a special treat to attend a musical event at the Ed and Mari Edelman Chamber Music Institute located at 200 South Grand Avenue in Los Angeles, California (Thayer Hall). Mr. Edelman is the former L.A. supervisor and is a prominent supporter of this Music Institute. Our granddaughter, Laura Bedol (violinist) and fellow violinist Lucinda Chen, Meredith Memoni (viola) plus cello player, Eleanor Brown made a wonderful quartet playing a lovely melody by Dimitri Shostakovich (No.6 in G Major, Op.101).  A great way to spend a most enjoyable afternoon!
Perhaps, there will be more such concerts! Summertime concerts are a pleasant way to add to our list of enjoyable activities this summer! So be sure to have a happy one!
Leave a Response