NEWS FROM ASSEMBLYMEMBER ED CHAU
NEWS FROM ASSEMBLYMEMBER ED CHAU
Assembly Privacy Committee Convenes First informational hearing on the California consumer privacy act of 2018
On February 21 State legislators, key academics, industry experts, government liaisons, and consumer representatives convened on Wednesday for an informational hearing of the California Consumer Privacy Act of 2018 (CCPA). Members of the committee heard from numerous stakeholders on ways to refine the law – ranging from suggestions on how to further clarify and address perceived workability issues from a business standpoint, to suggestions on how to strengthen the law from a consumer and privacy protections standpoint.
"The purpose of the hearing was to make sure there is a strong understanding of the rights and protections that we won for Californians last year, and the obligations that the CCPA imposes for businesses," said Assemblymember Ed Chau (D-Monterey Park). "Once we have done that, it is just as critical that we continue our work to ensure that the law is refined, and true to our intent, so that the privacy protections we fought for are accessible for consumers, and that businesses are able to carry out the law in practice."
Last year in California, the Legislature took on the historic task of enacting the most comprehensive privacy rights law in the nation. Beginning in 2020, the CCPA gives consumers the right to request from a business the personal information it collects or sells about them, its purpose for doing so, and with whom the personal information is shared. Consumers will also have the right, with limited exceptions, to request that a business delete any personal information collected from them. It gives consumers the right to "opt-out" of the sale of their personal information, while requiring "opt-in" consent to sell the personal information of minors up to 16 years of age. Finally, it prohibits businesses from discriminating against a consumer for exercising these rights. Since the passage of the CCPA, the conversations have focused on clean up and enforcement efforts. Today's hearing was a recognition of the fact that there is more work to be done.
"Obviously, it is my hope that folks will not seek to erode the important rights that Californians now have in the name of 'clean up' or 'clarity,'" said Assemblymember Chau.  "We must safeguard those rights and I will look to members of this committee to join me in that effort by working together and diligently towards workable solutions."
The hearing was titled, "Understanding the Rights, Protections, and Obligations Established by the California Consumer Privacy Act of 2018: Where should California go from here?" It included expert testimony from Alastair Mactaggart, Chairman of Californians for Consumer Privacy; James Harrison, Attorney for Remcho, Johansen & Purcell; Veronica Abreu, Chief Privacy Officer for Square; Tanya Forsheit, Partner and Privacy & Data Security Group Chair for Frankfurt Kurnit Klein & Selz; Stacey D. Schesser, Supervising Deputy Attorney General for the Consumer Law Section – Privacy Unit at the California Department of Justice; Sarah Boot for the California Chamber of Commerce; Eric Goldman, Professor of Law at Santa Clara University School of Law; Kevin McKinley for the Internet Association; Margaret Gladstein for the California Retailers Association; Elizabeth Galicia,  Vice President of Common Sense Kids Action; Lee Tien, Senior Staff Attorney & Adams Chair for Internet Rights for the Electronic Frontier Foundation; Nicole A Ozer, Esq., Technology and Civil Liberties Director for the ACLU of California; Todd Weaver, Founder and Chief Executive Officer for Purism; Scott Jordan, Professor at UC Irvine; and Ashkan Soltani, Independent Researcher and Technologist.
Barbara Messina recognized as 2019 Woman of the Year by Assemblymember Ed Chau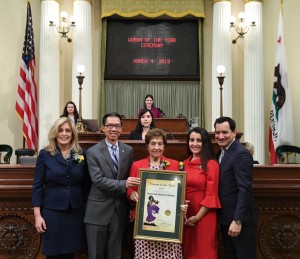 On March 4 Assemblymember Ed Chau (D-Monterey Park) honored Barbara Messina as the 2019 "Woman of the Year" for the 49th District during a legislative ceremony held at the Assembly Chambers. The ceremony recognizes women who have made outstanding contributions to California, as part of Women's History Month.
"I am recognizing Barbara for over three decades of unwavering commitment to the San Gabriel Valley, but more specifically to the City of Alhambra where her dedication to public service has earned her accolades from the Knights of Columbus, Alhambra Chamber of Commerce, and the YMCA of San Gabriel Valley," said Assemblymember Ed Chau.  "Barbara's tireless work to make Alhambra a family-oriented community has produced one of the best school districts and her love for the city has made it a wonderful place to live."
Barbara Messina is a lifelong resident of Alhambra. First elected to the Alhambra City Council in 1986, Councilmember Barbara Messina was Mayor of the City of Alhambra six times in twenty-four years. She also served eight years on the Alhambra School Board. Some of her lifelong civic involvements include: President of the Independent Cities Association; President of the San Gabriel Valley Council of Government; Member of the Southern California Association of Governments representing Alhambra, Monterey Park, and Montebello; Board Member of the Alhambra Educational Foundation; and currently, President of the YMCA of the San Gabriel Valley.
Assemblymember Chau unveils 2019 legislative Priorities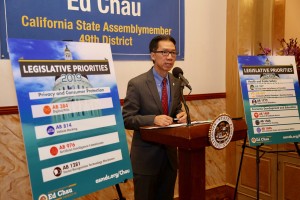 On March 15 assemblymember Ed Chau (D–Monterey Park) unveiled his 2019 legislative bill package, which focuses on the important work he will be doing in the areas of privacy and consumer protection, economic development and education, health, and public safety.
Privacy and Consumer Protection
Assembly Bill (AB) 976 would establish the Artificial Intelligence in State Government Services Commission to gather input on how artificial intelligence and data science could be used to improve state services.
"Artificial Intelligence technology will have a profound impact on our lives. At the same time, it will present both opportunities and challenges," said Assemblymember Ed Chau. "Establishing a commission to review how California may harness the power of AI, to improve state services, will serve to benefit our economy, public health and safety, jobs, and the environment, as this rapidly growing technology reshapes our society."
Economic Development and Education
AB 1409 would provide students with greater broadband access, outside of the classroom, by funding Homework Gap Projects, such as Wi-Fi enabled school busses, or school or library Wi-Fi hot-spot lending, through the California Teleconnect Fund.
"Millions of students live in homes without a broadband connection; so, they struggle to finish homework and miss out on critical after-school education opportunities available through technology," said Assemblymember Ed Chau. "We need to make sure that our children have the resources to succeed academically in this technology-driven era, which includes having broadband access."
"The Homework Gap is the cruelest part of the new digital divide and it affects 12 million children nationwide.  To have a fair shot at 21st century success, students need the tools necessary to do their homework—and today that means having access to high-speed internet. Thanks to Assemblymember Chau for drawing attention to this issue and working to close this divide and bridge this gap," said Federal Communications Commissioner Jessica Rosenworcel.
"Teachers all over the country have been concerned about the homework gap and the unfair digital divide for years," said Jim Steyer, CEO of Common Sense Media. "When homework is assigned online, student outcomes for those who don't have access to broadband and computers at home suffer. While big picture solutions to ending the homework gap involve industry and changes at the federal level, Assemblymember Chau's Student Broadband Access bill gives the state tools to support students in need by using existing funds, and Common Sense is honored to support this bill."
Health
AB 453 would require training on dementia, for Emergency Medical Technician Paramedics (EMT-P), in order to provide appropriate emergency medical care to individuals living with this condition.
"Our aging population is increasing, and so are the numbers of loved ones affected by Alzheimer's disease. As a result, we need emergency personnel that are adequately prepared to serve this population in times of need," said Assemblymember Ed Chau. "We can ensure an appropriate level of care by requiring EMT-Ps to receive dementia specific training, as a condition of licensure and recertification."
"Alzheimer's Los Angeles is proud to sponsor AB 453. As a local nonprofit serving families impacted by Alzheimer's and other dementias in Los Angeles, San Bernardino, and Riverside counties, we know that it is not a question of if EMS will interact with a person with dementia, but when," said Heather Cooper Ortner, President and CEO of Alzheimer's Los Angeles. "AB 453 will ensure that all paramedics are equipped with the skills to effectively respond to a medical emergency involving a person living with dementia – thereby protecting their health, safety and dignity. We thank Assemblymember Chau for working to ensure that our healthcare system is prepared to respond to the needs of our Alzheimer's and dementia impacted families."
Public Safety
AB 397 would establish driving under the influence of cannabis, or cannabis and another drug, as its own separate offense.
"The legalization of cannabis will undoubtedly contribute to the rise of impaired driving," said Assemblymember Ed Chau.  "Tracking how many cannabis DUI arrests occur annually will help inform what policies are needed to address this dangerous behavior."
AB 1772 would allow distinct, but related incidents of theft, whether committed against one or more victims, to be aggregated to a charge of grand theft.
"Communities throughout the district have experienced an increase in crime, since the passage of Propositions 47 and 57," said Assemblymember Ed Chau. "One way to address the unintended consequences of these reforms is by allowing multiple incidents of theft to be aggregated into a charge of grand theft, if the total amount, of multiple crimes, exceeds $950."
"For too long our communities have been less safe because of a technicality.  Assemblyman Chau's bill will fix that," said Mayor Steven Ly, City of Rosemead.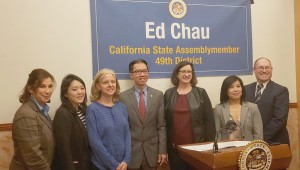 Assemblymember Chau was joined at the press conference by Mayor Steven Ly, City of Rosemead; Heather Cooper Ortner, President and Chief Executive Officer, Alzheimer's Los Angeles; and Stephanie Ong, Senior Director, Communications & Advocacy, Common Sense Kids Action.
Assemblymember Chau is the Chair of the Assembly Committee on Privacy and Consumer Protection and Select Committee on Emerging Technologies and Innovation. He represents the 49th Assembly District, comprised of the communities of Alhambra, Arcadia, El Monte, Monterey Park, Rosemead, San Gabriel, San Marino, Temple City and portions of Montebello and South El Monte.
Leave a Response