Celebrating the 40th Anniversary of U S – China Normal Relations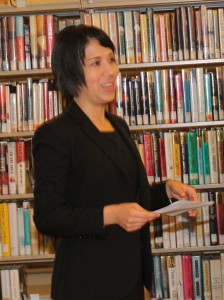 On January 15th Acting City Librarian Diana Garcia welcome Pedro Chan, the Exhibit Organizer, and guests to the Monterey Park Bruggemeyer Library for the Opening Ceremony of his exhibit. She thanked Cindy Costales and Pedro Chan for his many donations to the library.
Pedro Chan also had exhibits on the Flying Tigers from World War II and Sun Yat-sen's Lasting Legacy: 150th Anniversary. He is a member of the Chinese American Citizens Alliance, Los Angeles Chapter and a current member of the Monterey Park Sister Cities Commission.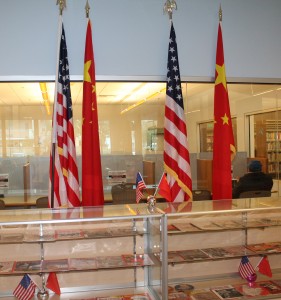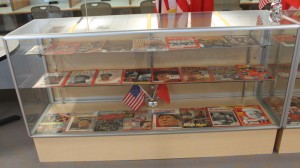 The United States Flag and the Flag of China were display on the main floor of the library as well as copies of Times, Newsweek and Life Magazines were on display to make the special occasions. The exhibit was on display until January 27th.
The exhibit also displayed pictures of President Nixon, President Ford, President Carter, President Reagan, President Bush, President Clinton, President Bush, President Obama and President Trump all greeting the Chinese leaders over the last 40 years.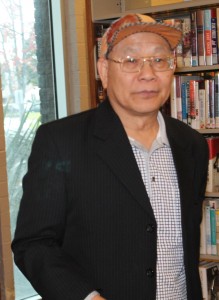 Pedro Chan said he is proud to present this exhibit to the residents about the U S Presidential Visits to China.  He asked the guests to be sure to check out all of the magazines and books published over the years regarding the longtime relationship between the United States and China.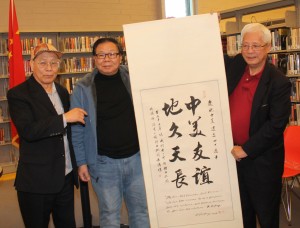 Pedro Chan accepted a scroll from Fuzhong Gan, a well-known Calligrapher from San Gabriel with the assistance of Environmental Commissioner Stephen Fong. Mr. Chan later presented the scroll to the City Manager Ron Bow since the Councilmembers were not able to attend this event.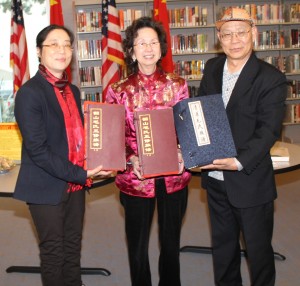 Pek Chan and Pedro Chan presented several Chinese language books to Su Chen, the Head of the East Asian Library at UCLA.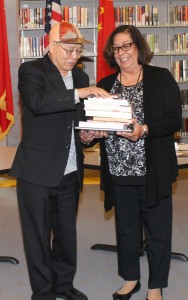 Pedro Chan presented several Chinese language books to Cindy Costales for the benefit of the library visitors.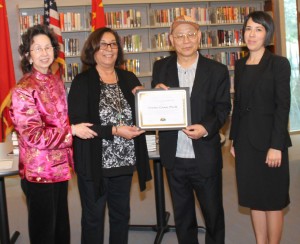 Cindy Costales thanked Pedro Chan for his generosity to our city's library with a proclamation of appreciation. Dr. Chan has shared the history of China with all of us.
Diana Garcia thanked Pedro Chan for sharing the United States and China history with the library visitors.
Pedro Chan said his next exhibits would showcase the building of the Railroads and the Gold Rush.  He has a gold nugget from that era.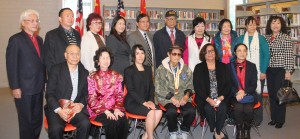 The guests all posed for a group picture in honor of this special event.
Leave a Response