Play Days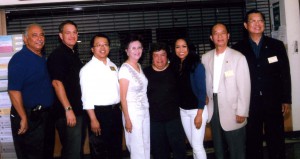 Marie Mortera, from KTLA Channel 5 fame, was the Honorary Grand Marshal at Monterey Park's Play Days Birthday Celebration held at Barnes Park May 13 – 16. She joined Honorary Grand Marshal Gloria Guerrero, a long time resident and volunteer, Mayor Anthony Wong, Mayor Pro Tem Betty Tom Chu, Councilmembers David Lau and Mitch Ing, City Clerk Dave Barron and City Treasurer Joseph Leon at City Hall just before the parade on May 15.
Master of Ceremonies Vince Chang introduced the Council and special guests to the audience at a breakfast reception hosted by the Monterey Park Woman's Club.
Mayor Wong welcomed everyone to the city's 94th birthday party. He was excited that after a 10 year absence the city finally has a Miss Monterey Park and her court. He also recognized Miss Taiwan America, Miss Taiwan Teen and Miss Taiwan World.  He thanked the ladies of the Monterey Park Woman's Club, sponsors and volunteers for helping with this event. Enjoy Play Days.
Mayor Pro Tem Chu welcomed all to this event and thanked the sponsors and beauty queens for their participation in the city's 94th birthday party. She is looking forward to the city's 100th birthday.
Mr. Lau welcomed everyone to this great day to celebrate our city's 94th birthday. The city has been recognized by Business Week and CNN for being one of the greatest cities to raise your family.  We should be thankful to the community for helping us to overcome our financial crisis.  We will work together for the future.  He asked God's blessing on everyone.
Mr. Ing welcomed all to the 94th birthday celebration of our city. He agreed that the December 2009 issue of Business Week rated Monterey Park as the second best city with a population under 100,000 to live in because we have good schools and a low crime rate. He congratulated the two grand marshals. Enjoy the parade.
Mr. Venti was already at the parade site with his cherished antique car.
City Clerk Barron told the story about Monterey Park being incorporated in 1916 so it would not be a sewer farm for Alhambra, Pasadena and South Pasadena.  He plans to be here in Monterey Park to celebrate our city's 100th birthday.  Have a good time.
City Treasurer Leon thanked the volunteers, the Woman's Club, special guests and the committee for their participation in this event. Have a great day.
Ms. Mortera said she was happy to be in the great city of Monterey Park.  She wished everyone a Happy 94th Birthday. She thanked all the people who make up this community. She feels welcomed in Monterey Park and is looking forward to the city's 100th birthday celebration. It's nice to have a city celebration in these tough economic times.
Ms. Guerrero thanked the Historical Society for selecting her as this year's Honorary Grand Marshal. Her sisters, Sylvia and Vicki, support her volunteering in the city where they grew up.  Her family supports the city. She thanked everyone and wished them a Happy Birthday.
Mr. Chang introduced the other committee members: Ana Casillas, Robert Flores, Gloria Guerrero, Gwen Kishida, Joan Merino and Herb Motonaga.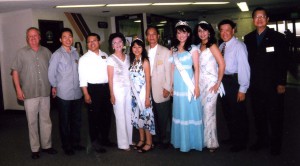 Miss Monterey Park Liwen Tsai and two members of her court Jasmine Sunda and Paola Loera joined Anthony Wong, David Lau, Betty Tom Chu, Mitch Ing, Vince Chang, Richard Gorman and Daniel Kim at the party.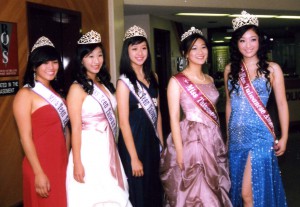 Miss Teen Taiwan World Princess Iris Cherng, Miss Teen Taiwan USA Queen Selena Lue, Miss Teen Taiwan World Queen Shannon Fan, Miss Taiwanese American Princess Connie Tsai and Miss Taiwanese American Queen Michelle Kung also joined the party.
Monterey Park Fire Station #1 had an open house for the residents. The firefighters showed off their fire engine, truck and paramedic ambulance to their guests.  Children had a chance to practice a fire drill at the station as they crawled around the course.  Several children proudly wore red fire hats when they left the station house.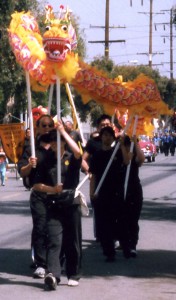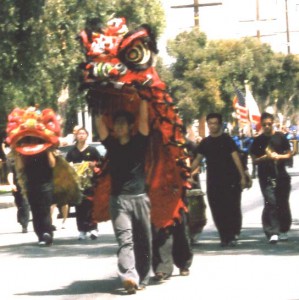 The parade began with the dragon and lion dancers.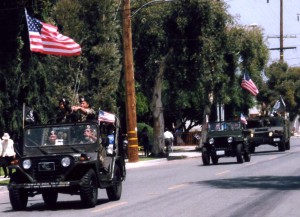 Members of various military divisions carried the Stars and Stripes with honor in the parade.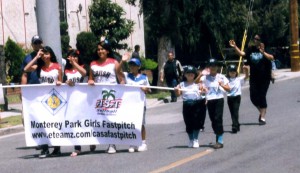 The long parade included members of the Monterey Park Sports Club (Bombers), Members of the Boys and Girls Clubs and other youth clubs.
School bands including Montebello High School, San Gabriel High School and Mark Keppel High School who proudly marched down the street to the beat of their drums.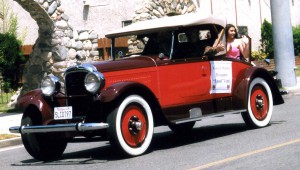 Councilmember Frank Venti drove his 1926 Nash Roadster with young family members in the rumble seat.  Mayor Wong, Mayor Pro Tem Chu, Councilmember Lau with his wife, Councilmember Ing with his wife and son, City Clerk Barron, City Treasurer Leon, Stephan Lam from BIDAC, Grand Marshal Mortera, Honorary Grand Marshal Guerrero all road down the street in classic or new cars.  They all waved to residents and wished everyone a Happy Birthday.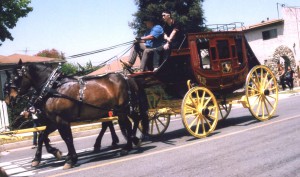 The Wells Fargo Stage from the Old West showed the youth how the early settlers traveled across country.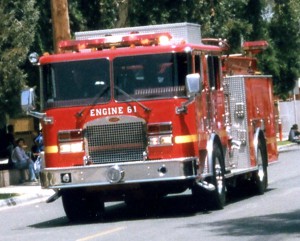 Monterey Park Firefighters rode one of their big red trucks in the parade to the delight of the crowd.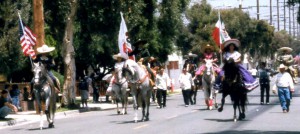 Members of Rancho La Laguna de Elias Jimenez strutted their horses with pride.  City children had a chance to see horses up close and personal.
The long parade ended at Barnes Park where everyone had a chance to enjoy the carnival rides and all the food booths while waiting for the awards ceremony.
Vince Chang presented the awards to all the winners in the various parade categories.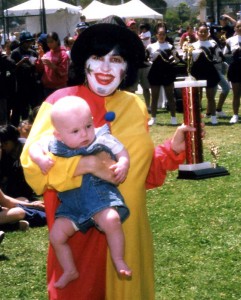 Crystal Buck known at Zippo the Clown Princess with her six month old daughter Cookie Buck showed off her award.  Crystal is the granddaughter Zippo the Clown who always marched in the Play Day Parades.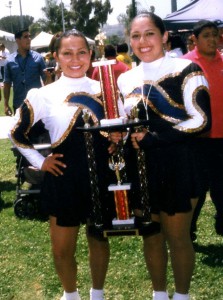 Montebello High School won the Drill Team Sweepstakes Award.
Members of the Taiwanese American Association won the Mayors Award.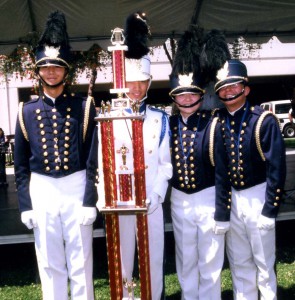 Walnut High School won the Musical Sweepstakes Award.
It was a wonderful parade and birthday celebration.  Happy Birthday Monterey Park!
Leave a Response