Retirement Party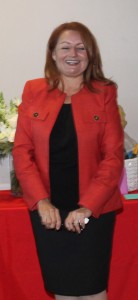 Monterey Park City Librarian Norma Arvizu celebrated her retirement on December 3rd in the Friends Room.
She was surprised to see so many of her friends and fellow employees on hand to wish her well on her new journey.
The room was decorated with quotes from her staff to expressed Norma's love and support of the library and staff members. They created a short film holding their signs as a retirement gift to her. The film was previewed during the party.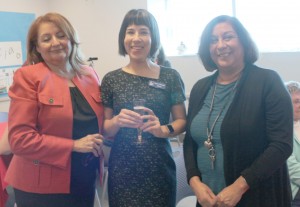 Norma Arvizu, Diana Garcia and Cindy Costales shared a few minutes of friendship at the party.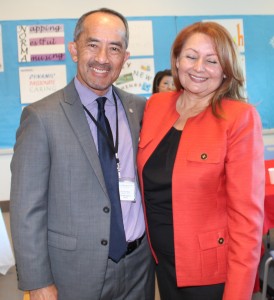 City Manager Ron Bow and Norma Arvizu enjoyed her retirement party.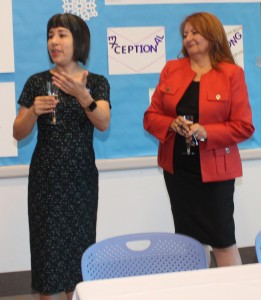 Diana Garcia welcomed all of the guests to the farewell party.  She said Norma Arvizu has been working at the library for the last ten years.  She thanked Norma for her friendship and mentoring.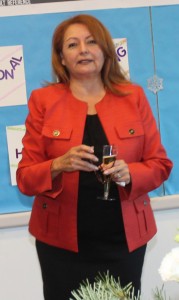 Norma Arvizu stated she is touched by this event. It has been the best journey. She connected to the community. She has enjoyed working with her staff. She thanked them and the residents for being here for the last ten years. She asked everyone to please support the talented library staff.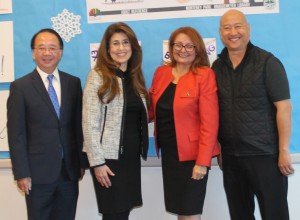 Mayor Peter Chan, Mayor Pro Tem Hans Liang and Councilmember Teresa Real Sebastian shared their praises of Norma with the guests.
Mayor Chan said he has known Norma for many years. She taught English as a Second Language and had dreams for improving the library. He wished her a Happy Retirement and thanked her so much for her dedication.
Mayor Pro Tem Liang told Norma that she is part of our family. We will miss you and your long time dedication to us. It is not just a job for you. It is a great loss for all of us. Congratulations!
Councilmember Real Sebastian thanked Norma for her friendship and making the library a home. People can come here to learn. She called Norma a role model. You have a warm and open heart. Thanks so much for your service to the community. Take care of yourself.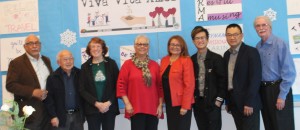 Library Board of Trustees: Betty Morin, David Barron, Jason Dhing, Andrew Yam, Yukio Kawaratani, Nancy Ishino-Gilmore and Larry Sullivan.
Jason Dhing spoke on behalf of the Board. He thanked Norma for keeping the Monterey Park library for the city. They appreciate her leadership.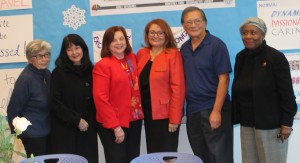 Library Foundation Members: Robert Gin, Theresa Amador, Dolores Rillos, Carol Sullivan, and Virginia Greene.
Bob Gin said he has served on the Foundation for the last five years. He thanked Norma for her leadership at the library. He thanked the residents for their support of the library. He said that Norma has been very conservative in asking for money. It has been a wonderful working with Norma. Her staff is wonderful helping the Foundation to raise money for the library. He thanked her for her ten years of service.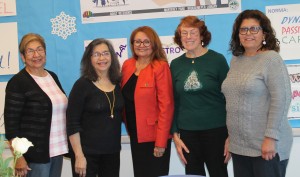 Friends of the Library:, Rosalie Toltzman, Lilian Kawaratani, Ellen Johannsen and Lorraine Esparza.
Nancy Ishino-Gilmore said she met Norma ten years ago when she started to volunteer at the library. Norma ran a successful LAMP program for them. Norma encouraged her staff with her new ideas. She can do the job. It has been a wonderful working with her all these years. Norma is a great role model.  The Friends recommended her for the job as the Head Librarian and HR hired her for the position. Later the HR person said that Norma was the right choice for the job.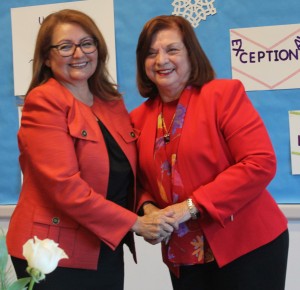 Theresa Amador said she met Norma four years ago. Her leadership and ideas were their reasons to raise money for the library. You have left a legacy to our city.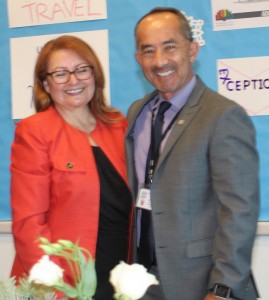 Ron Bow said the Department Heads had treated Norma to dinner. They gave her a whole lot of love. She has given the city and staff a whole lot of love too.  The city gave her a wonderful retirement gift. Have a wonderful time in retirement. This room is filled with love.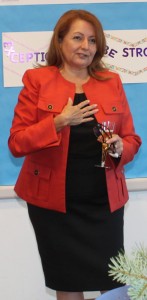 Norma said she is going to Egypt. This Arizona girl is now going to Egypt. She thanked the Executive team.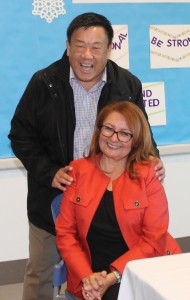 City Clerk Vince Chang thanked Norma for her service to the library. She came to his Dad's funeral. She took the time for him. He thanked her for her dedication.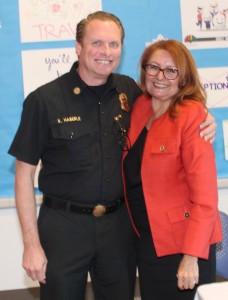 Fire Chief Scott Haberle said he has worked with Norma for the last four years. Her leadership takes the city where it should be. She is an amazing person. She lures you in and she needs you to be at your best. You leave the place better. He thanked her.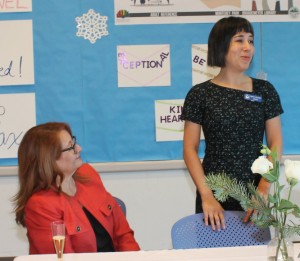 Norma Arvizu and Diana Garcia thanked the guests for attend this special party.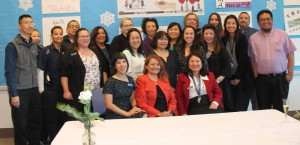 Norma Arvizu joined by her staff posed for this picture in memory of her Retirement Party.
Leave a Response