News From Assemblymember Ed Chau
Assemblymember Chau holds Non Profit Workshop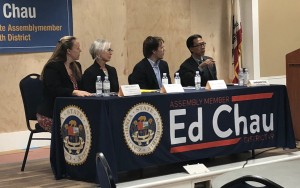 On October 25 Assemblymember Ed Chau hosted a free workshop for local non-profit organizations in his district to provide the latest information on Federal and California laws regarding fundraising and reporting requirements.
"Non-profit organizations provide vital services and resources that contribute to the economic and social well-being of our diverse communities" said Assemblymember Chau. "For some of those in attendance, this event was the first step in establishing a non-profit organization; so, like others in attendance, they benefited from the discussions regarding industry trends, best practices and had the opportunity to network."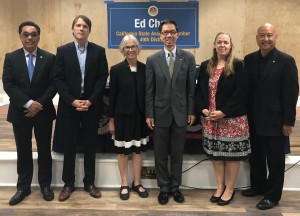 The workshop included presentations by Nancy Berlin, Policy Director for the California Association of Non-Profits; Patrick Anderson, Community Development Project Attorney at Public Counsel; and Audrey Rowe, Program Specialist, at the Franchise Tax Board, Exempt Organizations Unit. In attendance were representatives from worship organizations, educational institutions, cultural outreach programs, healthcare providers, and athletic services.
The California Association of Non-Profits is an organization that works to unify its 10,000 non-profit members under advocacy and uses its voice to speak to government agencies and Legislators. Public Counsel offers pro-bono legal services for over 30,000 groups, including nonprofit organizations, through impact litigation and policy advocacy. The Franchise Tax Board collects the personal income tax and corporate income tax of California.
With over 100,000 non-profit organizations in California, this sector is the third largest workforce behind retail and manufacturing sectors.  It employs over a million Californians, nearly 7.5% of the state's workforce. This workshop is geared toward increasing awareness and identifying services that are vital in bridging the gap between community and organizations.
Assemblymember Chau Hosts Sixth Annual
"Operation Gobble" – Turkey Giveaway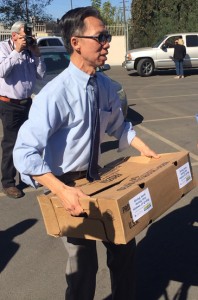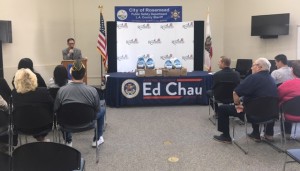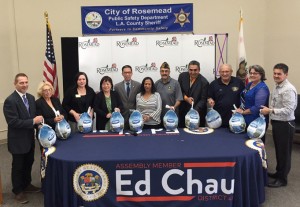 On November 9 Assemblymember Ed Chau, in collaboration with the San Gabriel Valley Water Company and the American Water Company, gave out two hundred turkeys during the Sixth Annual "Operation Gobble" Turkey Giveaway. The event was held at Zapopan Park in the City of Rosemead.
"My favorite part of the holidays is having the opportunity to spend time with family and friends around the dinner table and sharing a warm meal," said Assemblymember Ed Chau. "Unfortunately, too many families in our state will not have that opportunity because they lack access to enough nutritious food for their household.  Today's event is our way of being grateful for what we have by helping families throughout our communities that are impacted by food insecurity."
Operation Gobble turkeys were distributed to local charitable organizations and food banks, which serve low-income families in the 49th Assembly District and the Greater San Gabriel Valley. The 2018 recipients of donated turkeys included: Boys and Girls Club of West San Gabriel Valley; Asian Youth Center; Kiwanis Club of Temple City; El Monte/South El Monte Emergency Resources Association; Veterans of Foreign Wars of the United States, Greater El Monte Post 10218; Potrero Heights Park Community and Senior Center; and The Church of Our Saviour.
Assemblymember Ed Chau represents the 49th Assembly District, which includes the cities of Alhambra, Arcadia, Monterey Park, Rosemead, San Gabriel, San Marino, Temple City, and portions of El Monte, Montebello, and South El Monte.
Leave a Response