Electric Car Show in Monterey Park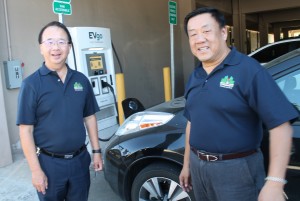 Mayor Pro Tem Peter Chan and City Clerk Vince Chang welcome residents, their guests and electric car owners to this special event held at City Hall on September 15th. They stood in front of the Electric Charger station in the covered parking lot at 320 West Newmark Avenue.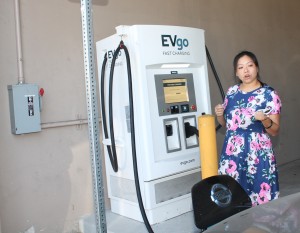 A resident was charging her Nissan Leaf and shared some facts about her car. She gets between 110 miles to 140 miles per charge. She and her family spend 45 minutes to complete the charge as they walk around Barnes Park. It costs about fifteen cent per Kilowatt. They recharge their car once every three days depending on how often they drive it.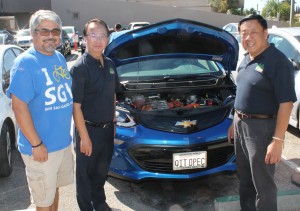 Efern Moreno, Peter Chan and Vince Chang stand in front of Mr. Moreno's 2017 Chevy Bolt with the license plate "QIT OPEC".
Mr. Moreno stated that a full charge takes him 200 miles from Alhambra to Ventura. He likes to cap it off before he drives back home. His car will take him 267 miles per charge.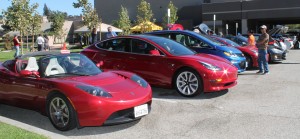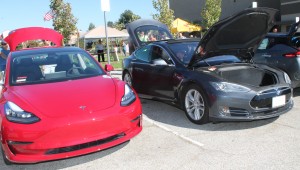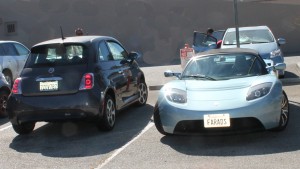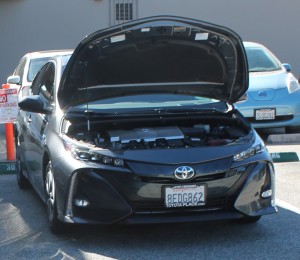 These are some of the 30 electric cars that participated in the event sponsored by the Greater Monterey Park Chamber of Commerce and the City of Monterey Park Environmental Commission to inform the residents on the many benefits of EVs or electric vehicles.
Residents and their guests to talk to some actual EV owners about their experiences with EV ownership. Some of the cars had their hoods and trunks opened for inspection.
Test drives were provided by Alhambra Nissan and Camino Real Chevrolet on the new Nissan Leaf and the new Chevrolet Bolt.
Vendors from Wells Fargo and Southern California Edison provided information about their latest programs to help EV owners.
National Drive Electric Week celebrates alternative energy vehicles with over 300 events throughout the nation.
The cars of the future are here today in the San Gabriel Valley.
Leave a Response