An American Hero
An American Hero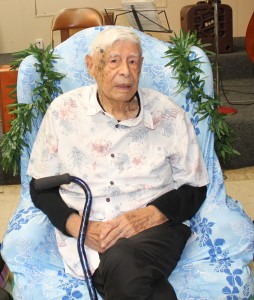 William R. Sanchez, a retired U S Army Sergeant and former Prisoner of War, celebrated his 100th birthday with 160 of his family members and close friends on July 14th at the American Legion Post 397. The party theme was Hawaiian.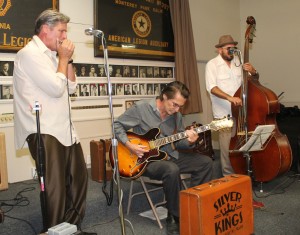 Members of the Silver Kings played Electronic Blues as part of the celebration.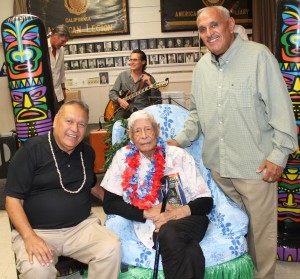 Danny Hernandez, a veteran from Vietnam, who wrote a book "East L A Silver Star" which he gifted to Bill Sanchez. Jaime Rodriguez joined them.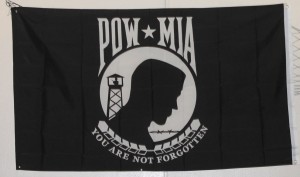 Veterans hung the POW/MIA flag in honor of Bill and many other military men and women who fought in all of our wars.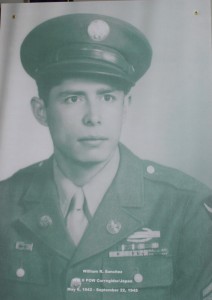 A portrait of Sgt. William R. Sanchez, who was a World War II Prisoner of War taken prisoner in Corregidor, Philippines and moved to Japan from May 6, 1942 until his was liberated on September 22, 1945 by the American forces.
There were several awards, proclamations, newspaper articles, Bill's military jacket and his senior yearbook on display for the guests to view.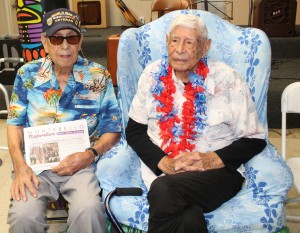 David Fuentes, a fellow World War II veteran and good friend of Bill Sanchez joined the party. They have been friends since the end of the war. They met in Japan and watched the Japanese government sign the surrender documents on the USS Missouri.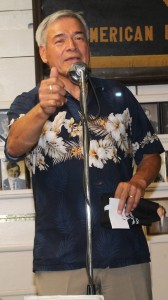 Frederick P. Aguirre a longtime family friend was the Master of Ceremonies. He welcomed everyone to this very special birthday party.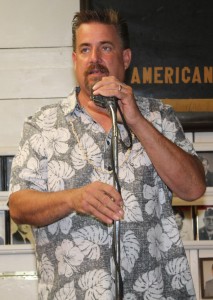 Pastor Tim Clark led the invocation. He is honored to know Bill for most of his life. He thanked God for this day. He thanked David and Anita for having this celebration. He thanked God for this food and the friendship. He asked God to bless Bill and all of us.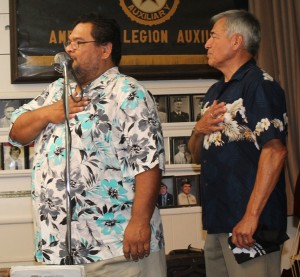 Post Commander Gabriel Suarez led the flag salute. He thanked David and William. They are the exception to the law. They fought for their lives. He asked everyone to please honor our veterans.
A delicious dinner was served to the guests in keeping with the Hawaiian theme and of course a taco bar for guests who preferred Mexican food.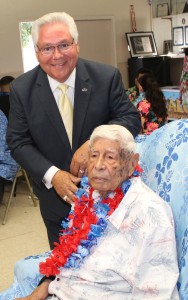 Bob Archuleta, a longtime friend, joined Bill at the party.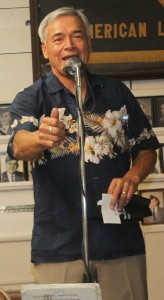 Frederick P. Aguirre began the celebration with a short bio of Bill Sanchez. He was born in El Paso, Texas on July 18, 1918. His family later moved to Los Angeles, California. He graduated from Jefferson High School in 1938. He attended UCLA before he joined the U S Army. He was stationed in the Philippines before the war.
When the Japanese military approached Manila, Bill was one of the solders to help General MacArthur and his family to escape.
When the Japanese over ran their post Bill Sanchez told his story before the U S military members were captured.
"Our battalion commander ordered me to take down the American flag flying over our post and destroy it because he didn't want the Japanese to get it," Sanchez says.
"I had no idea how to dispose of it. I couldn't bury or burn it. It was so tattered already I finally just started to shred it into little pieces with my knife. A young West Point officer asked if I needed some help".
"He kept a piece of the flag and gave the colonel another piece that he hid under the patch of his insignia. They made a pact that if either of them survived the camps, they would make sure at least a piece of our flag made it home to the United States."
"The colonel died in the prison camp, but the young West Point officer made it back. That little piece of flag has been in the museum at West Point for the last 70 years serving as an inspiration for every young officer coming through the military academy".
Bill Sanchez was a prisoner of war for three and one/half years. He said the English prisoners helped the American prisoners survive.
Bill Sanchez did not discuss the war until he met Harry Corre, an American POW from World War II. He helped Bill Sanchez deal with his issues.
Desi Arnez, a veteran of World War II, befriended Bill Sanchez and granted him three wishes after the war. One was see a Big Band playing for an evening of dancing. Bill recalled listening to a Big Band record in the camp. Two was to see a Rose Bowl Game in 1946. Alabama versus USC played that year. Three was to see a professional boxing match. Bill was a boxer in college.
Desi Arnez honored Bill Sanchez for his military service.
Bill Sanchez married Leonela Garcia and they have three children David, Adam and Daniel Sanchez.
Bill has 100 years of stories to tell.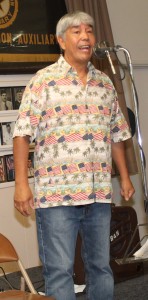 David Sanchez said we all have helped him in his life. He is blessed to have Bill, his father, on his birthday. He has helped him in his life.
Bill Sanchez and his siblings were orphaned during the depression. He was 14 year old. His aunt and uncle opened their home. They raised Bill, his brother and his sister. The family was shoemakers. He is blessed to have the Sanchez-Munoz families in his life.
The response to Bill's party was overwhelming. He thanked everyone for coming. He is happy with his friends. It is Bill's party.
Bill and David Sanchez visited West Point three years ago. Bill had a chance to see a section of the destroyed flag on the post. It was housed in the museum. The flag served as a reminder of the horrors of captivity. Bill cried at the sight of the flag.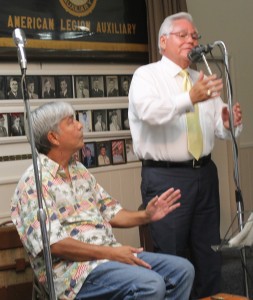 Bob Archuleta, a longtime friend, help them visit West Point. His two sons graduated from West Point. He was proud that Bill Sanchez could visit West Point. He was treated as a high-ranking military member.
He hoped that Bill should live to be 150 years old.  His family is great. He asked God to bless Bill.
David Sanchez said his father told Madeleine Albright his story of his military life. He thanked Bob Archuleta for the West Point trip. He thanked several close family members and his lifetime family.
We are here to celebrate Bill's100th birthday.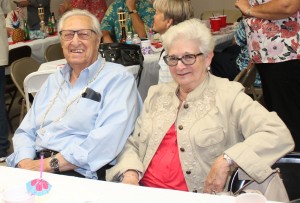 He thanked Harry Corre and Marilyn Corre, his wife for their friendship.  He credits Harry Corre for helping his father heal from his wounds and share his war stories with the public.  He was also an American Prisoner of War. He was captured at the same time as his father.
David Sanchez said his father, Bill, has paid his dues. He thanked Post Commander Gabriel Suarez and members of the post for providing the party location with no charge to the family. He thanked everyone for the assistance.
David Sanchez thanked his wife, Anita Lee and their family members of making this a great party.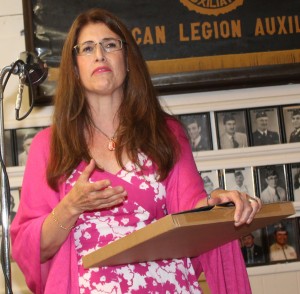 Monterey Park Councilmember Teresa Real Sebastian said it was important to get out all of the stories. We need to share their stories with the youth.
Bill Sanchez is humble, has humor and understands us. He commits to people. He connects with everyone. She was happy to be here. She called Bill a "Rock Star".
We appreciate all you have done for us.
She presented a letter of congratulations from Senator Dianne Feinstein, a proclamation from State Senator Ed Hernandez and a proclamation from the City Council to Bill Sanchez in honor of his 100th birthday.
David Sanchez read a letter from another family friend Bill Brown, who coached Adam Sanchez 42 years ago. He saw the love of the Sanchez family. He praised Bill "you are a true hero".
Post Commander Gabriel Suarez said he was glad to see all of you at Post 397. Bill Sanchez and other veterans inspire the young members. You are the military forefathers. It is a blessing to serve after you. Bill has been a member of the post for 40 years. Bill is now 100 years old.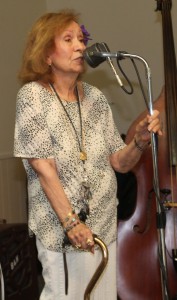 Sheila Zucman told the guests that her four brothers served in the military, as did her husband. They all came home. She thanked God for their safety.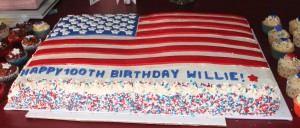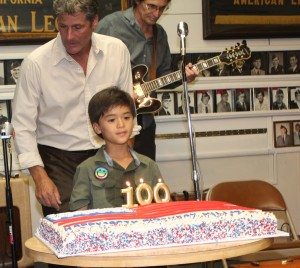 Bill Sanchez's birthday cake was displayed for all to see. It was created as our American flag.  Roman, a young family member was honored to blow out the100 candles on the cake.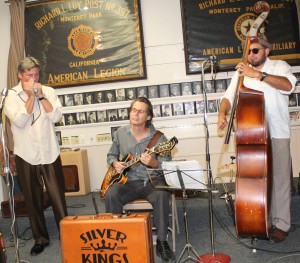 Members of the Silver Kings played additional songs at the end of the party.
William R. Sanchez is one of our American heroes who served and sacrificed to keep our America safe.
Please thank our veterans for their service to our country.
Leave a Response