" The Diary of Anne Frank"
" The Diary of Anne Frank"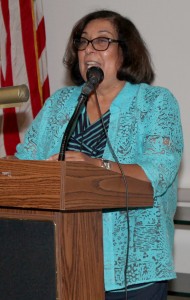 Librarian Cindy Costales welcomed everyone to the Classic Screening of  "The Diary of Anne Frank" presented by the Friends of the Monterey Park Bruggemeyer Library and Members of the Historical Society of Monterey Park on July 31.
She introduced Foster Hirsch, a Film Historian and Mark Keppel alumnus to the audience.  He also attended Stanford and Columbia. He is currently teaching at Brooklyn College in New York. He will introduce the film and interview Millie Perkins after the screening.
She also thanked Beryl Williams for being a driving force for this event.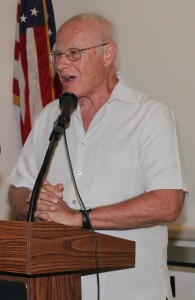 Foster Hirsch said he was happy to be home in Monterey Park again. He has been traveling around the city and noted all of the changes.
He called " The Diary of Anne Frank" a Masterpiece.  In 1959 Hollywood had no Holocaust films.  The Jewish people did not want the Holocaust to be branded as Jewish. They did not want it to be dramatized.
This 1959 Academy Award wining film is an extraordinary portrayal of humanity set during one of history's most inhumane periods.
He spoke about George Stevens, a World War II veteran and his friend William Miller who filmed the liberation of the Dachau concentration camp on color film. Their film was use as evidence again the Nazis at the Nuremberg Trials.
George Stevens usually made comedy films but after the war he only made dramas. He wanted to make the movie "The Diary of Anne Frank" but the most of the studios heads were Jewish and they did not want to make this film.
So George Stevens approached Darryl Zanuck, a Christian, at 20th Century and he agreed to help create this film using their wide screen production equipment.
Millie Perkins was selected from 6,000 applications to play Anne Frank. Otto Frank, her father, personally selected Ms. Perkins for the role of his beloved daughter.
Mr. Hirsch said that he and Ms. Perkins later met with two of Anne Frank's fellow classmates. They joked that they got better grades than Anne did in her native language, German.
He is very happy to bring you this film.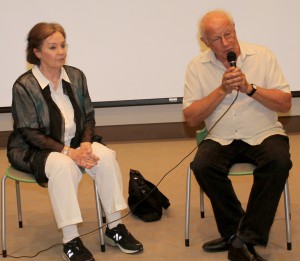 Millie Perkins and Foster Hirsch joined the audience during a Question and Answer period after the screening.  Ms. Perkins said she met with George Stevens and Otto Frank over dinner. He wanted to approve the actress who would be portraying his daughter, Anne.
Mr. Frank spoke about Anne and remarked the Ms. Perkins held her hand like his Anne did. He approved of Millie Perkins reenacting his daughter Anne in the movie. George Steven cast her for the part.
She joked that at first she did not want to do the movie since she was working in Paris as a model. Her friends persuaded her to test for the role.
The studio offered her $150 a week but she advised them that she was making $500 a week as a model so they increased her salary.
It took the studio six months to make the film. It as her first acting job but she did not feel the pressure of the job. Mr. Stevens worked with her on this very special movie. He understood her. She connected with Anne Frank through her diary.
Ms. Perkins said that of all the movies she acted in that "The Diary of Anne Frank" still moves her to tears.
Ms. Perkins and Mr. Hirsch spoke about their trip to Israel to show this special movie and answer questions.
One woman in the audience insisted that Millie Perkins at the age of 19 was too old for the part of Anne.
Finally Millie Perkins told her that Mr. Otto Frank picked her to portray Anne. And by the way, I am not even Jewish.
The woman finally left the room.
Millie Perkins recalled that Shelly Winters and Joseph Schildkraut did not like to share the spotlight with her.  They were not her favorite people. She said that Gusti Huber was a German actress who had to join the Nazi Party but she did not believe in their philosophy. She enjoyed working with the professional cast.
Richard Beymer, Diane Baker and herself are the only performers still alive.
Millie Perkins returned to acting to support her children after her husband's death.
She said she was independent and was one of six girls born and raised in New Jersey. She wanted see the world and no one could tell her anything.
She also worked on a movie with Elvis Presley as his girl friend and later played his mother, Gladys Presley, in another movie.
She said that Elvis was a very nice and good person.
She recalled that Gladys' friends said that his mother was very sorry that Elvis signed his contract with Colonel Tom Parker.
Millie Perkins said she was nervous singing the Hanukkah song and could cry on sight. Her proudest scene as Anne was when she told her mother and her sister, Margot "What is the good on being good?"
Foster Hirsch and Millie Perkins thanked the audience for their participation in this special event.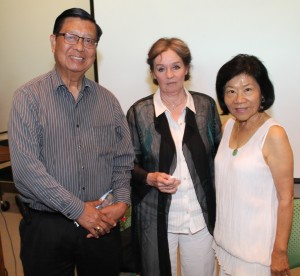 Millie Perkins greeted the audience that included former Mayor David Lau and Cici Lau, his wife and actress.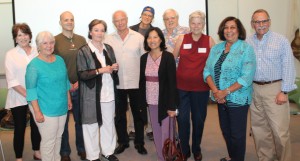 Members of the Monterey Park Historical Society and Members of Mark Keppel's Class of 1961 joined Millie Perkins and Foster Hirsch for this historical picture.
The Monterey Park Bruggemeyer Library is located at 318 S. Ramona Avenue. It has many events and classes for young children, students and adults every week. Please call the Reference Desk at 626-307-1368 for more information.
Leave a Response