Many From SGV Celebrate July 4th with Rosemead's Parade, Carnival, and Fireworks
By Chuck Lyons
The hot weather did not deter thousands of people as they celebrated United States of America's (USA) birthday on Independence Day, July 4, 2018 in Rosemead.
The day started at 7 a.m. with a run/walk by Team Red, White and Blue Los Angeles, a group designed to enrich the lives of America's veterans by connecting them to their community through physical and social activity. There were dozens of runners and walkers of many ages. The event was co-sponsored by Rosemead Chamber of Commerce. The chamber of commerce provided free refreshments for anyone at the race/walk finish line area at Rosemead Civic Center complex.
The parade, with more entries than last year for the second straight year, started at 10 a.m. along Valley Boulevard near Walnut Grove Avenue, traveled past Rosemead City Hall and Civic Center Plaza, then went north on Loma Avenue to Rosemead Park. Activities during the day at Rosemead Park included food booths, rides, games and music, followed by the free fireworks show at 9 p.m.
Thousands of people packed the park with their own food or purchased food from food stands and food trucks in the middle of the park, and concluded the day watching the large professional fireworks show. All of the Rosemead events were free to attend. Rides, games and food were for a fee.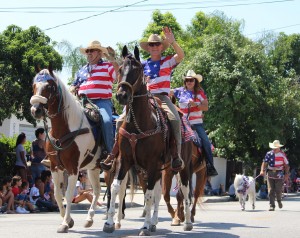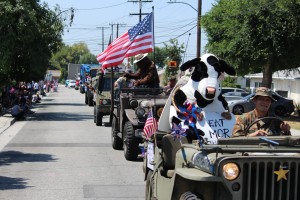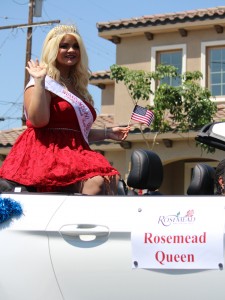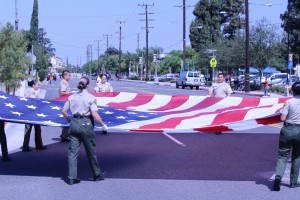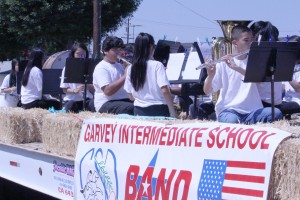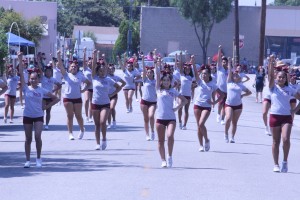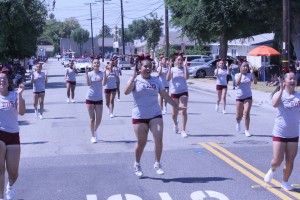 There were more than 60 entries in the parade and that included community and business organizations, City of Rosemead city council, and city commission representatives, City of Rosemead Queen Alexandria Navarro, local school district representatives with Rosemead High School cheer and spirit teams having a big group, marching bands including the biggest the alumni from Los Angeles Unified School District All City Honor Band that has also participated in the world famous Rose Parade, and also a large band from Garvey Intermediate School, floats, vintage cars, County of Los Angeles Sheriff's Department Temple Station and California Highway Patrol police cars and County of Los Angeles Fire Department station 42 fire engine, and horse groups. Paradise Cookie catering truck from Rosemead was a crowd favorite.
Among mascots were Little Caesar's Pizza, and County of Los Angeles Fire and Sheriff departments and U.S. Forest Service Smokey Bear. California Highway Patrol included its motorcycle precision driving team performing along the parade route.
After the parade, many people headed to Rosemead Park for food booths, music, carnival games, rides, and the free huge fireworks show at 9 p.m.
A few parade viewers commented how well the parade was organized (mainly by the city's Parks and Recreation and Public Works departments). Rosemead's emergency response citizen's group and County of Los Angeles Sheriff's Department kept the parade and park safe and enjoyable. Many people appeared to have brought their own picnic food for the day, although there were lines for the many food vendor booths and food trucks as the vendors tried to keep up with the big demand for their food and non-alcoholic drinks being enjoyed by many people in USA Independence Day crowd.
Leave a Response