MY MAY MESSAGE
By Mona Raskin
Well, perhaps April showers will bring us Mayflowers, after all! We can only hope it will be very soon as the recent chilly wet weather has us yearning for a warmer surge!!
We were thankful, however, for the recent pleasant weather at Monterey Park's Cherry Blossom Festival!
While strolling through the festival, we paused to hear the lovely singing voice of C.C. Lau (Councilman David Lau's wife).  We were truly impressed by her performance!
Along the way we also met Councilman Mitchell Ing… We had a brief conversation regarding our city council's recent proposal to make a study of whether we should allow our firemen to go county. I, personally predict this particular proposal will be an ongoing problem for our city since Monterey Park residents have made it quite clear over the years that they prefer their firemen remain here! In the past, the community had voted a firm "no" on this measure!
One very important reason why Monterey Park should have their own fire department close by is, incase of an earthquake or major disaster that may very well threaten the prominent installation "Con Edison" which is situated in our city… Should their towers shift and collapse taking their high voltage lines with them, we would urgently need immediate assistance!
Last summer, we had an incident in the nursery, which occupies Edison property. A small fire broke out and it appeared to be spreading. Our fire department was notified. They said their trucks were on their way.  They arrived 15 minutes later. Can you imagine if the county fire department was supposed to take this call, it would be unable to stop the fire from spreading! As it was the fire actually burnt itself out which was truly fortunate!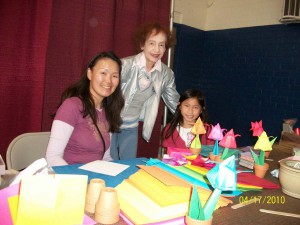 In spite of all the above, we did manage to enjoy our afternoon at the Cherry Blossom Festival.  My favorite activity was a stop at the Origami exhibit. Here we enjoyed making items from colorful paper. This time we made adorable paper tulip plants. Instructor Uyemi along with another young student, Alicia and I enjoyed the program. It was truly a fun way to spend an afternoon!
HAPPY MOTHER'S DAY!
Leave a Response