News from Assemblymember Ed Chau
News from Assemblymember Ed Chau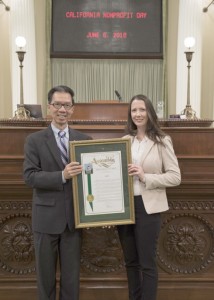 New Executive Director Jillian Van Leuven was delighted to report that Assemblymember Ed Chau has selected MERCI to be honored at the California Nonprofits Day in Sacramento on Wednesday, June 6, 2018. The ceremony is to recognize the valuable contributions nonprofits make to our communities and our state. I will be flown up to Sacramento to accept this award on behalf of MERCI and take a photo with Assemblymember Chau.  This is such an honor for MERCI to receive this award as we strive to provide safe innovative services to each of our participants.  We would like to thank all of our stakeholders in helping us be recognized for the work we do in supporting the people who attend our services.
Eraxtyle Design & Visual Communications Recognized as 2018 small business of the year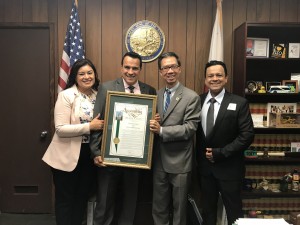 On June 20 Assemblymember Ed Chau (D-Monterey Park) recently honored Alexis Salamanca, of Eraxtyle Design & Visual Communications, as the 49th Assembly District "Small Business of the Year" for 2018, at an event the hosted by the California Small Business Association in Sacramento. The ceremony recognizes small businesses for their outstanding contributions to California.
"I am recognizing Mr. Salamanca for his ongoing contribution to the development and growth of the small business community in the San Gabriel Valley," said Assemblymember Ed Chau. "Mr. Salamanca has a long history of advocacy, mentorship and volunteerism that has affected the lives of countless individuals."
Alexis Salamanca is a Graphic Designer, Web-App Developer and Creative Director at Eraxtyle Design & Visual Communications in the City of San Gabriel. The company was founded in 2003 to make creative advertising accessible and affordable to small businesses, and has since upheld its mission of providing extraordinary service to its clients.
Mr. Salamanca is a strong advocate for businesses in the San Gabriel Valley and has served on the Board of Directors for the San Gabriel Chamber of Commerce, since 2010; including as a two-term President. He is also a dedicated member of the community and has been involved with numerous organizations, including the University of the West, San Gabriel Community Foundation, and San Gabriel Rotary International. Additionally, Mr. Salamanca is a longtime volunteer for The International Church of Christ/Lifeway Church San Gabriel, HOPE World projects, the Asian Youth Center, La Casa Community Center, and El Pavo Bakery Community Mural.
Assemblymember Chau Recognizes Colonel Charles O. Stapleton iii as Veteran of the Year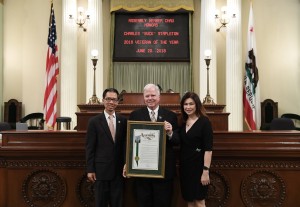 On June 21, Assemblymember Ed Chau (D-Monterey Park) recognized Colonel (Col.) Charles "Buck" Stapleton, as the 49th Assembly District's 2018 Veteran of the Year during the 11th Annual Veteran's Recognition Luncheon hosted at the Sacramento Convention Center.
"I am honored to recognize Colonel Charles Stapleton as the Veteran of the Year, for his life work, dedication and service to United States Navy and Army," said Assemblymember Chau.  "He is an exemplary example of an individual who has devoted his life to serving our country and continues to give back to our community through educating our future generation."
Col. Stapleton served in the United States Navy from 1966 to 1969, during which he completed two tours of duty in Vietnam, as a Petty Officer 3rd class. After active duty, he returned to the United States and joined the California Army National Guard, Headquarters, HHT 1-18th Armored Cavalry for OCS. He also served with the United States Army Reserve, from 1987-1990, as a Sergeant and was certified to teach a Platoon Leadership Development Course to US Army soldiers, for which he was awarded the US Army Achievement Medal.
Following his time with the US Army Reserve, Col. Stapleton joined the California State Military Reserve and was assigned to the 301st Battalion, supporting the Guard in Glendale Armory, 3rd Brigade, Southern Command. He was later transferred to the Center for Military History as a Historian and Writer to complete a documentary on the Battle of the Bands during World War II. In March 2007, he returned to the 40th Infantry Division Support for the California National Guard.
Charles Stapleton is currently a full-time tenured professor at West Los Angeles College, where he has served as division chair over Behavioral Social Science for 15 years and oversees the Accelerated College Transfer Pathway Program. Additionally, he is an adjunct professor at California State University, Los Angeles and a Reserve Deputy Probation Officer for the County of Los Angeles.
The Veteran of the Year Recognition Luncheon is an annual event in the City of Sacramento for Legislators to recognize veterans from their district for their distinguished service and outstanding contributions to their communities.
Legislators Introduce Comprehensive Consumer Privacy Legislation
Alastair Mactaggart agrees to pull California Consumer Privacy Act upon passage of bill by Sens. Bob Hertzberg & Bill Dodd, and Asm. Ed Chau
On June 22, Senator Bob Hertzberg (D-Van Nuys) and Assemblymember Ed Chau (D-Monterey Park) introduced legislation to address concerns surrounding privacy and data breaches experienced by California consumers. The bill will also be authored by Senator Bill Dodd (D-Napa), who has been working this year on his own legislation to protect consumers from data breaches.
Recent data breaches that affected millions – those experienced by Target, Equifax, Cambridge Analytica, and many more – have raised concerns from Internet users around the world. The continued prevalence of such occurrences and uncertainty about what data is being collected has drawn the ire of consumer and public interest groups, while the threat of restrictive regulation worries tech companies, many of which are headquartered in and employ thousands of individuals in California.
In light of these concerns, Senator Hertzberg and Assemblymember Chau introduced legislation to expand the rights of consumers to know what data is being collected about them online, and even to delete it. The bill, which is now in print in the form of amendments to AB 375, would also empower consumers to decline the sale of their information and report violations, which must then be addressed by the violator or risk civil action. These data breach protections incorporate provisions from Senator Dodd's SB 1121.
"The idea that a person should have some say about how their personal information can be used, shared or sold is not a controversial question for everyday consumers – it is common sense," said Assemblymember Ed Chau, who is Chair of the Assembly Committee on Privacy and Consumer Protection. "In fact, it is consistent with the right of privacy enshrined in our constitution, and we as Legislators have an obligation to ensure privacy rights for online consumers. The agreement reached with the initiative proponents to move forward with a legislative solution is a significant step in providing California consumers more control over their data."
"This is a 21st century crisis that deserves a 21st century solution," said Senator Hertzberg. "We listened to every stakeholder at the table, including proponents of the privacy initiative on the ballot, to come to a legislative agreement that protects consumers at a level unseen by any current California law."
"This is a solid step toward empowering consumers, ensuring they have control over their data and are informed about how it is being used," said Senator Dodd. "It gives them recourse in the event of future breaches and provides a strong incentive for firms to act responsibly."
AB 375 is substantially similar to the circulating ballot initiative on the same subject championed by Alastair Mactaggart, who has agreed to pull his initiative if AB 375 passes by the June 28 deadline. In fact, in some of its provisions, AB 375 would give more privacy protection to consumers than the ballot initiative would.
"This legislation, like the initiative, would provide simple, powerful rights to Californians: tell me what you know about me. Stop selling it.  Keep it safe," said Alastair Mactaggart. "If the bill passes before next week's deadline to withdraw, we will withdraw our initiative. If it doesn't, we will proceed to the November election. We are content either way, as we feel that both the legislative solution, and our initiative, provide tremendously increased privacy rights to Californians."
In addition to the support of Mactaggart, the bill is sponsored by Common Sense Media, a privacy rights organization focused on children and families.
"When kids are online or on social media, it is absolutely vital that we ensure their privacy is protected," said James P. Steyer, founder and CEO of Common Sense, which has long supported increased privacy rights for students and families, and was a sponsor of SOPIPA, which protects the privacy rights of students in California. "This is a critical first step in ensuring the privacy of kids, families, and all consumers and we'll continue to fight to ensure there are strong data privacy regulations in place to protect Californians and all Americans."
AB 375 is eligible to be heard on the Senate Floor on June 25. If it passes the Senate, it will head to the Assembly on June 28, the same day by which initiative backers must decide to pull a measure from the ballot. The bill has the support of legislative leaders of both houses:
"In the modern world of technology, our fundamental right to privacy depends on the ability of all consumers to protect their own sensitive personal information online," said Senate President Pro Tem Toni G. Atkins. "Thanks to the extraordinary work of great leaders like our own Senator Hertzberg, the Legislature will have a proposal before us that would make California a global leader in online privacy, just as we lead the world in technological innovation. I applaud the hard work of Senators Hertzberg and Dodd and Assemblymember Ed Chau, and I look forward to deliberating this landmark legislation."
"Privacy rights are among the most important consumer protection issues we face," said Speaker Anthony Rendon. "This legislation, which has earned the support of the proponents of the California Consumer Privacy Act, strengthens protections for California consumers while avoiding the risks inherent in a high-stakes ballot initiative.  I thank Assemblymember Ed Chau for his hard work with the Senate, the initiative proponents, and other stakeholders to reach this point. I encourage every Californian concerned about this issue to review the legislation as it makes its way through the process, and to share their views with their legislators."
California Privacy Law Passes Senate Committee; Headed to Senate Floor
AB 375 clears Judiciary Committee and will head to Senate Appropriations before Senate Floor vote on Thursday
On June 26 Senators Bob Hertzberg (D-Van Nuys) and Bill Dodd (D-Napa) and Assemblymember Ed Chau (D-Monterey Park) today announced that their comprehensive privacy legislation, AB 375, passed the Senate Judiciary Committee and is on track to be voted on in both the Senate and Assembly Floors on Thursday, June 28.
The authors of the bill released the following statements in response to the bill's committee passage:
"If this law passes, it will be the best privacy law in the country," said Sen. Hertzberg. "It integrates many of the elements of the initiative and provides Californians with significantly more control over personal information alongside an explicit protection of those rights. I am very happy with the work that has been done on this by my co-authors, our staffs, and the many stakeholders engaged in this process."
"Today's action by the Senate Judiciary Committee to vote in support of AB 375 gets us one step closer to passing landmark privacy legislation that will put consumers in the driver's seat when it comes to making decisions about the use of their personal information by businesses online," said Asm. Chau, who is also Chair of the Assembly Committee on Privacy and Consumer Protection. His committee will hold an informational hearing about AB 375 on Wednesday, June 27 at 1:30pm.
"At a time when federal regulators are rolling back protections, we're moving forward here in California," said Sen. Dodd.  "This bill will be the strongest of its kind in the nation and enact safeguards we need in the 21st Century. It includes provisions from a measure I introduced earlier to give consumers recourse in the event of future breaches, providing a strong incentive for firms to act responsibly. Big Data is Big Business. It's time we regulate it appropriately and hold bad actors accountable."
Governor brown signs landmark privacy law
On June 28, Governor Edmund G. Brown Jr. signed Assembly Bill (AB) 375, authored by Assemblymember Ed Chau (D-Monterey Park), Senator Bob Hertzberg (D-Van Nuys), and Senator Bill Dodd (D-Napa), the California Consumer Privacy Act of 2018, which will ensure that consumers enjoy choice and transparency in the treatment of their personal information when accessing the Internet.
AB 375 responds to the recent data breaches that have affected millions of people – those experienced by Target, Equifax, Cambridge Analytica, and many more. The collection of our information combined with data breaches has raised concerns from Internet users worldwide.
Earlier this week, a privacy initiative qualified for the November ballot to provide consumers with increased privacy rights. A legislative solution, unlike the initiative process, provides the opportunity to strike the appropriate balance between protecting privacy rights and the ability for tech to innovate and provide reliable services now and into the future. AB 375 was the result of an agreement reached with the initiative proponents to move forward with a legislative solution and is a significant step in providing California consumers more control over their data.
The authors of the bill released the following statements in response to the bill's passage:
"Today, California took a historic step in enacting legislation to protect children and consumers by giving them control over their own personal data," said Assemblymember Ed Chau. "Consumers should have a right to choose how their personal information is collected and used by businesses. It is your data, your privacy, your choice."
"Today the California Legislature made history by passing the most comprehensive privacy law in the country," said Senator Bob Hertzberg. "We in California are continuing to push the envelope on technology and privacy issues by enacting robust consumer protections – without stifling innovation."
"Once again California is taking the lead in protecting consumers and holding bad actors accountable," said Senator Bill Dodd. "My hope is other states will follow, ensuring privacy and safeguarding personal information in a way the federal government has so far been unwilling to do."
Leave a Response