MILLIE PERKINS IS COMING TO MONTEREY PARK ON JULY 31 SCREENING THE CLASSIC "THE DIARY OF ANNE FRANK"
MILLIE PERKINS IS COMING TO MONTEREY PARK ON JULY 31
SCREENING THE CLASSIC "THE DIARY OF ANNE FRANK"
The Historical Society has been fortunate to partner with Librarian Cindy Costales and Friends of the Library in co-sponsoring a Classic Film Screening over the past five years. These events have been held on a Sunday afternoon in July in the
Friends Room at the Monterey Park Bruggemeyer Library Light refreshments follow the program. This year the event will move to Tuesday, July 31st, at 2 p.m., due to possible library closure on Sundays.
City council voted to close the library on Fridays instead of Sundays but it was too late to change the date of this event.
THE DETAILS ON THIS EVENT:
WHAT IS THE EVENT?
The sixth annual Classic Film Screening that will feature a 1959 Academy Award winning film. This is an extraordinary portrayal of humanity set during one of history's most inhumane periods. Film Historian and Mark Keppel High School alumnus Foster Hirsch will introduce the film and interview Millie Perkins after the 180-minute screening.
WHO IS IN THE CAST?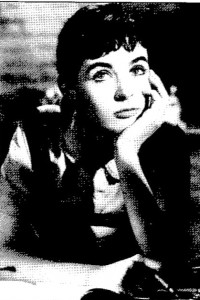 Millie Perkins stars as Anne and Shelley Winters plays the abrasive Mrs. Van Daan.
WHAT TIME WILL IT BEGIN?
The program begins promptly at 2 pm to allow time for a meet and greet session with Millie Perkins afterwards.
WHERE IS THE SCREENING?
Friends Room in the Monterey Park Bruggemeyer Library
Leave a Response